On Thursday this week, Motorola officially launched the Moto X Smartphone, on the heels of months of speculation and rumors. The Moto X is truly being pinned as the next big thing for Motorola, namely due to the fact that it's the first purebred lovechild of the Motorola/Google (NASDAQ:GOOG) marriage.
The biggest thing that's been debated, however, is how big of an effect the Moto X is going to have on Apple (NASDAQ:AAPL), who just smashed iPhone estimates out of the park on their latest earnings report. Investors in both Apple and Google are going to want to know exactly how the smartphone landscape is going to be affected by the launch of the Moto X.
Here's a comparison of some of the specifics behind the Moto X versus the iPhone 5:
| | Motorola Moto X | Apple iPhone 5 |
| --- | --- | --- |
| Storage | 16GB, 32GB | 16GB, 32GB, 64GB |
| Camera | 10 Megapixel | 8 Megapixel |
| Screen | 4.7" @ 1280 x 720 | 4" @ 1136 x 640 |
| OS | Android 4.2.2 | iOS 6 (soon to be 7) |
| CPU | Qualcomm Snapdragon S4 | Apple A6 |
| Speed | Dual 1.7ghz | Dual 1.3ghz |
| PPI/Weight | 316/4.58oz | 326/4oz |
| Price Point | $199-$249 | $199-$349 |
Starting with the obvious comps on the above listed stats, it's clear that Moto X has a slight edge on the iPhone 5, but nothing that's going to be absolutely groundbreaking; and groundbreaking is exactly what you're going to need to jar some smartphone market share away from Apple. Just ask BlackBerry (NASDAQ:BBRY) and Nokia (NYSE:NOK).
First, let's remember that the iPhone 5, although the newest from Apple, is likely to be overshadowed by a new model before the end of this year, so the comps that we're using are a bit older on the Apple side, while the Moto X is so brand new that it's not even available widely yet.
The iPhone 5 has the clear edge in storage, especially when compared also to the new Samsung Galaxy S4; neither of Apple's competitors offer a 64GB storage option like Apple does with the iPhone.
The Moto X has slight edge in both processor speed and screen size, but again, nothing that's going to be so earthshaking as to catch the attention of longtime Apple iPhone users. iPhone users that were lured away by things like bigger screens and a pixel here and there of better resolution are already likely to be Samsung loyalists.
From preliminary research, it's nice that the Moto X is getting tons of press - but this phone is going to be a far cry from the next phone that really starts to do battle and cut into Apple's iPhone users.
Why Moto X Won't Touch Apple
Aside from the actual specs being nothing to write home about, and the fact that they don't even stack up against other Android phones, there's even more reason why this phone will, in no way, stack up to the iPhone.
The first is the steadfast loyalty that a lot of phone users have to their iPhones. As we all know, Apple is a cult stock because it's a cult brand. People that buy Apple buy it religiously, and the number of Apple disciples grows every single day. To shake these people from their loyalty is going to take something very special, and as of right now, Samsung is the only company coming close to making an impact.
The second has to do with the operating system. The Android operating system is going to have to undergo serious changes that set it apart from Apple's iOS in a big way in order for it to really turn heads. For now, most people that use Android look at it like Windows is looked at compared to Mac OS X. It's close looking, but at the end of the day, it doesn't have Apple's design and class behind it. Apple will launch another haymaker and edge its nose out even further in this respect when they release their iOS 7, due out later this year.
And thirdly, along the same lines of the operating system, is the fact that Apple has created an ecosystem of their products in people's lives, which makes it easy for Mac users to make decisions to buy iPhones, and for iPod owners to become Mac owners - and so on and so forth. Apple's products don't seem to cannibalize each other at all, so many Apple fans own more than one Apple product. Everything works together, and it's tough to fit a new product running Android into an already existent Apple ecosystem. As we continue to find out, Google is trying to get into this space, as I commented about in my article about Chromecast:
This serves as another consistent reminder that Google is set to move into the "ecosystem" of lifestyle electronics, venturing way out from simply computers to different products. This goes head-to-head with what Apple is trying to do; essentially the same thing. We're going to see these two titans of the tech industry go at each other for many years to come.
What It'll Take to Beat Apple Eventually
If I knew the answer to this in detail, I'd be working for Samsung pulling down six figures a year. The fact is that Samsung has found some legitimate success pushing themselves into the smartphone market with their high performance phones and admittedly (from an Apple bull) quirky and funny commercials that always seem to be taking backhanded shots at Apple and Apple's fanatics.
Where's the third niche? What company is going to come in and compete with both Apple and Samsung? You'd think it would be a company like BlackBerry who has their own OS, but we got a glimpse of exactly how well that's working for them lately - and it hasn't been pretty.
Oh, the colors! How could I forget? I can see the Motorola fans' comments now:
"You never mentioned the colors! My god, the colors! It's all about the colors!"
The Moto X is almost boasting about its customizable colors like it's never been done before and like it's the best feature of the phone - and if I'm not missing something major, it may actually be. Hell, just look at Motorola's own Moto X site, and what the first thing they list is: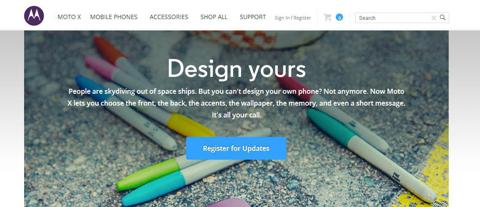 The colors? Really? That's it? Maybe if this phone was $79 and you were marketing it primarily for high school students - but for the average Joe? You're going to need something major to go toe to toe with the big guys, and in an industry where everyone is going to buy a case for their phone anyway, and cases come in billions of designs and colors, this color shtick from Motorola isn't going to cut it.
Lest, of course, we forget that Apple still has Siri and the world's biggest app library - no matter what color your Moto X is, you're not privy to either of those "Apple only" benefits.
Apple Longs, Don't Sweat the Moto X
The cold hard truth is that if Apple users do drift over to the Android side, the Galaxy S4 is likely to be the option, not the Moto X; as the Galaxy S4 has the Moto X beat in screen size, screen resolution, camera resolution, and processor speed.
So, for the same price, why exactly are Apple users crossing over more likely to go to the Moto X? They're not. Apple should stay focused on the Galaxy S4, which is their real competition here.
Furthermore, again it's worth noting that Apple just came off a great quarter with regards to their smartphone sales. As I stated in my Apple Q3 earnings roundup:
So much for the worries about the smartphone category. I'd guess that this is the news that is fueling a lot of the after-hours rally that we're witnessing, as well. It was a record June quarter for iPhone sales. Not only did iPhone numbers impress, but the call reaffirmed that customer satisfaction with the phone and customer loyalty were top notch in the industry. Apple tooted their own horn for a good couple of minutes on the conference call, and after analysts painting a dreary smartphone picture, I don't blame them.
It's going to be a cold day in hell before Apple is dethroned as smartphone king - and it's going to take something much more than the Moto X, with mediocre specs, a normal price tag, and color customizable cases, to do it. Apple longs, fear not, the Moto X will be just another small, media fueled bump in the road. QTR remains bullish on Apple for the long term and wishes all investors the best of luck.
Disclosure: I have no positions in any stocks mentioned, and no plans to initiate any positions within the next 72 hours. I wrote this article myself, and it expresses my own opinions. I am not receiving compensation for it (other than from Seeking Alpha). I have no business relationship with any company whose stock is mentioned in this article.