Company: Skullcandy, Inc. (NASDAQ:SKUL)
Recommendation: Long Equity
Investment Horizon: 12-18 months
Price Target: $9
Strategy: Value; Contrarian
Company Description: Skullcandy, Inc., a Delaware corporation (the "Company"), is a global designer, marketer and distributor of performance audio and gaming headphones and other accessory related products under the Skullcandy, Astro Gaming and 2XL by Skullcandy brands
Consensus Opinion On SKUL (It is Dying): Analysts have a consensus mean of $249 million in sales for 2013 and $266 million for 2014. Analysts are projecting mean earnings per share of $.13 for 2013 and $.29 for 2014. Mean analyst price target is $4.79. Bear case (consensus) thesis is that the company has been a seller of cheap headphones and will not be able to transition to a seller of higher quality headphones at premium prices. If turnaround is not successful stock has already been knocked down to the point where downside is only 10%-15%. Upside is 80%-100% if company succeeds with a few initiatives and trading multiples expand. This investment follows the 2-to-1 risk/reward ratio. This means investor expects to make at least two times as much if they are right versus if they are wrong and is what I look for as a value investor.
My View: Company second quarter earnings came in more or less as expected, again this is a turnaround story and requires at least a year horizon in my opinion. As an investment company has zero long term debt and 23% of current market capitalization is cash, so as previously enumerated downside is limited. Implementing a few of the outlined initiatives results in significant upside for shareholders. Stock appreciation will be driven by higher than anticipated revenue and lower SG&A once company has few successful products and new branding is undertaken. SG&A (% of Sales) has historically been in the 20-30% range going back to financials from 2006-2012, as competition has increased in the space SG&A has increased, hitting the absurd 71% number in the first quarter of 2013. I believe after 12-18 months of aggressive marketing the company can go back to a range of high 30% to low 40%, but will never be able to go back to its old numbers as a result of the changed competitive landscape. In terms of revenue, according to a financial times quote Beats (private) 2012 revenues rose from $298m to $519m, almost doubling in a year which is very promising if Skullcandy gets its act together. To have Skullcandy making $300 million in revenue by 2015, by virtue of moving into a similar space is completely rational and with Seth Darling (CEO) having extensive experience in the space it seems reasonable. I do not believe sell side analysts are accurately taking into account how much of the headphone market can be taken by Skullcandy and thus are predicting lower revenue. Numerous changes have occupied management and distracted them from adding shareholder value, including a switch from an OEM model to an ODM model, now they are feeling the pain and are looking to execute.
Note I am not expecting a huge movement after 2nd quarter earnings. I am modeling an earnings per share loss of $.03, which is in line with the street. Seth Darling explained they expect crusher launch, while it's not a huge revenue driver for Skullcandy, to put a big halo around their product and brand and driving back half revenue. Management is not anticipating much in this quarter and neither am I.
I have a price target of $9 on the stock. A recent article on sumzero had a price target of $13. I would be more conservative and exit once I have seen stock move to $9.
Catalysts (How do we get paid? What has to happen for this appreciation to occur?)
A few of the outlined Catalysts need to OCCUR. If all catalysts occurred the price would be back near IPO pricing ($20).
Transition Focus To Premium Audio Segment of Headphone Category:
The premium market is where Skullcandy needs to be. U.S. sales of premium stereo headphones ($100+) grew 25 percent in units in Q1 2013 year-over-year, accounting for 95 percent of the revenue growth for the total headphone market*, according to global information company The NPD Group's Retail Tracking Service. "Sales growth in premium headphones is being driven by a number of factors including greater attachment to mobile devices and more choices for consumers to adapt to their on-the-go lifestyles" (See Exhibit "Consumer Preference Survey"). Skullcandy is going to be focusing more on this segment and revenue is expected to reflect this in 2014.
Execute on dual-brand gaming strategy: In April 2011, company acquired Astro Gaming, a leading, authentic gaming headset brand that markets high-performance, feature rich products to dedicated gamers. Company also runs Skullcandy Gaming brand to market to the lower price point customers. Segmentation allows tailoring to specific needs of customers while protecting core values of each brand. Gaming headphones represented approximately 10.9% of company net sales in the year ended December 31, 2012. Sales are increasing in this target market, from the company's March 2013 10-K their sales decrease was partially offset by an increase in gaming net sales of 43.8%. Gaming needs to be a priority focus for this company. Management expects gaming to continue to grow at a double-digit pace throughout the remainder of the year.
Multiple Expansion: Skullcandy currently trades at a P/E of 9 approximately. Whereas ZAGG Inc., a company which designs, produces, and distributes creative product solutions such as protective coverings, keyboards, keyboard cases, earbuds, mobile power solutions, and device cleaning accessories for mobile devices trades at a P/E of 14 and Harman International which develops, manufactures, and markets audio products and electronic systems worldwide trades at a P/E of 23. Making a bet only on multiple expansions is a risky investment thesis but this can be viewed as potential additional upside.
Share Buyback or Leveraged Recapitalization: As of first quarter 2013, the company had 20,700,765 shares of common shares outstanding. Assuming (an illustrative case) the company repurchased $20 million of shares in market at a weighted average price of $5.75, the company can increase EPS and the shareholder value. Company recently filed 8-K to allow such an action.
Management Explores Sale: Bose Corp., Sony Corp, or Harman International may find the Skullcandy brand appealing at these prices. King, an analyst with Roth Capital, recently stated that "an electronics manufacturer seeking to enter the headphones market, or bolster an existing business, might show interest in Skullcandy." In the first quarter earnings transcript Seth Darling discussed the competitive landscape saying that Skullcandy is in the top 1 to 4 brands in major retailers and that consolidation will occur in this market at some point.
Increased Institutional Ownership: A Value Focused Hedge Fund Manager notices the pricing anomaly (holding 2% of outstanding shares): Mario Cibelli who runs Marathon Partners, a NYC based hedge fund, has maintained an ownership stake. According to a profile of Mr. Cibelli in Value Investor Insight, Mr. Cibelli seeks companies with unique business models or market positions that provide competitive advantage or will be of great value to possible acquirers. Other hedge funds in the name include: Citadel, Renaissance Technologies, Wasatch Advisors, T2 Partners.
Acquisitions of Established Brands: Skullcandy given its strong balance sheet can be more actively seeking potentially accretive acquisitions. Skullcandy recently acquired Astro Gaming in order to expand its presence in the gaming headphone segment, currently its highest growth segment. Skullcandy can seek out other targets where an acquisition would be accretive.
Leverage Strong Brand Equity: Crusher headphone launch is an example of this (See Exhibit "Crusher Amazon Reviews"). Crusher is currently in the specialty market, Skullcandy has told a great story around the headphones and has built demand. End of the year Crusher will be rolled out to larger retailers, Best Buy, Target, etc. Skullcandy is using Crusher as a "Beta Case" it seems, but this is a marketing model that should prove effective in new product launches this year and next.
Leverage Retail Network: Skullcandy has a footprint with many national retailers and on the first quarter earnings call the CEO discussed how the retailers can be used to better showcase Skullcandy's products and encourage sales.
Management Change: Management has been very disappointing as a shareholder of Skullycandy. The new CEO brings extensive consumer product experience, including a tenure at Nike and many other executives of the company have left and hopefully their replacements are able to effectively turn around the business.
How much do we expect to make?
Valuation: Company valuation is very appealing trading a price to book value of 1.14. Enterprise Value to EBITDA is 2.86 versus an Enterprise Value to EBITDA of 9 to one of its larger, but still comparable company Harman International.
Conservatively using Skullcandy's current P/E of 9 on FY2015 estimated earnings of $.99 per share yields a price target of $8.87.
Supplemental Information- Decision Tree:
Downside Scenario (30%): Believe the downside scenario is currently valued into current stock price. Downside scenario is $4.79. With current price of roughly $5.50 looking at a 13% loss.
Base Case Scenario (10%): One catalyst occurs, put at $6.00 price target (9% upside)
Upside Case Scenario (60%): A few catalysts occur or acquisition offer occurs. Hit the $9 price target (Approximately 62% return)
Supplemental Information: Consensus Estimates versus Mine:
| | | |
| --- | --- | --- |
| FY 2013 | Consensus | My View |
| Revenue | $246 | $251 |
| EPS | $.13 | $.15 |
| FY 2014 | | |
| Revenue | $266 | $285 |
| EPS | $.29 | $.36 |
| FY 2015 | | |
| Revenue | N/A | $320 |
| EPS | N/A | $.99 |
| | | |
*Financial projections assume 3 million shares purchased at a weighted average price of $5.75 with $28 million dollar revolver
Supplemental Information: Product Offering (Skullcandy 10-K Filing)
Range of headphone products includes:
Product

In Ear

On Ear

Over Ear

Gaming

Price Range

$10-100 MSRP

$20-40 MSRP

$50-250 MSRP

$50-90 MSRP

Models

• Jib

• Ink'd

• Riot

• Chops

• Smokin' Buds

• Titan

• ASYM

• 50/50

• Full Metal Jacket

• Holua

• The Fix

• Heavy Medal

• Icon

• Icon 2

• Uprock

• Icon Soft

• Lowrider

• Hesh

• Agent

• G.I.

• Skullcrusher

• SK Pro

• Aviator

• Mix Master

• Lowrider Xbox

• G.I. PS3

• G.I. Xbox
Shifting focus away from current lower price offering
Skullcandy Gaming and Astro Gaming headphones include:
Brand

Skullcandy Gaming

Astro Gaming

Product

Price Range

$80-180 MSRP

$130-300 MSRP

Models

SLYR

PLYR 1

PLYR 2

A30

A40

A50
Dual Strategy Allows Targeting of Different Price Point Customers
Supplemental Information: Consumer Preference Survey
Extremely/Very Important to Purchase of Premium ($100+) Headphones

Feature

12 Months Ending March 2012

12 Months Ending March 2013

Percentage Point Difference

Microphone

12%

25%

+13

In line play controls

22%

34%

+12

Noise canceling

49%

55%

+6

Cordless/Wireless

15%

20%

+5

Water/Sweat Resistant

23%

26%

+3

Color

10%

7%

-3

Sound Quality

92%

85%

-7
Supplemental Information: Crusher Amazon Reviews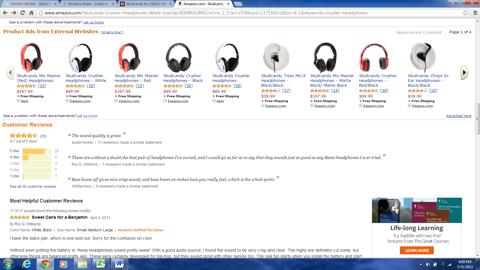 Disclosure: I am long SKUL. I wrote this article myself, and it expresses my own opinions. I am not receiving compensation for it. I have no business relationship with any company whose stock is mentioned in this article.