By David Russell
The bulls are targeting Hess (NYSE:HES), looking for the oil company to stage a significant rally in coming weeks.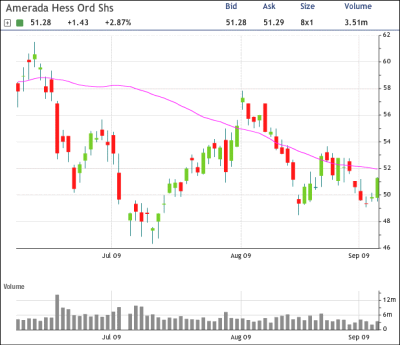 OptionMONSTER's Heat Seeker tracking program detected unusual buying activity in the September 55 calls, the September 60 calls, and the October 60 calls. The three options traded a combined 21,632 contracts on the session, and volume exceeded open interest in all three strikes.

HES rose 2.87 percent to $51.28 in afternoon trading, and is down 8.22 percent in the past month. While HES has lagged other integrated oil names such as Exxon Mobil (NYSE:XOM) and Chevron (NYSE:CVX) over the past month, it is outperforming today, which could suggest it's caught the attention of value hunters.

Investors paid $0.20 to $0.55 for the September 55 calls. The shares need to climb 8-9 percent by expiration for the calls to turn a profit. The September 60 calls changed hands for $0.05 to $0.20 while the October 60 strikes traded for $0.30 to $0.55.

Hess reported better-than-expected second-quarter earnings on July 29 and doesn't appear to have any scheduled events that could move the shares before expiration.

Overall options volume in the name was more than three times average today, with calls outnumbering puts by 19 to 1.
(Chart courtesy of tradeMONSTER)