Microsoft (NASDAQ:MSFT) has been blamed for killing PC sales. Tablets have been blamed for killing PC sales. I blame the PC makers.
The Tablet Experience
Tablets offer decent performance, long battery life, good screens, they're simple to operate, and come with a cheap price tag in a sleek, attractive design.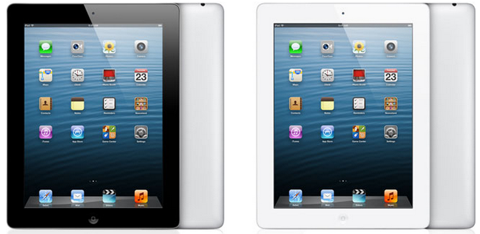 Pictured above is the iPad2. The info below from iSuppli shows how much it costs to build this device.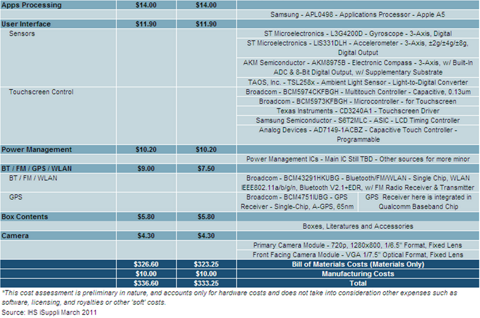 According to the BOM, it costs roughly $335 to build an iPad 2 (2011 version). The iPad 2 has a decent touch screen (this is not the retina version), a huge 6200 mAH battery, a cheap CPU, but fast storage and an OS that does not require a lot of overhead to run.
OEMs, in my opinion, are killing the PC industry by skimping on critical components that matter the most to users, and not giving consumers what they want.
Take for example the Acer V5-171. It is powered by an Intel (NASDAQ:INTC) Core i3 ultra-low voltage CPU, comes equipped with a 500 GB HDD, a pretty bad display (based on previous personal experience with an Acer), and a 2500 mAH battery.
Some are hoping that Intel's Haswell will bring about some growth in the PC industry. Haswell offers roughly a 50% battery life increase, and this has been confirmed by numerous independent reviews. I have linked to one from Anandtech here.
50% improvement is nothing to scoff at. But given the fact that the iPad 2 (a tablet) has a battery that is over 2x as big as what comes equipped on budget model laptops, it should not be a surprise consumers that desire a long time unplugged opt for a tablet.
According to the graphic above, to double battery life is a matter of $10 or so; it does not take a $150 processor.
The display, battery, memory, and storage are the most expensive components in a tablet. The apps processor is one of the cheapest. Apple's (NASDAQ:AAPL) Retina iPad starts at $499. It comes with a fraction of the performance of a new Haswell CPU, a fantastic display, a tiny amount of storage (16 GB), and great battery life. And tablet users do not seem to mind the lack of processing power.
OEMS are Hurting Microsoft and Chip Makers in the Process
One of the first smaller Windows 8 tablets was recently released, and ArsTechnica.com reviewed it. The name of the article is "First 8-inch Windows tablet is a device that shouldn't exist." The device is the Acer Iconia W3, and apparently the consumers "enjoy" it as much Ars Technica's Peter Bright. At least it comes with Office.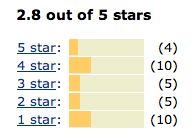 Earlier this year I had written an article about Microsoft trying to build a bigger user base by taking an Apple-esque approach with their devices and software, and create a user ecosystem between their phones, PCs, tablets, and the Xbox One.
OEMs are making me want to revisit my conclusion. I'm not sure who would want to buy a tablet that receives terrible reviews for $300-$350 (the W3), when the iPad mini has great reviews and a similar price tag.
The one thing that still gives me hope is that Advanced Micro Devices (NYSE:AMD) and Intel, along with Microsoft have the advantage of being able to run x86 apps. And thankfully, the ones that come to mind such as Office do not take Haswell to run, meaning Temash and Bay Trail will run them no problem.
Intel's Bay Trail or AMD's Jaguar based CPUs have plenty of power to run Windows along with basic Apps. If OEMs build it, "they" will come - "they" being consumers. But OEMs aren't building "it"; they are failing to build attractive x86 based PCs, and their tablets don't seem to fare much better. By switching to a processor with less performance, there is an inherent power savings there, so although sacrificing performance, by switching to a cheaper processor OEMs give consumers the advantage of both a lower price and better battery life.
Departure from the Windows Norm
Some consumers do not like change - it's evidenced by the strong reactions to Windows 8. Unfortunately for Microsoft, Apple's iOS, and Google's (NASDAQ:GOOG) Chrome and Android operating systems are gaining in popularity. We are seeing, in my opinion, a bifurcation in the PC industry that could cause shifts among non-enterprise users.
There are consumers that will still use Windows because it's what they know. But by the same token, the users that have been in need of a tablet and have made the switch to an alternative operating system may have a hard time switching back. Couple this with the rise of free Office replacements such as OpenOffice and LibreOffice, and Microsoft could start losing relevancy in their software offerings in the traditional consumer space. I do not see businesses making the switch away anytime soon, but losing the consumer base could take a chunk of revenue from Microsoft.
Conclusion
There is some light at the end of the tunnel. Samsung (OTC:SSNLF) recently launched the Ativ 9 Lite with an SSD, which should be available for retail relatively soon. Hewlett-Packard (NYSE:HPQ) and Acer are both offering 11.6" touch screen laptops, although both of these offerings have mechanical storage. Recently Toshiba announced a series of attractive laptops that are cheaper cousins of the KiraBook, again featuring mechanical storage.
64 GB of storage on a tablet is quite a bit. Given that the Windows OS is larger than Apple's iOS, Chrome, or Android, 64 GB may not be sufficient for a windows based solution, but a 96 GB SSD would be more than doable. And solid state drives are one of the best upgrades consumers can make that have tangible, noticeable performance benefits. This is evidenced by the rave reviews consumers give after their amazement of how much faster their systems run. This class of storage is standard in a tablet, yet typically only featured in upper tier PCs.
The IDC pegs the PC ASP at $635 and tablet ASP at $381. The first OEM that can figure out how to manufacture an ultra-portable PC that can truly compete with tablets both on price and form will have a winner on their hands. Companies like Logitech (NASDAQ:LOGI) and Zagg (NASDAQ:ZAGG) have entire product lines devoted to turning tablets into laptops. Microsoft tried to spur sales of the Surface RT by including a free Type cover; in my opinion there is a portion of the tablet market that would opt for a laptop over a tablet given a comparable choice at the same price.
OEMs should reverse their mindset and try skimping on the processor and putting the $60-$80 saved toward better storage, display, and battery. The first company that can figure out how to do this under $600 may be worth a deep look into for a long position.
Potential winners if OEMs can put together an attractive Windows based solution, either in a tablet or a cheap, attractive PC are Microsoft, Intel, and AMD. And I think the win could be big. Windows based platforms are still the most prevalent PC operating systems. OEMs should focus on building low-cost, ultra-mobile devices in attractive form factors that can capitalize on Windows to jolt the PC market back to growth; stop focusing on high end solutions that double the current ASP of PCs and move the design focus where the majority of the market is.
Disclosure: I am long AMD. I wrote this article myself, and it expresses my own opinions. I am not receiving compensation for it (other than from Seeking Alpha). I have no business relationship with any company whose stock is mentioned in this article.
Additional disclosure: I actively trade my AMD position. I may add or liquidate positions at any time.