Introduction
Looking at the 2013 10-K for Microsoft (NASDAQ:MSFT), the results for the Online Services operating segment are terrible over the last 5 years. This is especially true when we compare them to the results from other segments.
A picture is worth 1,000 words. This 2011 CNNMoney article shows how Microsoft's Online Services losses increased just before Bing entered the picture. Bing launched in June of 2009 but the company spent time and money preparing for it prior to launch: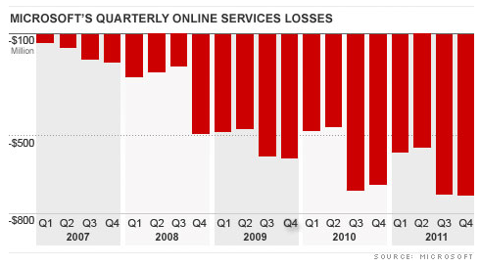 Click to enlarge
Things got even worse after the above article was published. In 2012 the company took an enormous 6.2b impairment loss related to the search business. Here we are in 2013 and the company lost another 1.3b in operating income in this area.
The Good
One can better appreciate the Bing drain if we start out by looking at the 3 strongest segments by operating profit. The numbers speak for themselves - these 3 segments are the heart of the company.
Microsoft Business
2013 Revenue: 24.7b
2013 Operating income: 16.2b
2012 Revenue: 24.1b
2012 Operating income: 15.8b
2011 Revenue: 22.6b
2011 Operating income: 14.7b
Microsoft Office is a widely used product and the 2013 operating margins of almost 66% are incredible.
Windows
2013 Revenue: 19.3b
2013 Operating income: 9.5b
2012 Revenue: 18.4b
2012 Operating income: 11.6b
2011 Revenue: 19b
2011 Operating income: 12.3b
Windows is not as dominant as in the past but there are still a lot of offices around the world using it. Having 2013 operating margins of just under 50%, this segment is still a cash cow. The argument that Windows needs Bing in order to be successful is nonsense.
Server and Tools
2013 Revenue: 20.3b
2013 Operating income: 8.2b
2012 Revenue: 18.6b
2012 Operating income: 7.2b
2011 Revenue: 16.6b
2011 Operating income: 6.1b
Many businesses rely on tools like SQL Server - this segment has come a long ways over the years.
The Mediocre
The Entertainment and Devices Division isn't exactly setting the world on fire but the skype acquisition from October 2011 is still being digested. This segment won't be as strong as the big 3 above anytime soon but at least it is profitable.
The Ugly
Online Services
2013 Revenue: 3.2b
2013 Operating income: (1.3b)
2012 Revenue: 2.9b
*2012 Operating income: (8.1b)
Per the 2012 10-K, 6.2b of this operating income loss reflects an enormous goodwill impairment charge:
OSD's fiscal year 2012 operating loss reflects a goodwill impairment charge of $6.2 billion, which we recorded as a result of our annual goodwill impairment test in the fourth quarter. The non-cash, non-tax-deductible charge related mainly to goodwill acquired through our 2007 acquisition of aQuantive, Inc. While the search business has been improving, our expectations for future growth and profitability for OSD are lower than our previous estimates. We do not expect this impairment charge to affect OSD's ongoing business or financial performance.
The Wall Street Journal talks about this fiasco:
Microsoft paid too much for aQuantive and it wasn't a close fit with its search technology, said analyst Trip Chowdhry of Global Equities Research. By the time Microsoft's Bing search engine had integrated aQuantive's technology, Google had leapfrogged ahead. "In the online space its [sic] not about size, its [sic] about the fast beating the slow," said Mr. Chowdhry. "Microsoft was too slow."
The aQuantive debacle shows what happens when management loses focus.
Back in 2011 Tim Carmody of WIRED wrote about Why Microsoft Can't - and Shouldn't - Give Up on Bing. Of course this was before the huge impairment charge and 2 more years with billions in losses.
Before the big impairment charge there were also arguments about integrations with things like Windows phones as seen in this Microsoft Backing Bing article:
There are other things going on with Bing, many of them just under the radar, which explain why Microsoft is throwing money into the Bing pit. Microsoft sees Bing as more than a standalone Web search engine -- it's a key selling point for the Windows Phone 7 platform.
Of course now we know Samsung and Apple are the dominant players in the smartphone market. Microsoft shouldn't use things like Windows phones as excuses for losing more money on Bing.
2011 Revenue: 2.6b
2011 Operating income: (2.7b)
That's over 12b assigned to operating losses not to mention related losses in Corporate-level activity. Some might say going back 3 years is not enough. The 2010 10-K shows more losses:
2010 Revenue: 2.2b
2010 Operating income: (2.4b)
2009 Revenue: 2.1b
2009 Operating income: (1.7b)
The Online Services segment also lost money in 2007 and 2008 but Bing wasn't launched until 2009.
Focus
When Steve Jobs came back to Apple, one of the first things he did to rescue the company was to channel the focus. Walter Isaacson talks about this in his book:
One of Job's great strengths was knowing how to focus. "Deciding what not to do is as important as deciding what to do," he said. "That's true for companies, and it's true for products."

[Steve Jobs page 336]
Microsoft can't do everything - especially when facing fantastic competitors like Google. The company can return more money to shareholders if it stays focused on its strengths and learns to say no to things like Bing.
Closing Thoughts
Microsoft doesn't need to battle Google with web searches in order to be a successful company. Instead, their focus should be on windows, tools and office. Management must have its reasons for taking over 16b away from shareholders with this segment over the last 5 years. Still, one wonders if those reasons are really worth more than 16 billion dollars. I think the company should sell Bing before it loses even more money in this area.
Disclosure: I am long MSFT, AAPL, GOOG. I wrote this article myself, and it expresses my own opinions. I am not receiving compensation for it (other than from Seeking Alpha). I have no business relationship with any company whose stock is mentioned in this article.
Additional disclosure: Any material in this article should not be relied on as a formal investment recommendation.