Throughout the quarter, the share price of specialty retailer, Aaron's Inc. (NYSE:AAN) has moved in the range of +/- $2 from its 52-week moving average. AAN is currently trading right around its 52-week moving average of $28.15; with a 52-week low of $24.61 and a high of $32.53. Many consider AAN poised to move; however, the direction of this move is up for debate. Several prominent analysts are short Aaron's, having made share price estimates of around $26.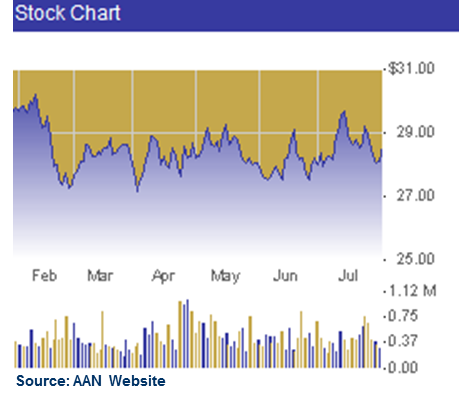 Let's look into the Q2 2013 earning call, where Aaron's management discusses results:
Aaron's continued to grow in the quarter, although certainly less than we were expecting. Revenues were, again, negatively affected by a decrease in non-retail sales to its franchisees. This is certainly a reflection of slowing demand in its market, which has also impacted competitors such as Rent-A-Center (NASDAQ:RCII).
Aaron's has made it a priority to add new business volumes for the remainder of the year. It has several promotions planned over the next few months to stimulate demand and attempt to grow revenues and broaden its customer base. The downside of promotion initiatives such as these is that prices are (necessarily) slashed, resulting in thinner margins.
One of the primary laggards of its business is Aaron's Home Smart division; the results of which did not meet expectations for the quarter. But with recent changes in management, Aaron's has committed to expanding its Homesmart business' footprint for the remainder of 2013 and into 2014.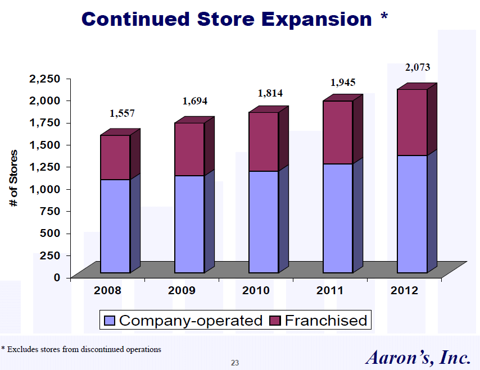 In terms of Aaron's financials, its revenues increased 2% for the quarter. Not bad. However, its non-retail sales (which are primarily sales of new merchandise to franchisees) were down 10% for the quarter. An additional thorn in its side has been the long-standing regulatory investigation; the results of which cost Aaron's $15 million. This has had the effect of dragged GAAP net earnings for the quarter down to $25.9 million versus $36.2 million last year.
Conclusion:
Although macro indicators for the U.S. continue to point towards a steady, modest economic recovery; the recent 1.7% GDP increase announced for the quarter belies the fact that consumer are increasingly wary of making big purchases -- in particular, purchases that can be considered luxury or "non-mandatory" items -- exactly those that Aaron's offers. Efforts for expansion are obvious; but if the demand isn't there, will it matter? We believe Aaron's will continue to stagnate for the remainder of the year. However, the efforts being made today (particularly the expansion efforts, as well as efforts to increase operating efficiencies) should pay dividends in 2014 and beyond. Aaron's has a good track record of taking market share from Rent-A-Center, and it looks like this trend will continue.
Disclosure: I have no positions in any stocks mentioned, and no plans to initiate any positions within the next 72 hours. I wrote this article myself, and it expresses my own opinions. I am not receiving compensation for it (other than from Seeking Alpha). I have no business relationship with any company whose stock is mentioned in this article.