I've been sitting on larger-than-desired cash position of 12.5%, and waiting out what I saw as the potential for a 4-5% pullback in the major indexes. That pullback just doesn't seem to have gathered its critical mass, with all due nods to the anemic volumes we're seeing of late. Meanwhile I've been poring over sectors that I feel are either undervalued or due for a consolidation wave. Energy fits both criteria with a bow on top.
Valuations are largely in the eye of the beholder, but I am feeling ever more confident in the fact that S&P operating earnings for 2009 will put the market in the range of 15-18x, which is more than fine for this point in the business cycle, and gives us plenty of breathing room for further gains.
Noble Valuation Looking Regal
There's little to bicker about with regards to Noble Corp (NE) fundamentals. The stock sports a sub-7 P/E, 1.5 book, and my personal favorite, less than 5x the run-rate operating cash flow. Think what you want about the future direction of crude oil prices, this company is booked $10b solid on their rigs, and is a prime M&A candidate. Dayrates rose nearly 20% year-over-year in the latest quarter, and Noble has a high % of rigs that can reset rates mid-quarter, which should boost the company's next few earnings reports if my hunch of $80 crude plays out.
I was strongly considering Pride International (PDE) instead of Noble, as Pride's valuation probably has room to run following the Seahawk spinoff. My only real reservation on Pride is the concentration of rigs in the Gulf of Mexico and the lack of clarity as to how Pride's mgt. team will handle its newfound financial leverage.
Adding 1000 shares Noble Corp. (NE) at $35.49. (Click to enlarge)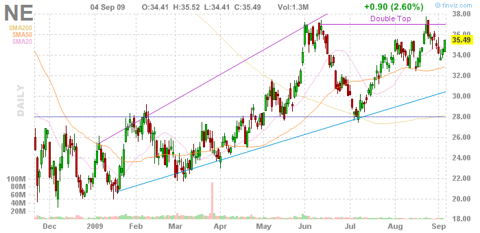 Seabridge Gold - Pre-Development Gem
If I had a Rule Sub-1A of investing, it would be to avoid companies with no revenues. Seabridge (SA) violates this unwritten rule, but sometimes you just have to think outside the box a bit.
I've been looking to get some exposure to gold, but I have been insisting on seeing an operator that doesn't hedge; if I'm going to speculate on a miner, I want all the upside. Why gold? I'm certainly no gold bug, and I'm not a believer in just being there to get the prerequisite 5% that so many rote managers say is "smart". But there is a time and a place, and several positive secular trends are in place right now.
One of them is inflation - that's right, I'm putting inflation down as a secular trend. It's going to be that enduring. I've been pounding the table on this one for so long that my hands are sore, and started doing it long before the "reflation trade" was common lexicon.
I also think the secular trend of expanding middle classes in India, Brazil, and China will produce higher raw demand for gold, and I'm quite curious to see what any real demand increase will do at the margin, considering how much gold is purchased by the bugs and hedgers of the world. Seabridge has full ownership of 8 mines, and all are in North America, which takes away some of my geopolitical fears of the larger, more diversified miners.
Based on the most recent economic assessment of Seabridge's main project, the KSM mines in British Columbia, there's over $11b in gold, silver, copper, and molybdenum to be extracted over a period of 7-10 years. But the company could just as easily get all the field tests in order, then sell the property to one of the alpha dogs next year. Seabridge compiled their assets during a historically low period in gold prices, and they want to leverage spot prices as much as possible.
Adding 1000 shares of Seabridge Gold (SA) at $29.99. (Click to enlarge)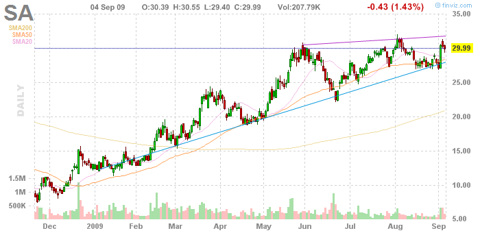 Disclosure: Author does not hold personal stakes in the companies mentioned. The Secular Trends Portfolio is a model that aims to reflect a 100% equities allocation.