If you're looking for growth in the pharmacy benefit management industry, which medical services company should you invest in? Should you invest in Air Methods (NASDAQ:AIRM) to reap solid benefits in the future? In this article, I aim to deliver a clearer picture on where Air Methods stands. Our argument makes a largely fundamental case for suggesting whether this stock is a smart bet for your profits.
Air Methods is America's largest provider of medical emergency air transport services. Based at Centennial Airport in Englewood, Colo., the company employs a staff of 3,646. In a related business, AIRM also designs, manufactures and installs interiors for medical aircraft in both domestic and international markets. Operating from 300 airports across the United States AIRM dispatches flights from centrally located Omaha, NE.
Recent News
On 25 July, 2013, Air Methods announced an agreement with Appareo Systems to acquire 150 Vision 1000 flight data monitoring (FDM) devices in order to follow up the 2009 National Transportation Safety Board recommendations to public Helicopter Emergency Medical Services operators. Currently, the company has 41 aircraft equipped with Appareo flight data recorders. These devices will allow Air Methods to capture a variety of critical flight data and then analyze the data as part of its FDM program. The comprehensive flight data monitoring program provides objective and actionable evidence to help the company proactively mitigate risks.
More importantly, Air Methods plans to launch a tourism operating segment in 2013. A smart bet on tourism and charter flights could help to offset partly weak volumes that the company has been experiencing in patient transportation. Expanding into tourism makes AIRM's stock attractive and worth considering, especially given the progress in mobile apps for flight bookings.
Tracking Financials
The main current challenge facing AIRM is debt service on aircraft leases while reducing depreciation and interest expenses. AIRM has already spent over $100 million in lease buyouts and $53 million for additional aircraft leases in 2013. Consequently, its debt/equity ratio has grown to 2.0. This ratio has increased the company's borrowing costs and diverted revenues to service debt.
In 2012, the company reached long-term debt of $404 million ($262 million in 2011). It drastically damages the financial health of the company: a first-quarter net loss of $5.7 million (a profit of $12.5 million in the same period last year). Revenues dipped precipitously for the first quarter of 2013, down 6.1% from the same quarter last year. CEO Todd lays the blame for this downturn to "bad weather" and a "weaker pay mix."
Stock Valuation Model
Before reaching any final conclusion, let's analyze current key statistics for Air Methods. Here I'm going to use the "Stock Valuation Model" to find out whether AIRM stock is a right bet for your future profits. The stock valuation model rates stocks from 1 to 10, with 10 being the best using a system of advanced mathematics to determine a stock's expected risk and return. I'm using different fundamental and technical factors in order to rank a stock.
1 - Value Test
The bars below the main financial metrics indicate which value test components the company falls when compared to the whole market. For example, if a stock has 3 bars colored for Earnings Yield, the company's earnings yield is between 40% and 60% in the market.

Based on data from YCharts on 1 August, 2013
Air Methods currently has a low fundamental score (3/10). Earnings and assets are low when compared to the market price. That indicates there is a good chance for this undervalued stock to become a profitable bargain in the future.
2 - Fundamentals Test
Fundamentals test allows us to look at the company's financial health at the fundamental level. This type of analysis examines key ratios of any company to determine its financial performance and gives investors an idea of the stock value. In addition, the fundamental analysis helps investors expose positive and negative factors.
Let's look closely if AIRM fails any of the ten tests shown below.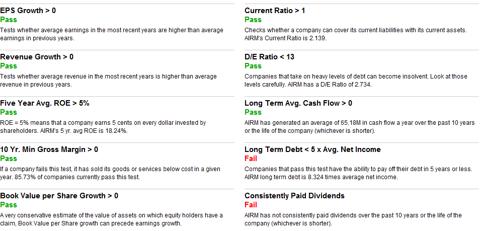 Based on data from YCharts on 1 August, 2013
Air Methods currently has a strong fundamental score (8/10). Evidently, the company looks strong, but investors should keep an eagle eye on two failed tests carefully for possible weakness.
Final Findings
If Q1 2013 is considered a departure from the norm for AIRM then the investor should follow the lead of most industry analysts and buy into the company. Doubts remain as to the viability of AIRM's business model going forward into the brave new world of Obamacare and the company's P/E ratio needs to be addressed. If AIRM misses expectations for a second straight quarter then the abyss could be the limit for its stock. However, I believe that financially healthy Air Methods will benefit largely from newly diversified revenue streams and, hence, make your portfolio take flight in the coming future.
Disclosure: I have no positions in any stocks mentioned, and no plans to initiate any positions within the next 72 hours. I wrote this article myself, and it expresses my own opinions. I am not receiving compensation for it (other than from Seeking Alpha). I have no business relationship with any company whose stock is mentioned in this article.