One of the favorite screening methods of contrarian investors is to search for companies whose stock prices have underperformed the broader market. In the screen presented below, we highlight stocks that have underperformed year-to-date in 2009 (through September 4th).
In order to minimize the occurrence of companies in financial distress as well as those posting large losses, we limit the screen to companies with no net debt and profitable operations (either based on the trailing twelve months or analyst estimates of the next twelve months). This narrowing of the field should result in a superior list of companies that may have been sold indiscriminately by investors, despite a strong balance sheet and decent operating results.
Topping the screen results is Cardionet (NASDAQ:BEAT), a provider of ambulatory outpatient services for monitoring clinical information regarding an individual's health. Insiders were buying the shares at materially higher prices as recently as May. Fidelity owns 13% of the company.
Number two on the list is Russian phone service provider Rostelecom (ROS). The company earned 2.4 billion roubles (~$75 million) in the first half of this year, and had 18 billion roubles (~$575 million) of net cash and investments as of June 30th.
Also on the list is wholesale distributor of technology products Imation (NYSE:IMN). Trading at 0.6x tangible book value and with a large net cash position, the company is an interesting candidate for investors looking for an industry leader with rock-solid balance sheet. Value investment firms Artisan and Third Avenue own 4% and 2% of the company, respectively.
We also point out printer maker Lexmark (NYSE:LXK), the 16th company on the list. Lexmark shares have declined 30% this year on weak printer sales. The company deserves a look, as it trades at 10x next year's consensus EPS estimate.
Three consumer-focused companies on the list also deserve closer attention: teen apparel retailer Hot Topic (NASDAQ:HOTT), golf equipment provider Callaway Golf (NYSE:ELY), and branded shoe marketer Deckers Outdoor (NASDAQ:DECK). While the near-term outlook for these companies is muddied by the recession in consumer spending, each company has a franchise that should do well as retail spending stabilizes.
Click here for a PDF version of the following table (note: PDF files contains clickable links to additional company information).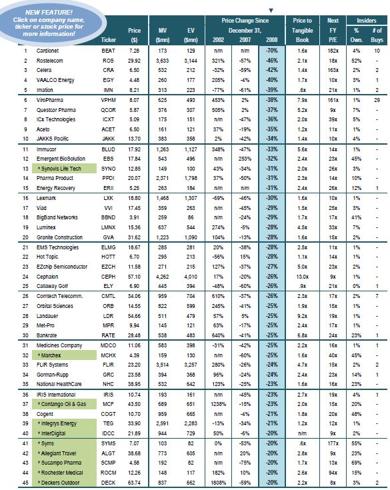 Disclosure: Long MCF, no other positions.