One person who has consistently maintained this will be a "V" recovery is Lakshman Achuthan, Managing Director at Economic Cycle Research Institute (ECRI) who says.
A number of our leading indexes, including the Weekly Leading Index, are pointing to a stronger recovery than most people expect. While anticipating the timing of cyclical turns is the primary strength of ECRI's approach, the performance of ECRI indicators -- like the WLI -- are suggesting that the early stage of this recovery is likely to be the strongest we've seen since the early 1980's, i.e., stronger than the last two recoveries. In pundit-type language I've suggested at least a lower case "v-shaped" recovery.
ECRI correctly forecasted the timing and severity of the Great Recession. Let us be clear, Lakshman is not looking at the same data I review here weekly.
The coincident data we review can be compared to driving a car only able to look backwards while wearing blinders. We cannot see transitions in terrain or road conditions until the change has actually occurred. Analysts must forecast the future by looking at the past. Like weathermen, we are mostly correct – as the weather tomorrow has an 85% chance as being the same weather as today.
We are at a transition point economically. No one will dispute that as the economy will not keep free falling forever. The question then becomes does America slowly fad away, enter a Japanese 'L" recovery, a big "W" – or even a traditional recession ending "V" recovery.
As an investor, I surely hope it is a "V". As an analyst, I am corrupted by looking at terrible data.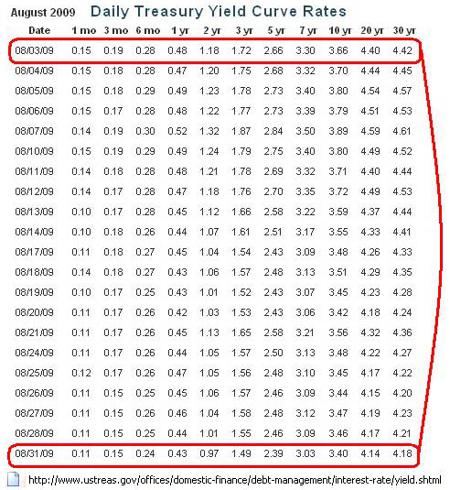 Hard to know exactly why markets do what they do, but there are times when the business cycle is out of synch with the inflation cycle, and that may help explain what seems on the surface to be a disconnect. In fact, it is a common mistake to equate growth to inflation to jobs. In our view, while cycles in these three aspects of the economy are certainly related, the cyclical turning points in their respective cycles can diverge significantly.

Today our leading indexes of the business cycle have turned up decisively, yet our Future Inflation Gauge is just moving up from a 51-year low. For the moment, we're in a sweet spot of stronger growth without inflation.
ECRI's published economic forecasts go out about six months. I asked Lakshman what potential obstacle(s) do you see beyond the range of your indicators (like the federal deficit). What forces do you see building which could make this economic recovery continue?
My mentor, Geoffrey H. Moore, once warned me to never predict the predictors. While we do not see a new recession starting before the middle of next year we cannot see farther than that with our approach. The virtuous cycle that is recovery tends to feed on itself which allows it to persist for a while – more production increases employment, which in turn supports income and sales, which then boosts production. Our leading indexes are sensitive to when that process breaks down in a way that suggests the direction will soon reverse. It may be that the reason or story behind the next downturn has yet to be determined. For example, much may depend on the timing of the Fed's exit strategy vis-à-vis the timing of the next inflation cycle upturn.
While I had Lakshman's ear, I just started firing questions,
Do you believe we are in a deflationary cycle? There seems to be a bit of controversy on this point – even two fundamentally different definitions of inflation. For me, this is an important issue as our economic forces seem to only be able to expand in an inflationary environment.
I don't think so, because of the rise in the FIG to a seven month high. Now that's not saying too much, because that's off of a 51-year low, but it is in the right direction, and we do have a business cycle recovery in place. Mind you, we've been dating inflation cycles for decades much the way we date business cycles (we identify a cluster of inflection points for many broad measures of inflation like the PPI, CPI, GDP/PCE deflators, etc.) so there's no fitting of the data to a particular viewpoint.

Looking ahead one could say the risk of inflation and deflation are both significant. If the Fed "exits" too quickly, the risk of a new recession in fairly short order rises, and ECRI's research (over centuries in the U.S. and 60 years globally) shows that back-to-back recessions are associated with deflationary environments. If the Fed is too slow, then there's more chance for the FIG to rise sharply suggesting a surge in inflation.
You mention back-to-back recessions. This is almost the "W" recovery being thrown around by some. Is a "W" not possible?
Faced with the undeniable reality that the economy's output has already begun to increase in the current quarter, more pessimistic forecasters who, until recently, were predicting an "L-shaped recovery" whenever it arrived, have been forced to scrunch their "L" into a "W" and predict a "double dip" back to negative growth in the fourth quarter. This is wishful thinking: the message from every one of our leading indexes is unambiguous – there is no double dip anywhere on the horizon.

To quote, my mentor's mentor, Wesley Mitchell's writing from the 1920s (while quoting A.C. Pigou), "The error of optimism dies in the crisis but in dying it gives birth to an error of pessimism. This new error is born, not an infant, but a giant."

It is this giant error of pessimism, now rampant, that prevents otherwise intelligent people from recognizing the objective reality that the recession is over, and, according to reliable leading indexes, which do not serve any agenda, there is no double dip in sight.

The reason so many people are currently experiencing such hard times is because, when a recession is ending, we are at the bottom of the business cycle. This is when the reality of the economy is at its harshest. But, just as it is darkest before dawn, so too are prevailing economic conditions at their bleakest before recoveries.

The problem is that the pessimists are basing their views of the near future on projections from the recent past – a method of prediction that is guaranteed to fail at turning points. In fact, weakness in coincident indicators like retail sales and overall consumer confidence is quite normal near the bottom of the business cycle, but is no reason to infer that the recovery will not take hold as it always has in the wake of decisive upswings in ECRI's array of leading indexes.

It is important to understand that ECRI's economic outlook is rooted neither in our subjective opinion and gut feel, nor in econometric models back-fitted to recent business cycles. Rather, they are based on a rigorous leading indicator methodology that is more thoroughly tried and tested than any other approach to business cycle forecasting.

We are under no illusion that the economy's long term fundamentals are in good shape. In fact, for the past year we've been highlighting the danger of more frequent recessions in the years ahead.

Yet, given the growing strength in ECRI's objective leading indexes, the odds are rising that the early stage of this economic recovery will be the strongest since the early 1980s. In other words, it is high time for decision makers to break from the herd of blindsided pessimists, who will continue to bemoan the weakness of the economy long after the Great Recession is history.
The consensus of the economists is that this will be a jobless recovery. Every time I look at revised economic forecasts recently, they have raised GDP projections – while lowering employment estimates. With unemployed and underemployed Americans well over 10% well into the future, why will this not restrain economic growth (as we are taking at least a few percent off of GDP from loss of spending)?
We will see non-manufacturing jobs growth as part of the recovery, and this is important as 91% of people are employed outside of the manufacturing sector. The troubles with manufacturing employment will not be cured by the end of this recession. Still the 90% of people who are employed play a big role in the recovery. Their fear of being fired is much different today than it was at the beginning of the year, and with pent up demand we will see sales increase at the right price.

Also, with home prices stabilizing the drag from that loss of wealth is easing, while the stock market has recovered noticeably, on balance helping household finances from where there were early this year.

Furthermore, let's not forget that the wealthiest make up a huge chunk of consumer spending. Their ability to return to a pre-crisis lifestyle is essentially intact, and as they emerge from their bunkers they're staring at very low prices.
They are for profit. If they are wrong on what they are saying, it would not be good for business.

Their specialty is forward-looking indicators. This is their thing. I can think of no else in the same league.
Our economy will keep improving at least until the middle of next year – and he can forecast no further ahead. The forces are already acting to make this happen.

This looks like a normal to strong "V" shape recovery.

There are dangers and structural economic issues which are over the horizon. This was not a Goldilocks outlook by Lakshman.
How the Fed unwinds from its Great Recession positions in interest rates and its portfolio will determine the fate of the recovery.
Recessions may begin to occur more often.
The risk of inflation and deflation are great.
Manufacturing and Business
……reflects declines of 1.5 percent in output and 7.6 percent in hours worked. (All quarterly percent changes in this release are seasonally adjusted annual rates.) From the second quarter of 2008 to the second quarter of 2009, output fell 5.5 percent while hours fell 7.2 percent, yielding an increase in productivity of 1.9 percent (chart 1, tables A and 2). Nonfarm business productivity increased at an annual rate of 2.5 percent from 2000 through 2008.
So forget the headline about manufacturing new order headline saying orders were up 1.3% in July. If you were in industry, the situation did not improve.
Look at the non-seasonally adjusted data - this is what the people in the trenches are seeing. Even the seasonally adjusted data did not improve. There are indications that the August data will improve slightly.
The year-and-a-half decline in manufacturing output has come to an end, as 11 of 18 manufacturing industries are reporting growth when comparing August to July. While this is certainly a positive occurrence, we have to keep in mind that it is the beginning of a new cycle and that all industries are not yet participating in the growth. The August index of 52.9 percent is the highest since June 2007. The 4 percentage point increase was driven by significant strength in the New Orders Index, which is up 9.6 points to 64.9 percent, the highest since December 2004. The growth appears sustainable in the short term, as inventories have been reduced for 40 consecutive months and supply chains will have to re-stock to meet this new demand.
The past relationship between the PMI and the overall economy indicates that the average PMI for January through August (42.2 percent) corresponds to a 0.3 percent increase in real gross domestic product (GDP). However, if the PMI for August (52.9 percent) is annualized, it corresponds to a 3.7 percent increase in real GDP annually.
At the end of the program

Toyota

(TM) accounted for 19.4 % of sales, followed by General Motors with 17.6 %, Ford (F) with 14.4 %, Honda (HMC) with 13.0 %, and Nissan (OTCPK:NSANY) with 8.7%.

This program had two aims – stimulate

USA

industry (and therefore the economy) and getting the gas guzzling vehicles off of the street. It got gas guzzlers off of the street, but may have permanently exported even more manufacturing jobs overseas.

What happened to the used car market? Ya got it! The prices here increased because the trade-ins were destroyed. And, new car sales are included in GDP, while used car sales are not. Does anyone think this program helped the lower income population? This is a political program to boost GDP.

The economy can be argued is in a liquidity trap – people hoarding money because they sense the economy is worsening which creates the situation where the economy gets worse. Unfortunately, hoarding by definition is the consumer spending less and returning to past savings levels.
Jobs, Jobs, Jobs
Using ADP's data MoM data instead of the government's, unemployment increased 0.35% percent instead of the government's 0.3%. And if I correct last month's government data – the headline unemployment rate is easily over 10%.
Additional Economic Data This Week
The average interest rate for 30-year fixed-rate mortgage decreased 9 basis points to 5.15%. This data is telling me that home sales based on conventional mortgages are flat lined, and that any increase in home sales must be due to FHA financing (first time buyers) – or no financing required at all.
Economic Forecasts Published This Past Week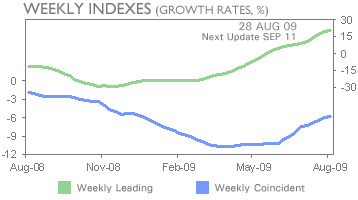 The Economic Cycle Research Institute (ECRI) released their Weekly Leading Index now is at a 38 year high. Lakshman Achuthan, Managing Director at ECRI added:
With WLI growth rising to a new 38-year high, U.S. economic growth is poised for a stronger snap-back than most expect. The index was pulled higher this week by stronger housing activity.