There are reasons oil (USO, OIL, DBO) prices rise and fall, and there are explanations that are given. Of course, there is pressure on the media to produce an acceptable explanation for price movements.
Oil is trading within $6 of a 5-year high. Many misleading explanations have been provided along the way. Egypt is a perfect example, grabbing multiple headlines in July, yet Egypt had no net effect on the oil market. Egypt had nothing to do with the $10 rise in oil prices, in my opinion as an oil trader. Hopefully you will soon be able to distinguish between a real reason and a convenient excuse for oil movements.
I explained the primary force behind oil price movements in a recent article. The real reason for rising oil was overlooked: a demand surge for oil that set the table for a tight Q3 and inventory draws. The most recent IEA Q3 demand forecast:
North American crude runs surged in May and June ahead of an exceptionally steep seasonal ramp up in global throughputs expected in 3Q13. Global crude throughputs are expected to ramp up by a steeper-than-normal 2.3 mb/d from 2Q13 to 3Q13, in line with previous forecasts and driven by the non-OECD region.

Demand growth is coming from these key areas: China +0.48 million bpd, Africa +0.43 million bpd, India +0.15 million bpd, Russia +0.11 million bpd, and Saudi Arabia +0.09 million bpd.
Global oil demand is estimated to average 91.1 million bpd in Q3, a substantial jump from the 89.6 million bpd of estimated daily demand in Q2. With global oil production expected to be flat from Q2 to Q3, excluding OPEC, rising demand can only be met by increased OPEC output and inventory withdrawals.
While global oil output excluding OPEC is expected to rise 0.8 million bpd in Q4 and further in 2014, that projected increase will not alleviate tightness in Q3.
As a result, any projected supply that does not make it to the market in coming months will have an amplified effect on oil prices. While net gains in oil production in North America have been impressive in the past few years, the U.S. does not have idle capacity that can be turned on in the event of a disruption. Prices are what regulate demand when there are disruptions and inventory is the only buffer, since spare capacity does not exist.
Oil inventories at Cushing, Oklahoma are scrutinized weekly, but this site represents only 2 days worth of U.S. oil demand. Even the Strategic Petroleum Reserve holds just enough oil to cover U.S. demand for about 40 days. This is why relatively high oil inventory levels do not prevent the oil price from rising in the event of supply disruptions.
Next, I want to examine reasons that are provided to explain oil price movements. Here is a typical explanation; an actual report from August 1 to account for the jump in oil so far this week:
Positive signs on the global economy were the catalyst Thursday. Data from China and Europe showed improvement in manufacturing. In the U.S., in addition to a strong report on manufacturing, a drop in unemployment claims indicated a strengthening job market.

Even with those signs of improvement, global central bankers show no inclination of easing up on measures that have kept interest rates at historic lows - and prompted investment in riskier assets like oil and stocks.
I disagree that any of these reasons are an acceptable explanation for the recent surge in oil prices. Here is a closer look at each of the reasons:
China Manufacturing
The official Purchasing Manager Index in China inched up to 50.3 from 50.1, yet the HSBC manufacturing PMI, released the same day, showed a drop to 47.7 in July, the lowest level in 11 months.
China consumes a little less than 10 million bpd. In the first half of 2013, China consumed 9.82 million bpd, up 3.4% from the year ago period. Meanwhile, global oil demand is projected to hit 91.1 million bpd in Q3. Therefore China oil consumption as a percent of global demand is only about 11%.
Consumption in China would have to rise 10% for global demand to rise 1%. A small uptick in the PMI that was not even confirmed by a similar measure is an inadequate explanation.
European Manufacturing
European data improved this week:
Markit's Eurozone manufacturing PMI showed marginal growth among factories for the first time in two years, with the index at 50.3, up from 48.8 in June. Output rose in Germany, Italy, the Netherlands, Ireland, France and Austria.
While the improvement in some European economic statistics is a possible sign of improved oil demand, there were weaker economic signs reported the same day:
PMI reports showed output and new orders falling in July in India, South Korea and Taiwan. In Indonesia, output and new orders were holding at similar levels to June.
The stronger European data was listed as reason for higher oil prices, yet the weaker data elsewhere was ignored. This fails to explain a sharp rise in oil prices.
U.S. Manufacturing
Stronger manufacturing data in the U.S. was also given as a reason for the rise in oil prices. Here is a look at that data from NASDAQ:
U.S. manufacturing activity fired up last month as factory employment expanded at its fastest pace in 13 months, according to data released Thursday by the Institute for Supply Management. The ISM's manufacturing purchasing managers' index rose to 55.4 in July from 50.9 in June. A reading above 50 indicates expanding activity. July's reading is the highest since June 2011.
While this may seem to be meaningful, there is no discernible trend between the ISM and oil prices: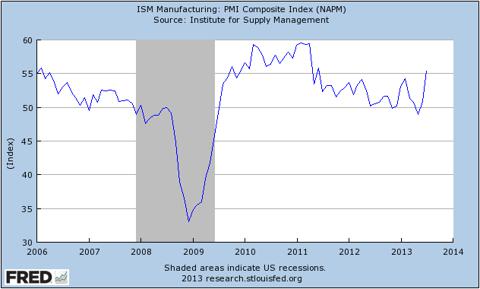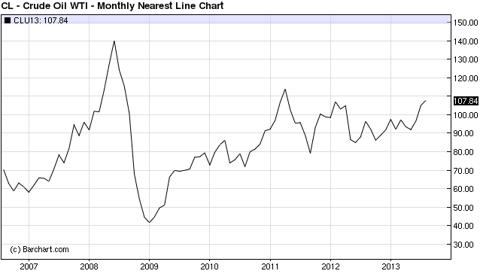 7 years of crude oil data, barchart.com.
Looking at the data above, oil and manufacturing cratered simultaneously in late 2008, but 2006 and 2007 demonstrate that oil prices can rise substantially while the PMI is falling. A substantial rise in oil prices in 2008 may even be the primary cause of the last recession, as described here. While the PMI can trend in the same direction as oil for periods of time, it clearly has no predictive value.
U.S. manufacturing is not a reliable oil indicator because only 23% of oil is used for industrial purposes. More than 70% of oil is used for transportation purposes.
U.S. Employment
A firming U.S. jobs market was also given as a partial explanation for the higher oil prices, and rising employment has roughly trended with rising oil prices: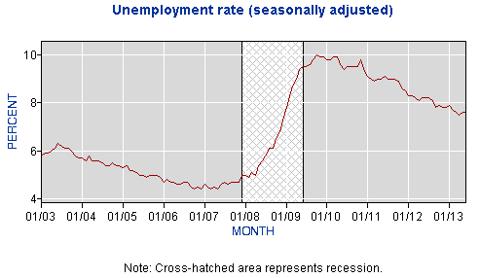 Unemployment Rate, Bureau of Labor Statistics.
That relationship is not expected to continue, as the U.S. is projected to use less oil in coming years due to efficiency gains. So, a rise in employment should be offset elsewhere and should not contribute to higher oil prices: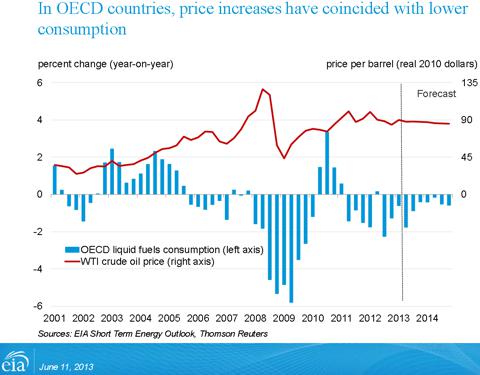 Central Bank Policy
This is my favorite explanation for higher oil prices. If central bank policy was truly causing money flow into "risk assets" like oil, then gold would also be a beneficiary of global central banker actions. Gold is currently down double digits in 2013 while oil is up double digits, so that comparison can't be made.
Remember when the dollar was weak, and every day the dollar was given as an excuse for higher oil? The dollar has been firm for over 2 years, and sits closer to the high of the range, so we have temporary reprieve from that excuse for rising oil prices.
Now that we have covered reasons why oil is not rising, I want to focus on what really is affecting oil prices.
Consider that it was known nearly 2 months ago that oil demand would rise substantially in Q3; the IEA reported in mid-June that global crude throughputs would increase by 2.2 million bpd.
Reuters: The IEA said changes would be already felt from the third quarter of 2013 as global refinery runs may rise by more than 2 million bpd on the back of increased processing by China, Saudi Arabia and Venezuela.

It also added global crude supply could struggle to keep up with refining demand because of seasonal maintenance to North Sea production, Sudan's struggle to resume production, the annual hurricane season in the U.S. Gulf and risks to Middle Eastern output due to the Syrian civil war.

When this report was issued, West Texas Intermediate Crude Oil was trading around $96. Since this report, large speculators have increased positions in crude oil futures.
Disruptions in Libya, Nigeria and Iraq cut OPEC crude oil supplies by 370,000 barrels per day in June to 30.61 million barrels per day. The world oil market can more easily absorb disruptions in Q2 while demand relatively low, but it more of a strain on a market that is experiencing inventory draws to meet demand.
Q3 demand rises due to increased driving:

IEA, Paris
The red line shows the incremental demand that arises in the U.S. during summer driving season.
And increased amounts of oil are used to produce electricity- particularly in the Middle East: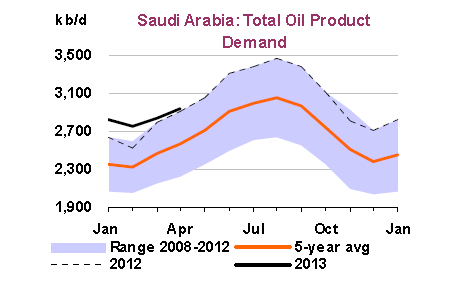 IEA, Paris
We have established that the current market is experiencing much higher demand than Q2, and that any supply disruptions could have an amplified effect.
Now, to introduce a real market-moving event in Libya, as reported by Reuters:
LONDON, Aug 1 (Reuters) - Libya's oil exports are running at less than half normal rates - one of the worst outages in the past year - after armed security guards shut down export terminals.

Libya has been battling to sustain output of about 1.6 million barrels per day (bpd) following a wave of protests and strikes that have crippled its energy sector.

Oil Minister Abdelbari al-Arusi said on Wednesday flows had fallen to around 330,000 bpd, but it was not clear whether he was referring to production or exports.
The situation in Libya is not clear, but oil production and exports have been affected considerably. A loss of a million bpd on the world market during high demand season is a serious problem. The duration of this disruption is unknown, but this is a major reason for the recent oil price rise. This is an entirely different situation than Egypt, which did not cause any disruption to global oil supplies.
Consider that a loss of a million barrels a day of Libyan oil is an amount that is equivalent to 10% of Chinese demand.
Conclusion
Many factors contribute to the oil price on any given business day. In an attempt to provide a clear explanation for price movements, the true cause is often overlooked.
While oil prices can rise substantially due to disruptions, there is no supply that can be immediately turned on anywhere outside of OPEC to drive a sudden glut of oil onto the market- with the exception of strategic oil reserves.
Global oil demand spikes during summer months and again in winter. During this period of time, disruptions to global supply have an amplified effect on oil prices. Traders often anticipate a tight market and establish long positions, and then sell into any market event that causes prices to jump.
In coming weeks, the oil market will remain tight, and supply disruptions could lead to price spikes in the oil market- something that may already be happening.
My outlook is for oil prices to remain elevated oil through August, between $95 and $115, with some relief possibly arriving by late September. Traders may sell into predictable good news in coming weeks, such as inventory drops, as hedge funds are already heavily long and will be using opportunistic news releases to sell.
Libya looks to be one of the key developments that could cause significant upside in oil, and should be watched closely.
Disclosure: I have no positions in any stocks mentioned, and no plans to initiate any positions within the next 72 hours. I wrote this article myself, and it expresses my own opinions. I am not receiving compensation for it (other than from Seeking Alpha). I have no business relationship with any company whose stock is mentioned in this article.