Without a doubt, BlackBerry (NASDAQ:BBRY) has been my worst holding of the past year. In a year where the S&P 500 has been doing nothing but going up (up ~25% yoy), it does sting when one of your stock picks is down; my holding in BBRY is off about 40%, as I bought at $15.00/share in March.
Back then I considered the stock a worthwhile speculation, as I figured the company had a decent niche market for itself and had a viable chance at becoming a solid number 3 player in the smartphone market. My logic being that even if BlackBerry were to double its market share, it would still be 10% or less (quite an achievable number) but this kind of positive turnaround would most surely cause the stock to rise significantly.
Despite the recent bad quarter, I still think it's much too soon to declare the company dead, as many market commentators are now doing. In fact, although my timing may have been off and some of the downside risk has come to pass, I now believe the company is a more compelling investment today than before. Priced at 0.76 of tangible book, the company is a balance sheet bargain that has had a lot of downside risk taken out of it. Additionally, plenty of evidence now shows shorts are beginning to cover, which should help to prop up the stock price near term. If the company can beat expectations on earnings later this year, the stock will be right back to where it was before. Even if it continues to languish, assets on the balance sheet will surely keep the stock afloat and investors will not lose much more.
BlackBerry Has Some Unique Selling Points
To rehash a few positives and competitive edges that I like about BlackBerry:
The BB10 features Balance, Hub and Protect, which are market differentiating tools that should overtime attract some buyers.
I particularly like Balance here, which gives users a very simple and clever way to differentiate their corporate and personal usage of the phone. This is extremely appealing not just for organizational purposes but also security.
BlackBerry Enterprise Server can be used by other devices, including iPhones and Androids. This is an example of how BBRY is working to make itself viable over the long term, by keeping their strong name intact for security and control policies, regardless of whether their own BB10 platform turns out to be a big success or not.
Valuation - No Denying The Facts, the Company is a Balance Sheet Bargain
You can't help but be impressed by BlackBerry's balance sheet. This is precisely why I feel the company is actually more compelling today, despite its huge drop in share price. The company is trading way under tangible book value, and at about half of regular book value: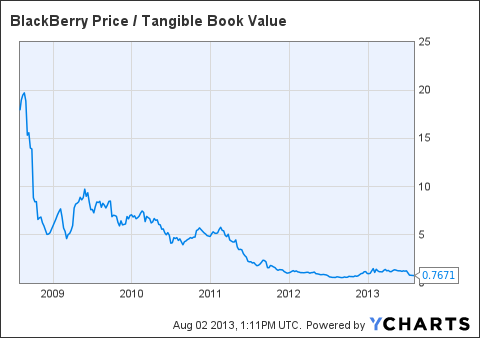 BBRY Price / Tangible Book Value data by YCharts
If you remove emotion from the equation, and just look at these assets, the company is really standing on solid footing:
Cash and Equivalents - $1.5B
Short term Investments - $1.1B
Receivables - $3.3B
Inventory and Other Current Assets - $1B
Note these figures are rough approximations and not exact. This gives total Current Assets of $7.1B, vs. total current liabilities of about $3.4B. So with a current ratio > 2, no long term debt, and NCAV/share of $7.10, the company is truly a balance sheet bargain. Even if you consider that the ~$1B in inventory and various current assets should be discounted due to their nature (phones and related inventory would quickly lose value over time), removing these assets entirely would still leave just over $5/share in NCAV. This doesn't even include the $2.3B in long-term assets (PP&E).
The company also had $1.3B in TTM operating cash flow, with $0.40/share of FCF in the most recent quarter. FCF is hard to predict far into the future, but with 0% growth the company would still be worth near $10/share on a cash flow basis alone. A few quarters of improving results and the stock price will easily double. With an EV/EBITDA multiple of 1.33, the expectations cannot really get much lower.
The Bottom Line
I continue to believe that BlackBerry is a worthwhile speculation today, and in fact now would be a great time to add to a position or begin building a new one. The company has had a lackluster quarter recently which has caused the emotional market and investing public to again start doubting the company's ability to turn things around. To be crystal clear on this one, as the world of consumer electronics is forever fickle, the chances of BlackBerry being a true turnaround and homerun are indeed small in my opinion, and for this reason alone I continue to label the stock as speculative. BlackBerry could turn out to be the Apple (NASDAQ:AAPL) from the early 2000s, but there is no way of knowing that. Your chances of picking the next Apple are about as good as winning the lottery. However, the chances that the BlackBerry stock price falls significantly more is also quite small, simply because of the solid balance sheet propping up the company. Shorts also seem to agree here, as they have been steadily decreasing their position (although still a long way to go, shares short is still north of 20%).
All in all I see downside risk perhaps to around $5/share, taking into account my adjusted NCAV calculation (removing inventory). That is a risk of another 40% drop. However, if the company can surprise Wall Street a bit and show that it is gaining any kind of traction, upside will easily be to the mid teens again or perhaps much higher. So for me, there is only so far the stock can fall, and an incredible amount that it can rise if only a few things start to go better. Therefore, why not load up on some more shares?
Now is the time to be greedy when others are fearful.
Disclosure: I am long BBRY, AAPL. I wrote this article myself, and it expresses my own opinions. I am not receiving compensation for it (other than from Seeking Alpha). I have no business relationship with any company whose stock is mentioned in this article.