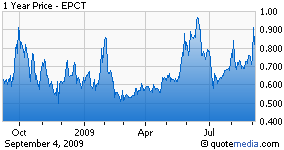 Shares of Epicept (OTC:EPCT) have logged quite the volatile week of trading after a price spike carried shares to near the $1 mark before immediately retreating to the eighty cent level.

A press release was issued on Thursday by the company highlighting some recent positive recognition for Ceplene, Epicept's treatment for adult patients with Acute Myeloid Leukemia (AML) in first remission, but as I've stated before - the only news investors want to hear at this point regarding Ceplene is news of a commercial partner in Europe. According to Thursday's PR, the company is (as quoted from the PR) "still in negotiations with several prospective partners;" just as they have been all year.

Again - as I've said before - call us when the partners are signed.

I'm still holding strong with EPCT, mostly based on the potential of Azixa, but I have to believe that if Ceplene were that good, a partner would have already been signed - just my opinion.

Epicept is also scheduled to present at this week's Rodman & Renshaw conference and will present at 3:15 on Wednesday the ninth. If any news is going to be released in conjunction with the conference, expect it to be released via PR before their presentation time.

Disclosure: VFC is long EPCT.