By Michael Cintolo
While I'm tempted to recommend the Joe Montana rookie card as my investment idea (seriously … I saw a few on eBay), I'll get back to the stock market. My idea this time is a stock that showed up in Cabot Top Ten Report a few weeks ago, and has since traded extremely tightly.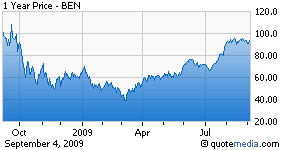 It's a big, "bull market" stock–Franklin Resources (NYSE:BEN), the huge asset manager that operates Franklin Templeton Investments with more than $400 billion of assets under management. At the end of June, 46% of assets were equity, fixed-income 33%, and so-called hybrid assets accounting for the rest.
The reason I like the company is simple: Franklin Resources takes a small cut each month or quarter of all the assets it has under management. Thus, when the market is heading down, not only do asset values shrink, but investors usually yank out some of their funds. It's a double whammy, and that's why BEN's earnings have fallen 27%, 75%, 69% and 25% the past four quarters.
However, when the market is in a bull phase, the opposite happens–asset values rise and investors put more money into the company's funds. The result is rapidly rising assets under management … and earnings! That trend has already begun. Assets under management hit a low of $377.6 billion at the end of February but have risen every month since then, reaching $482.4 billion at the end of July … up 27.7% in five months! (August's levels should be released around the middle of next week.)
That momentum helped the company crush earnings estimates for the second quarter–the $1.29 per share it reported was down 25% from a year ago but was a huge 42 cents ahead of expectations. And that meant analysts scurried to hike their future estimates–both 2009 and 2010 estimates rose by 20%. All told, BEN could easily earn $5 per share next year if the market remains relatively healthy.
Thus, the fundamentals are at the company's back, and so is the chart. During a four-week span starting in early July, BEN spiked on big volume from 65 to 95. Now it's gone very tight–it's leveled out between 90 and 95 during the past few weeks, a sign of accumulation. BEN is still extended above its 50-day line (down around 83), but I think the stock is buyable around here, or on a breakout above 96.
Just be aware that, should the market enter a multi-week correction, BEN will likely slide. (As a Bull Market stock, its fortunes are tied to the market.) But with my market timing indicators bullish, and the stock's tight set-up, it seems like a good bet around here.