The Dow Jones Industrial Average has almost tripled since its 2009 lows. Many popular stocks like Salesforce.com (NYSE:CRM), Amazon.com (NASDAQ:AMZN), Whirlpool (NYSE:WHR), Canadian Pacific Railway (NYSE:CP) and Lululemon (NASDAQ:LULU) have touched all-time highs. Based on current sentiment, it looks like they will all go higher. For the most part, I think they are richly-valued and possibly over-valued. In the case of several (CRM, LULU, CP, WHR), I have been short the stocks or long puts.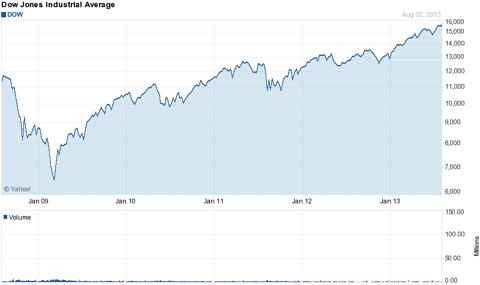 These stocks do not have a lot in common. Salesforce.com is by and large unprofitable with management earnings a multiple of what the net income attributable to shareholders has been since it became public. Amazon.com is on and off profitable but continues to show organic growth at high rates. CP Rail is the same old railroad it has been for 100 years but generating investment enthusiasm for its cost reductions under a new CEO. Its current market value is barely justified if all of its employees worked for free, but up it goes. Lululemon continues very profitable growth but shows signs of growing pains with quality issues and increasing competition. And, Whirlpool has great brands and is in vogue for the nascent housing recovery despite vulnerability to higher interest rates and any economic slowdown.
Diverse companies, varied stories, differing outlooks, unique strategies, and all touching all-time highs. Is the world economic outlook much better? Has the United States dealt with its fiscal imbalance? Do the Democrats and Republican agree on economic or fiscal policy? Is growth in China or the BRIC countries accelerating? Are interest rates likely to decline? Has Europe solved its financial problems? Are energy prices low enough to stimulate growth? Are tax rates about to fall?
If you can answer yes to these questions you should load up on these stocks. Get on the profit train. Don't miss the boat. It is not too late.
Or, just maybe, we are near a market top and you might chip out and take some money off the table, buy a few puts and even short something. No disrespect to the bulls, they have been right for quite a while and might be for a while yet. But, at least in my view, smart money faces reality and exercises a bit of caution when the bulls are rampant.
For my money, these are shorts and I will add to existing positions as the market rises and wait for the correction that seems likely in due course. If you wait until the market hits a top, you find yourself crushed in the rush to the exit doors when it turns down.
Disclosure: I am short WHR, CRM, CP. I wrote this article myself, and it expresses my own opinions. I am not receiving compensation for it (other than from Seeking Alpha). I have no business relationship with any company whose stock is mentioned in this article.
Additional disclosure: I may add to shorts in any of these stocks or buy puts at any time.