This will very likely be my last article about Intel (NASDAQ:INTC) that I publish before the upcoming Intel Developer Forum in San Francisco scheduled for September 9-12. In this particular piece, I would like to talk about Intel's recent dividend announcement, which left many income-oriented investors disappointed, as the company did not increase the dividend from the current $0.225/share quarterly payout. While I agree that this is disappointing, I do believe that this should not have come as a surprise to investors in light of the company's recent financial performance. That being said, it's not yet time to panic.
This Would Be A Bad Time To Raise The Dividend
Intel investors have, over the last few years, gotten quite used to some really nice dividend increases. Does anybody remember when Intel raised its dividend 3 times within an 18 month time-span? This was when Intel was posting gangbuster revenue and EPS growth, and was so bullish on its own future that it borrowed a significant amount of money to buy-back a boat-load of stock.
Well, times have changed. Intel's net income has been on the downswing, particularly as excess capacity charges (although these are gone now) and steep R&D increases in order to more effectively compete in the smartphone/tablet space, have eaten away at the bottom line as revenues are likely to remain flat for a third year in a row.
In the most recent quarter, Intel earned $0.39/share. While this is still more than enough to cover the $0.225/share dividend (and could even support a higher dividend), it is typically not a good time to raise the dividend when your business is at a bottom. Can you imagine what the reaction from both investors and the sell-side alike would be if it raised the dividend right off the back of a full-year guide down and a "skin of their teeth" quarter? It would come off as an irresponsible, if not totally desperate, attempt to try to win investor favor. Even as an Intel uber bull, I would be raising my eyebrows if Intel chose now to raise its dividend.
If Q3 And Q4 Show That Intel Is Back, Then Expect A Dividend Increase
It is my belief that Q3 will mark the beginning of the turnaround for Intel's business. While Y/Y gross margins will still be down (primarily due to 14nm startup costs), this will be the first quarter in which we begin to see Baytrail finally bolstering Intel's competitive position in the tablet market. Probably just as importantly, Baytrail will finally allow Intel to push thin, light, and fanless PCs into much lower price-points than the current "boutique" Ultrabooks target today, which could significantly drive up client processor unit volume. I also expect that the massive data-center product refresh cycle to drive renewed optimism in the data-center business that has been largely flat Y/Y during Q1 and Q2 (as a result of the majority of the company's line-up reaching the ends of their lives).
Of course, nothing is guaranteed - PC sales could be even worse than expected, and maybe Baytrail doesn't sell as well as I believe it will. The data-center business could also run into macro-economic headwinds. However, given that Intel did $12.8B in Q2 with a stale data-center product line and with an even more stale tablet product lineup (Clover Trail is now largely obsolete), I don't think the $13.5B guide for Q3 is particularly farfetched.
The real question is whether Intel can deliver in Q4. By Q4, Intel will be shipping its "Merrifield" smartphone platform with LTE which should hopefully do better than Medfield/Clover Trail+ which saw very little traction thanks to a sub-par apps processor and lack of LTE. The Silvermont processor core, significantly improved graphics, and an LTE multimode voice/data modem should allow Intel to finally win some real smartphone sockets. Further, Baytrail-T for tablets, and Baytrail-M/D for low cost notebooks/convertibles, respectively, should really hit their stride during the quarter. Finally, Haswell should continue to ramp in Ultrabooks and higher end tablets.
If Q3 comes in all-right and if the Q4 guide is strong, I fully expect a dividend increase along with the results. If not, then lack of a dividend increase will be the least of Intel investor worries.
Intel Dividend Increases Don't Typically Come In The Summer
I'd like to make a final point. While investors have come to expect summer dividend increases from Intel, the longer term trend does not necessarily suggest a summer increase (click to enlarge image):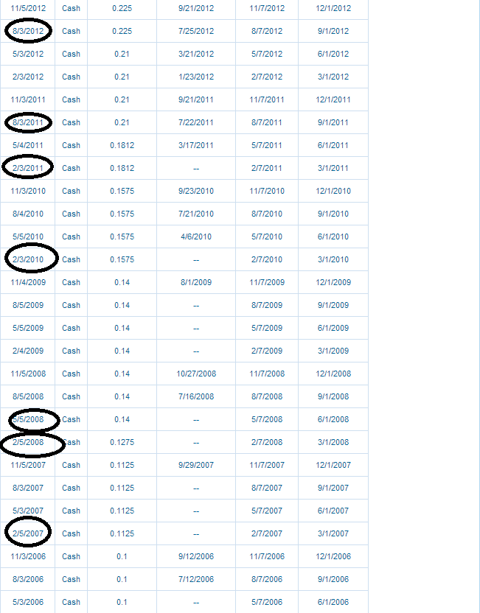 Click to enlarge
In fact, February seems like a much more common time for Intel to bump up the dividend than August. However, as Intel's business is currently in massive flux, I would expect that dividend increases are commensurate with the company's underlying financial performance. That is, if Intel starts to grow its top and bottom line like gangbusters, then expect some pretty rapid-fire dividend increases. If things just keep going south, then the dividend will probably be flat for a while before getting cut.
Conclusion
Now is not the time to panic about Intel's dividend; it's not a great sign that it wasn't raised right now, but with Q1 and Q2 playing out as they did, it is not yet the time. If the business had not been under severe pressure, then of course the dividend would have been raised by now. But these are uncertain times and Intel's likely "fate" will not be known until Q3/Q4 of this year. If Baytrail and Merrifield succeed, then Intel will be paying out in excess of $1/share sooner rather than later. If they fail and us investors are hit with excess capacity charges and revenue misses, then we longs will have a lot more to worry about than the dividend.
Disclosure: I am long INTC. I wrote this article myself, and it expresses my own opinions. I am not receiving compensation for it (other than from Seeking Alpha). I have no business relationship with any company whose stock is mentioned in this article.