ArcelorMittal (NYSE:MT), Europe's behemoth steelmaker formed through a series of mergers, is having trouble. There are problems it needs to contend with, including competition, lack of demand for products, and abundant worldwide capacity. Further, as a result of concessions made in 2006 to European governments, it must maintain jobs and production where it is being hit the hardest. All of these things are reflected in the company's Second Quarter net loss of $780M announced last week.
The stock currently trades at $12.50. It pays a $0.20 annual dividend to yield 1.6%. It should next go ex-dividend later this month. Its overall cash flows have been inconsistent and Operating Cash Flows had been stable prior to this quarter so the dividend can not be declared "Safe." However, though the balance sheet is not particularly strong with $8B in cash against $23B in Current Liabilities, a dividend cut probably is not imminent. As a detail, $10.1B in debt does not mature until after 2017.
The road ahead seems uninspiring for the Luxembourg-based company. It revises EBITDA guidance down to $6.4B from a previous $7.1B and forecasts demand in Europe shrinking 1.5% to 2.5%; and rising 1% in the USA, compared a previous 2 - 3% forecast (graphic shown below).
The company's horizon includes attempted expansion in new markets, e.g. autos and Brazil. It is permanently closing a coke plant and six finishing lines in Liege, Belgium; and is "Mothballing" a facility in Florange, France that has cost it $137M despite fervent opposition from national governments.
Some things may be shaping up, and JPMorgan rates the stock Overweight. However, its 2014E EPS is $1.21 with an accompanying 10.5x P/E ratio, resulting in negligible upside. Yahoo! Finance shows $14.29 as the median analyst price target and also a notable 32.39% five year growth rate.
Despite the dividend, and consensus support, the outlook for the stock should be cautious. The company is exposed to declining iron ore and coal costs because of its mining operations. Its plan is to increase iron ore capacity (from 56M tons in 2012) to 86M in 2015, while "The overall decline in seaborne iron ore prices…resulted in a negative price cost impact of $52M." Goldman Sachs forecasts $80 to $90 per ton iron ore "In coming years." However ArcelorMittal CEO and Chairman, Lakshmi Lewis Mittal, is using $115 to $130. Declining prices are a risk that can not be ignored, though contentions of higher future volume may be supported by results of Anglo American plc (OTCPK:AAUKY) and BHP Billiton Limited (NYSE:BHP).
There is enough steel going around in the world to affect ArcelorMittal in the future. Aggregate data from a recent Credit Suisse report anticipates volatile prices and subdued global growth over the second half of 2013, and ArcelorMittal's newly revised consumption projections, with the largest increase in steel use in China, follows: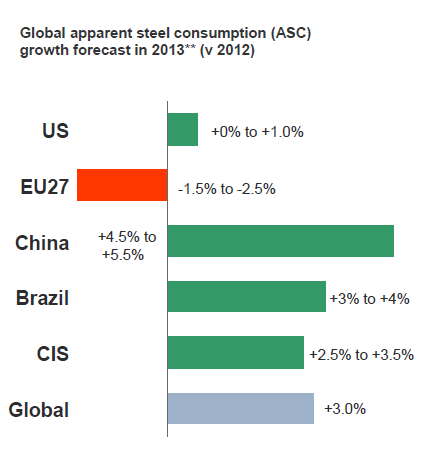 A recent episode of 60 Minutes depicts a startling portrayal of China's ghost cities, which may be "The largest housing bubble in history." They are modern locales with high rise buildings full of empty apartments, freeways without vehicles on them at rush hour, and vacant store fronts. It is enough to create skepticism about continued demand for steel and the raw materials to produce it. However, any impending economic decline may be forestalled by government support and take some time to play out. Here is an image of empty apartments (click to enlarge images):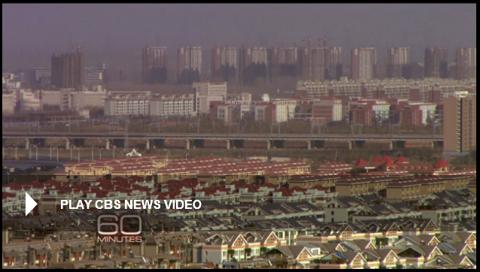 Despite the backdrop, ArcelorMittal's Convertible Subordinated Notes (ticker symbol MTCN) may be worthwhile. They are similar to a preferred stock. They are senior to, and offer higher payments than, common shares; have a $25 liquidation preference; and include features for conversion. A May article does a fine job describing them. In referencing chart patterns, trading prices bear correlation. So, when things have picked up for MT, MTCN has too.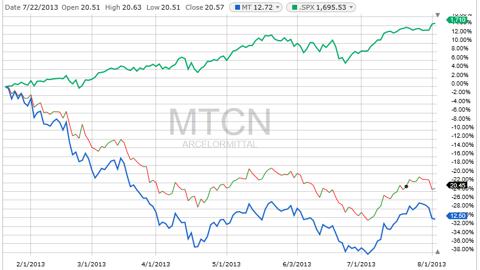 A key consideration and risk for the notes is that they will convert into shares on January 15, 2016. Conversion rates depend on whether the common stock is priced below $16.74, above $20.75, or in between, for the twenty immediately preceding trading days. They pay $1.50 in interest annually until then. If purchased today, and the share price drops to $5 in December 2015, an investor in possession of a note would probably be allocated 1.49254 shares worth $7.46.
What seems sensible is to buy the notes at current, or preferably lower, prices. If it becomes evident that headwinds are mounting they can be sold. Capital gains are also a possibility.
In the meantime, the return could easily be just over 7.33% a year.
Disclosure: I have no positions in any stocks mentioned. Notes with the ticker symbol MTCN may be acquired over the next 72 hours. I wrote this article myself, and it expresses my own opinions. I am not receiving compensation for it (other than from Seeking Alpha). I have no business relationship with any company whose stock is mentioned in this article.