Precious Metals Weekly Market Wrap
It was a week of high volatility for gold and silver as prices were influenced by a series of key U.S. economic data and the conclusion of a Federal Reserve policy meeting where nothing new was offered on a September "tapering" of the central bank's $85 billion per month money printing effort.
Precious metals were little changed up until Thursday when the combination of a very strong U.S. manufacturing report and a new recovery low for jobless claims sent the trade-weighted dollar sharply higher and metal prices lower (recall that the two often move opposite each other). Traders concluded that these reports made it more likely the Fed would curtail its bond buying program next month, but Friday's relatively weak labor report saw gold and silver prices end on a positive note, albeit not positive enough to offset earlier losses.
Gold and silver ETFs saw more outflows, demand for precious metals remained strong in China, the Indian government continued its campaign to curb gold demand in order to narrow its trade deficit, and the subject of gold market backwardation was again in the news.
For the week, the gold price fell 1.5 percent, from $1,333.80 an ounce to $1,313.50, and silver dropped ten cents, from $19.99 an ounce to $19.89. The gold price is now down 21.6 percent so far this year, some 31.7 percent below its record high of over $1,920 an ounce almost two years ago, and silver has fallen 34.5 percent in 2013, almost 60 percent below its all-time high near $50 an ounce in early-2011.
Gold ended lower for the first time in four weeks and, if Friday's payroll gains had been anywhere near the 200,000+ "whisper number", it would have been much worse. The disappointing 162,000 job gains along with the weak fundamentals behind the falling jobless rate (from 7.6 percent to 7.4 percent) tempered some of the enthusiasm about the U.S. economy, setting the stage for an important Federal Reserve meeting next month.
While the consensus continues to be that the Fed will begin to scale back its bond buying program in six weeks, there is much uncertainty about this decision. Friday's labor report increased the likelihood of a tapering delay which was positive for precious metals, however, during a seasonally weak period for demand, the recent rally may have already run its course.
Interestingly, as shown below, the current long-term correction is almost exactly at the same point as in the mid-1970s after nearly 500 trading days.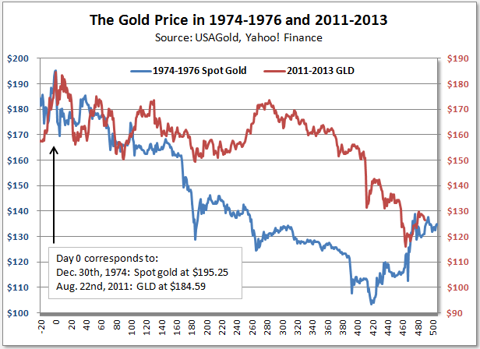 To be sure, there are still many possible catalysts to drive metals higher - problems in Europe, the U.S. debt ceiling and budget debate, the long-awaited return of higher inflation, etc. - but none of these are likely to materialize in the month ahead.
As such, it could be a long, not-so-hot August for precious metals.
Conditions could change dramatically in September, however, as a host of issues will come to the fore just as traders come back from summer vacations and volume picks up.
Gold and silver ETF investors apparently think the outlook remains poor as metal exited both of these funds last week.
The SPDR Gold Shares ETF (NYSEARCA:GLD) saw its holdings drop for the 31st time in the last 33 weeks as another 8.7 tonnes left the trust. Holdings fell by a total of 42 tonnes in July after an outflow of 44 tonnes in June, down from much higher levels in the spring. A reversal of GLD outflows will be necessary to restore some level of confidence in the yellow metal amongst U.S. investors and, until then, price rebounds will be likely be viewed as selling opportunities rather than a reason to buy.
After inflows of more than 500 tonnes during the prior four weeks, holdings at the iShares Silver Trust ETF (NYSEARCA:SLV) fell by 22 tonnes in recent days as the silver price has stalled near $20 an ounce. Holdings for SLV are still up more than 200 tonnes so far this year despite sharply lower prices and this is surely a positive factor for the long-term, however, there may be short-term price weakness ahead.
According to the results of a Kitco survey below, many others are looking ahead to the month of August with lower prices in mind. These surveys have not been terribly good at predicting the future, but they provide good insight into current sentiment.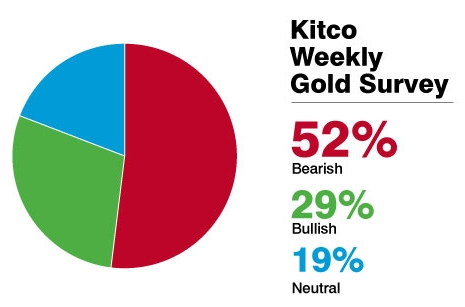 As has been the case for many months now, sentiment remains far more positive in Asia than in the West and that was clear to see in recent weeks with metal premiums that remain quite high.
Reuters reported that gold premiums in India are now up to $45 an ounce over London spot prices and $22 an ounce higher in China.
Due in part to efforts by the Indian government to curb gold demand, China is now widely expected to become the world's number one gold consumer of gold this year.
The World Gold Council said last week that Chinese gold demand is expected to be around 1,000 tonnes, surpassing an estimated 850 tonnes in gold imports by India.
Per the latest data from Koos Jansen, record rates of physical delivery from the Shanghai Gold Exchange continue as there appears to be no slowing down for one of this year's most significant trends - physical gold moving from the West to the East.
In sharp contrast to the experience of the U.S. up until late last year, recently launched gold ETFs in China are falling well short of lofty expectations for demand, however, there has been no let up in demand for the physical metal in Asia. The latest evidence of this was provided last week when ANZ, New Zealand's biggest banking group, opened a new vault in Singapore capable of storing 50 tonnes of gold.
In India, Finance Minister P. Chidambaram said that July gold imports surged despite additional steps that were taken by the government to slow demand. This implies that even more action lies ahead to restrict the import and financing of gold. It also comes amid widespread confusion about the implementation of previous gold curbs that has caused some importers to cease operation until clarification can be provided.
Naturally, smuggling has been on the rise, so much so that Pakistan saw fit to ban sharply rising gold imports for one month. This effort is aimed at stemming the legal flow of gold into the country and, as a result, the illegal flow out of the country to India that had been putting unnecessary pressure on Pakistan's foreign currency reserves. According to at least one report last week, another unintended consequence of the Indian gold curbs has been sharply higher silver imports, a metal that has no import duties or financing restrictions.
Lastly, it's worth offering a few thoughts about backwardation in the gold market, a subject that has been a hot topic of discussion in recent weeks. From a COMEX gold futures perspective, there is no backwardation (i.e., where near month futures contracts cost more than later date futures contracts).
One need look no further than this table at INO.com to see that prices for all August and later future contracts rise through 2019 as would be expected since there are storage costs and/or price risk involved for anyone agreeing to provide delivery at some future date.
Prior to the expiration of the July contract late last month, I recall seeing its price higher than the August contract. But, this really isn't anything to get excited about and certainly does not indicate anything other than strong physical demand as seen around the world in recent months that has led to very high premiums. If and when more persistent and longer dated backwardation exists, then talk of shortages may be appropriate. But, not now.
Disclosure: I have no positions in any stocks mentioned, and no plans to initiate any positions within the next 72 hours. I wrote this article myself, and it expresses my own opinions. I am not receiving compensation for it (other than from Seeking Alpha). I have no business relationship with any company whose stock is mentioned in this article.
Additional disclosure: I own gold and silver coins and bars.