The bankruptcy of the city of Detroit, the largest in United States history, combined with the fear of rising interest rates, has made municipal fixed income investments more attractive as of late.
One of the finest investigations of this segment of the muni bond market can be found by Daniel R. Moore in a recent Seeking Alpha article titled "Municipal Bond Market Troubles - What You Might Like To Know," dated July 26, 2013.
Daniel mentions how the municipal bond market has held one major characteristic for over sixty years: A negative spread or interest rates below comparable Treasury bond maturities. Historically, as an investor, you have earned a tax-free yield roughly 100 basis points below a comparable yield on a federally taxable Treasury.
Then something peculiar happened:
Since 2008 the muni bond market has frequently experienced a positive spread. There has been an inversion where the spread has favored municipal investments over Treasuries and high-quality taxable bonds. Even for those in the lowest marginal tax bracket, depending on the yield of the investment selected, municipal bonds have, on an after-tax basis, become attractive.
Is this a new normal?
Before the financial crisis when spreads were negative most of the time, an investor or financial adviser was able to run a quick calculation to determine the appropriateness of a taxable vs. a tax-free investment using a formula called the "tax equivalent yield."
In the "good old days" of negative spreads, you could use this simple calculation to compare the yield of a tax-free municipal bond to a taxable equivalent to determine which bond provided the highest net yield.
The formula below remains effective. However, based on the inversion, one may be surprised to see that investors regardless of tax bracket, "qualify" for tax free vs. taxable alternatives.

Using data from Morningstar as of Friday, July 26, 2013, I compared VCIT, a Vanguard intermediate corporate bond exchange-traded fund with MUB, a national intermediate municipal bond selection.
The average effective duration (a measure of interest rate sensitivity) for VCIT is 6.47 years, with an SEC yield of 3.45%; MUB possesses an average effective duration of 6.89 years with an SEC yield of 2.63% per Morningstar as of July 26, 2013.
Let's say married joint filers are in the 25% marginal tax bracket in 2013 and do the math.
2.63 (tax free yield)/1-.25 = 3.50%
In this case, it would make sense for our couple to go the tax-free route since the yield on VCIT is 3.45%, which is lower than the "taxable equivalent" yield of 3.50%. Naturally, more homework would need to be done beyond this conclusion to determine whether MUB would be suitable, however for the sake of example, you see how easy this works.
If the married couple was in the 15% tax bracket, the taxable equivalent yield would be 3.09%, so VCIT at 3.45% wins out (although not by much) which shows you how even those you least expect may benefit by tax free investments. Before the financial crisis, in my opinion, it was rarely worth considering municipals for those in lower brackets. Times have indeed changed, at least for now. Positive spreads were indeed rare occurrences up until the financial crisis hit.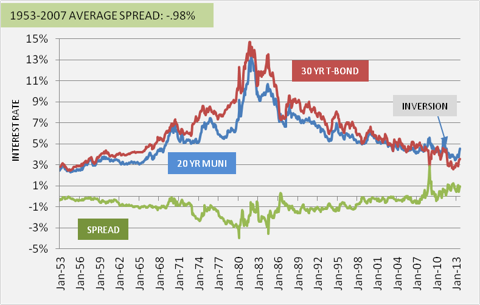 Daniel's chart does a great job displaying the spike in spreads beginning in 2008, and the consistent inversion since, which motivates me to keep an open mind as to who qualifies to invest in municipals.
If Meredith Whitney is correct about the aftershocks of Detroit, we may experience future wider positive spreads. In a Financial Times opinion piece dated July 23, 2013 she wrote:
There are five more towns like Detroit in Michigan alone. There are many more municipalities across the country in similar positions. Detroit's decision last week paves the way for other elected or non-elected officials to make decisions to save their cities and towns, decisions that probably involve politically unpopular actions that may secure their long-term viability.
To take advantage of the spread, I'm utilizing two bond exchange-traded funds for municipal fixed income. I combine a conservative low duration, high-quality option with a more opportunistic longer duration, lower-quality component for yield and possible capital appreciation.
The conservative selection:
SHM is a municipal ETF offered by State Street Global Advisors. At 2.87 years as of July 25, 2013, the fund is considered short duration which means it would suffer less interest rate risk in the face of rising rates. Ben Bernanke has been clear about his mandate to keep short-term interest rate policy status quo until at least the unemployment rate reaches the Fed's target of 6.5%. And even if (or when) the mandate is reached, there's no assurance rates would increase at that time.
SHM is comprised of 488 holdings with 99% of the securities rated at Aa and Aaa. The greatest weight per position does not exceed 1.24% of the total portfolio.
As of July 26, 1013 the 30-day yield was .77%. For a couple in the 25% marginal tax bracket, that comes to a taxable equivalent yield of 1.02%.
Briefly, if you compare SHM with a similar offering of the taxable kind, Vanguard's BSV, a short-term high-quality bond ETF with a .81% yield as of July 30, 2013 and an average duration of 2.7 years, the difference in yield is negligible.
The opportunistic choice:
Van Eck's Market Vectors High-Yield Municipal Index ETF, HYD, is the riskier side of the municipal coin. HYD holds a 25% weight in Baa/BBB-rated municipal bonds and 75% in non-investment grade holdings.
The 30-day yield as of July 30, 2013 is an attractive 5.58%. In the 25% marginal tax bracket that is the taxable equivalent of 7.44%.
Modified duration is 10.72 years as of 7/30/2013. So this offering holds credit and interest rate risk (thus the attractive yield).
Unfortunately, there is one Detroit Michigan Capital Improvement Limited Tax Series (A-1) Bond in HYD. However, as of 7/30/2013 it represents one position at .05% of the total portfolio. There are a total of 322 holdings. From my research, the portfolio management team (comprised of five) are well tenured with strong backgrounds in portfolio strategy, security and credit analysis.
Negatives:
Obviously, both investments take on interest rate risk. HYD adds fuel to the fire with longer duration and added credit risk. SHM with a much shorter duration would suffer less of an impact, however a negative impact needs to be expected.
Is Detroit a game changer? General Obligation bonds, traditionally treated as "sacred" since they're backed by the taxing authority of a municipality, will no longer be provided special treatment according to Kevin Orr, Detroit's emergency manager. In other words, the sacred cow has been sacrificed and the $530 million in GO bonds will be treated as unsecured debt. Does this open the door for other municipalities to do the same as they continue to suffer from overwhelming pension liabilities? Perhaps.
According to Mark J. Grant, author of "Out of the Box and onto Wall Street" and Wall Street veteran, who recently wrote about Detroit:
The issue here is the pension funds that may have priority over the general obligation bonds. This is made clear, as an example, in the Michigan State laws and I am expecting new laws and new State and Federal regulations to be passed to guarantee this priority. Pensions will trump the bond holders and General Obligation bonds must now be viewed in the light of a subordinated position. This may shift ratings but it will certainly shift the appreciation of risk in Municipal Bonds and will most probably cause them to widen against both Treasuries and other forms of debt.
Especially with SHM, commission to purchase could be an obstacle to total return. If possible, attempt to purchase through a brokerage firm where it's available commission free.
I would not consider these ETFs "cash" alternatives. You should expect to hold SHM for a period greater than one year to minimize the impact of price fluctuation; HYD in my opinion, is a 3-5 hold. Any money you require in less than a year is best in a savings, money market or certificate of deposit.
The bond market for municipals remains challenging especially in the face of the seminal treatment of GO bonds by Detroit. Investors must continue to do their homework, be open to surprises and exercise greater due diligence when committing capital.
Disclosure: I am long HYD, SHM. I wrote this article myself, and it expresses my own opinions. I am not receiving compensation for it. I have no business relationship with any company whose stock is mentioned in this article.