C

ompany: MiX Telematics Limited
Exchange: New York Stock Exchange
Symbol: (NYSE:MIXT)
Industry: Fleet and mobile asset management solutions.
Source: IPO prospectus.
Expected IPO date: August 9, 2013.
The Offer:
ADSs* offered by the company

4,400,000 ADSs

ADSs offered by the selling shareholders

1,896,098 ADSs

Over-allotment option by the selling shareholders

944,414 additional ADSs

*Each ADS will represent 25 ordinary shares

Shares outstanding immediately after this offering

770,212,500 ordinary shares

Offer price per ADS

$14 - $16

Valuation at $15 per ADS

$462 million

Estimated net proceeds from this offering ($15 per ADS)

$58.9 million

Use of proceeds

To pursue future acquisitions and other strategic investments and for general corporate purposes.
The company is an "emerging growth company" under the federal securities laws.
Its ordinary shares are listed on the Johannesburg Stock Exchange
The company was founded in South Africa in 1996. In November 2007, it successfully completed an initial public offering on the JSE.
"Our ordinary shares are listed on the Johannesburg Stock Exchange (JSE Limited), or "JSE," under the symbol "MIX." On July 24, 2013, the closing price of our ordinary shares on the JSE was R4.50 per ordinary share, which is equivalent to $0.46 per ordinary share, based upon an exchange rate of R9.6933 to $1.00 on that date." (Source: IPO prospectus front page)
References
"R" is to South African rand.
"$" is to the United States dollars.
Summary
The company is a leading global provider of fleet and mobile asset management solutions delivered as SaaS (software-as-a-service). Its solutions enable its customers to manage, optimize and protect their investments in commercial fleets or personal vehicles.
The company provides actionable intelligence that enables its customers to:
Reduce fuel and other operating costs.
Improve efficiency.
Enhance regulatory compliance.
Promote driver safety.
Manage risk.
Mitigate theft.
Technology platform
Its solutions are based on its proprietary, highly scalable technology platform, which allows it to collect, analyze and deliver data from its customers' vehicles.
Solutions offered
Its subscription-based solutions leverages GPS and other data transmitted from in-vehicle devices, primarily over cellular networks. Using a web-based interface, its fleet customers can access large volumes of historical and real-time data, monitor the location and status of their drivers and vehicles and view a wide selection of reports and key performance indicator dashboards.
Principal features associated with its subscription-based offerings include the following:
Vehicle tracking alerts.
Location management.
Vehicle security.
Reporting.
Regulatory compliance.
Vehicle and driver management.
Messaging.
Mobile access.
Global presence
The company has a global presence, with customers located in 112 countries across six continents.
The graphic below shows its global reach: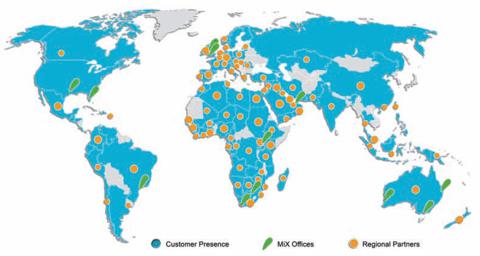 Customer base
It currently serves a highly diverse customer base, including more than 4,000 fleet operators, which represented 64% of its subscription revenue for fiscal year 2013. Large fleets (100 or more vehicles) accounted for approximately 74% of its fleet vehicles under subscription at March 31, 2013. Among its 224 large fleet operator customers, it experienced an annual customer retention rate in excess of 95% in fiscal year 2013.
Growth in business
The company has seen a consistent growth in its customer base. As evidence of this growth, vehicles under subscription, one of the key operating metrics, increased at a compound annual growth rate ("CAGR") of 22.3% from April 1, 2011 to March 31, 2013 and as of March 31, 2013, it tracked and managed over 359,000 vehicles under subscription. In fiscal year 2013, the company has collected data on an average of approximately 57 million trips per month, representing as many as 3 billion vehicle locations per month.
The following table presents some of the key metrics:

Financials
Source of revenue:
The company primarily recognizes revenues from two segments:
1. Subscription revenue: Subscription revenue represents subscription fees for its solutions, which include the use of its SaaS fleet management solutions and connectivity. Its subscription revenue is driven primarily by the number of vehicles under subscription and the monthly price charged per vehicle, which varies depending on the services and features customers require, hardware options, customer size and geographic location.
2. Hardware revenue: this represents sale of in-vehicle devices, which are used to collect, generate and transmit the data used to enable its SaaS solutions.
The majority of its revenue is subscription-based. (The table below shows the segment wise revenues.)

The following table presents its subscription revenue by geographic region:

Income statement analysis: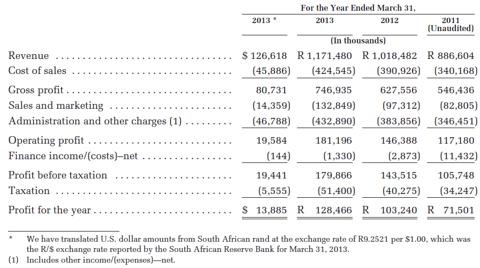 Key points:
Its total revenue increased by R153.0 million, or 15.0%, from fiscal year 2012 to fiscal year 2013.
Its total revenue increased by R131.9 million, or 14.9%, from fiscal year 2011 to fiscal year 2012.
Its operating profit margins showed a constant and decent improvement in FY 2013 to about 15.5%, against about 13.2% in 2011 and 14.3% in FY 2012.

Balance sheet analysis:

The balance sheet is very healthy.
Risks:
Normal business risks like: Emergence of new competitors with better products/services, any adverse change in the Govt. regulations, the economic slowdown etc.
Market Opportunity (very positive) (Source: IPO prospectus page 84)
Commercial market segment:
"We believe that the addressable market for our fleet management solutions is large, growing and underpenetrated. According to a report by ABI Research, there were more than 333 million commercial vehicles in operation globally at the end of 2012 and commercial telematics market penetration was approximately 4%. The report forecasts that the number of commercial vehicles utilizing commercial telematics will nearly triple by the end of 2017."
Non-commercial market segment:
"In addition to the growing market opportunity in commercial fleet vehicles, we believe there is a large and underpenetrated market to provide a tailored set of safety and security solutions to non-commercial passenger vehicles. Worldwide, the pool of motor vehicles is large and growing, particularly in developing markets. We estimate that there are approximately 33 million noncommercial passenger vehicles in operation in South Africa and Brazil, our current geographic focus for passenger vehicle mobile asset management solutions. We believe the potential rate of consumer adoption of mobile asset management solutions is highest in developing regions where vehicle tracking and monitoring features can help to improve driver and passenger safety, reduce the impact of theft by improving stolen vehicle recovery rates and reduce consumer automotive insurance rates."
Growth Strategy:
The company intends to grow its market by:
Acquiring new customers and increasing sales to existing customers.
Expanding its geographic presence.
Broadening its customer segment focus.
Continuing to introduce new, innovative solutions to address market demand.
Pursuing strategic acquisitions.
Valuation: (barring any unforeseen facts, and circumstances)
Low risk high growth;
Reasonably priced.
At $15 per ADS, the company is available at PE of about 33 (FY 2013), which is reasonable, considering the following facts:
Very positive industry outlook.
Strong balance sheet.
Huge untapped potential from non-commercial segment.
Excellent product quality and very useful services.
Highly scalable business; the margins are expected to rise as the revenues grow.
Conclusion
The company operates in an industry which is expected to show huge growth in years to come and due to its reach and product quality, the company is all set to get most out of this opportunity. The company fundamentally holds a steady long term upside potential. With no visible flaws and high future growth potential, the company presents a strong base for low risk high return, long term, portfolio investment.
Disclaimer: Investments in stock markets carry significant risk, stock prices can rise or fall without any understandable or fundamental reasons. Enter only if one has the appetite to take risk and heart to withstand the volatile nature of the stock markets.
This article reflects the personal views of the author about the company and one must read offer prospectus and consult its financial adviser before making any decision.
Disclosure: I have no positions in any stocks mentioned, and no plans to initiate any positions within the next 72 hours. I wrote this article myself, and it expresses my own opinions. I am not receiving compensation for it (other than from Seeking Alpha). I have no business relationship with any company whose stock is mentioned in this article.