In an article I wrote about Facebook (NASDAQ:FB) in April 2013 (Facebook: Can You Hear Me Now?), I predicted that there would be a substantial impact from Facebook's efforts in its Q2 2013 earnings. I could not have expected the combination of earnings misses, economic uncertainty and the fickle nature of the market to change the sentiment on Facebook so quickly.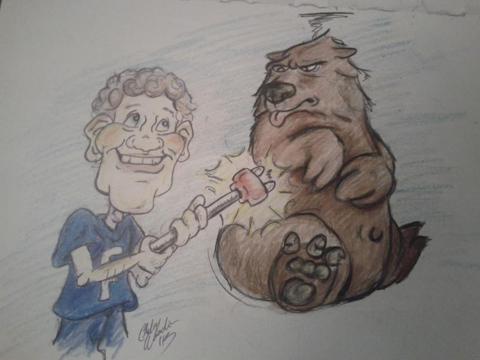 I read a recent article referring to the fact that Facebook has shocked the bears (illustration above courtesy of Chloe Waters), and I have spent a lot of time trying to figure out why investors did not like Facebook and I'm still not completely sure I understand it.
Is it the comparison to MySpace? Maybe investors are worried about the fickle nature of a social audience? Or perhaps investors are still angry about the disastrous IPO that cost so many so much? Maybe it's just Mark Zuckerberg's lack of rapport with pretty much everyone? Or maybe it was all of these.
One thing seems to be certain, with the recent Q2 earnings, where it brought in $1.81 billion in revenue compared to expectations of $1.62 billion, they have made new friends in the market.
After its earnings announcement, the stock jumped from $26.51 to $34.36 overnight and has continued to climb back to its IPO price of $38.
It Had To Happen
Facebook started its business backwards, which seems to be a growing trend on the Internet. It started by building its audience with general idea of monetizing them later. It grew its audience by creating exclusive groups beginning with select universities and added each new group insuring it had proper build-out for handling the load. By the time it wanted to add a new market, the users where already waiting anxiously to sign up.
That's what makes articles like "Facebook: Slowing User Growth, Margin Compression and the Challenge of Mobile Monetization" on Forbes seem naive. If the author were looking at a traditional company, the analysis would be accurate enough but Facebook is anything but a traditional company.
What's Different About The User Base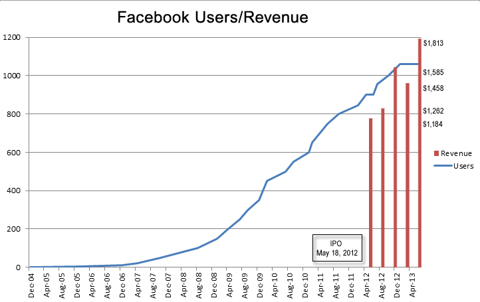 Source: SEC Filings, Google Finance, Facebook
The user base for Facebook has been on an incredible run with both social and commercial influences coming into play. You have to get on Facebook because everyone you know is there as well. Advertisers get on Facebook simply because that's where the audience is at. Even though social ads have had speed bumps along the way, companies just can't ignore the numbers. You must put the ads where the users are.
The thing that does not show up well in most comparisons of user base is the average time on site per user. In an article I wrote in January (Facebook: Graph Search Is About Targeting and Revenue), I explored the monetization per user minute for Google (NASDAQ:GOOG), Amazon (NASDAQ:AMZN), Facebook and Yahoo (NASDAQ:YHOO). The observation coincides with the strategy of acquiring the audience first and monetizing later.
Facebook has the second largest user base behind Google, but has each user three times longer per day than Google. And Facebook knows quite a bit more about each user than Google. At the time of the January article, Facebook was in last place for monetization of each user per minute they spent on the site.
Growth In Mobile
As mobile devices become more powerful, companies including Apple (NASDAQ:AAPL), Google and others are rushing to establish their foothold in the space. Mobile advertising has become the new evolution of online ads and companies that derive some or all of their revenue from online advertising cannot ignore this market.
Facebook is no different and It has acknowledged that in its investor announcements and conference calls since it has gone public.
Q2 2012 Earnings Conference Call:
Let's start with mobile. Mobile is a huge opportunity for Facebook. Our goal is to connect everyone in the world. And over the next 5 years, we expect 4 billion to 5 billion people to have smartphones.
Q3 2012 Earnings Conference Call:
First, mobile will give us the opportunity to reach way more people than desktop. Second, people on mobile use Facebook more often. And, third, long term, I think we're going to monetize better per amount of time spent on mobile than desktop. All of these combined together make mobile a much larger opportunity for us than I think most people realize.
Q4 2012 Earnings Conference Call:
Today, there's no argument. Facebook is a mobile company. As I've said before, there are three main parts of our strategy; build the best mobile products, build the platform and services that leverage the social graph, and build a really strong monetization effort engine.
Q1 2013 Earnings Conference Call:
Build the best mobile product, build a platform with new services that leverage the social graph, and build a strong monetization engine.
Q2 2013 Earnings Conference Call:
When it comes to mobile, I'm very pleased with the results. We now have more daily actives on mobile than on desktop. Nearly half a billion people use Facebook on their phones everyday and soon we'll have more revenue on mobile than on desktop as well. This progress is the result of investments we started making more than a year-ago and in some cases years ago.
Mark Zuckerberg has not underestimated the importance of mobile and is leveraging this very well, even learning and fixing its mistakes such as the poorly received launch of its Facebook Home app.
How To Trade Facebook
Facebook will stay at or around the $38 price point for a while if t doesn't slip up. The market will feel that it has rewarded the company's stellar performance by returning it back to the level it opened on its IPO. And at a P/E of 191, I agree with this price point. But if Q3 earnings are anywhere near as impressive as Q2, I would expect the market to drop all pretense of caution and jump in, supporting a higher multiple and a higher stock price.
We are at a point where the pickings are getting slim and investors are nervous. Facebook will certainly stand out and if you aren't in, now is the time.
Normally I would say time your entry into Facebook but I'm not sure there will be a significant pullback for a while. Use your own judgment but do find a way to enter into this stock. Buy the stock, buy calls, but if you missed the recent jump, don't use that as a way to convince yourself there is no more rise in this stock.
Do note that Facebook had a dip in revenue in Q4 2012. There isn't enough of a history to know whether this was growing pains or seasonal so watch for this in Q4 this year as well.
Remember, this is a story stock. It's not about valuations today, but rather about expectations years from now. I can't wait to see how the story ends, but I expect it won't be similar to MySpace.
Disclosure: I am long FB. I wrote this article myself, and it expresses my own opinions. I am not receiving compensation for it (other than from Seeking Alpha). I have no business relationship with any company whose stock is mentioned in this article.