Defense contractor Raytheon (NYSE:RTN) reported strong earnings for 2Q 2013, and raised Non-GAAP Adjusted EPS guidance to a range of $6.00 - 6.10 per share, from $5.75 - $5.90. At a P/E of 12.5, and a dividend yield of 2.98%, the stock is a good selection for investors who want to play defense.
I recently added the company to my portfolio, and have since updated my estimate of value, first published in a bullish article in January, 2011. This article focuses on valuation, updating the previous analysis.
Unfunded Pension Obligations
Accounting rules permit unfunded pension obligations to be reflected in Accumulated Other Comprehensive Income (Loss), and only gradually passed through the earnings statement. In Raytheon's case, these obligations are substantial, and growing. When assessing the company's earning power, the steady accumulation of pension obligations has to be given due consideration. Here's how I do the math: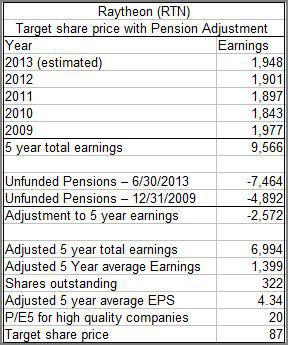 The use of five year average EPS adheres to Ben Graham's suggested approach. The multiple of 20 on this metric is my rule of thumb for high quality companies, where size, stable earnings growth and shareholder friendliness are evident.
Pension obligations are subject to estimate, and are dependent on assumptions about future returns, as well as the discount applied to future obligations. From the 2012 10-K:

Click to enlarge
The assumptions are consistent with past performance and current interest rate levels.
Sequestration and Defense Cuts
Prices of defense contractors reflect the market's estimation of future cuts in government spending. Democrats generally, and the Obama administration in particular, are regarded as hostile to military spending.
From an investment point of view, it's best to be politically and ideologically neutral. Pragmatically, difficult economic conditions provide a fertile ground for political, ethnic and religious differences. When the pie is shrinking, or inadequate to begin with, human beings start to divide themselves between "us" and "them."
The need for military preparedness is not going to go away.
Dividend Growth
Raytheon has a strong recent history of dividend growth, increasing it every year since 2005, with a five year CAGR of 14.5%. The payout ratio is 38%.
Share counts have decreased 5.6% annualized over the past five years, a major factor in that it decreases the number of shareholders who split the pool of funds disbursed as dividends. The buyback activity has increased shareholder value, in that the stock has traded below a conventional estimate of fair value during that time.
Reservations and Caveats
My previous call, based on the same methodology, was good. However, I don't have much company on my $87 target price. FinViz reports a consensus of $68.06, well below current. Morningstar sees a fair value of $67.
Consulting FASTGraphs, here's what you get: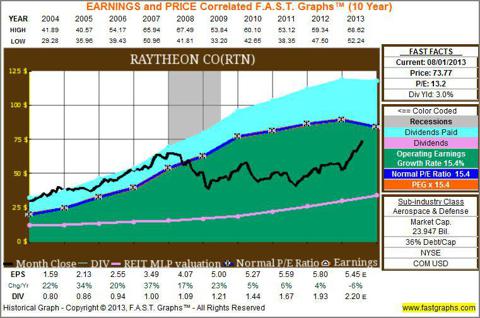 Click to enlarge
Looking at price/multiple before and after the financial crisis, it's apparent that budget constraints and concerns for the priorities of the current administration have weighed heavily on the stock. I regard those concerns as transitory, as discussed previously.
Investment Implications
Buying RTN at recent prices in the $75 area, investors have a realistic expectation of receiving an increasing flow of dividend income, as well as eventual share price appreciation.
Noting that both the market and the stock have been making new highs, and that our leaders in Congress will be taking up the issues around the budget from time to time, with the possibility of an impasse, better entry points are likely to be available in due course.
Disclosure: I am long RTN. I wrote this article myself, and it expresses my own opinions. I am not receiving compensation for it (other than from Seeking Alpha). I have no business relationship with any company whose stock is mentioned in this article.