After hinting at a transformative transaction for months, Activision Blizzard (NASDAQ:ATVI) finally made its move late last month,repurchasing some $5.8 billion in shares from parent Vivendi (OTCPK:VIVHY). The news, combined with above-consensus second quarter earnings and raised full-year guidance, has sent shares up more than 15 percent, to their highest levels since the merger of Activision and Vivendi Games in 2008.
The transaction not only removed the overhang of Vivendi's 61 percent stake -- which the French conglomerate had been looking to unload for some time -- but proved instantly accretive to earnings, as some 490 million shares will be repurchased and removed from the public float. According to Activision's 10-Q, share count will drop from 1,119 million at the end of Q2 to 690 million once the transaction is finalized. The company also created about $200 million worth of tax savings through the acquisition of net operating loss carryforwards previously owned by a Vivendi holding company.
The repurchase, and the associated jump in the stock price, has capped off an excellent 2013 for Activision shareholders, who have seen ATVI's share price rise 72 percent year-to-date. The movement was particularly welcome for a stock that had shown sluggish, albeit consistent, appreciation coming out of the 2008-09 financial crisis: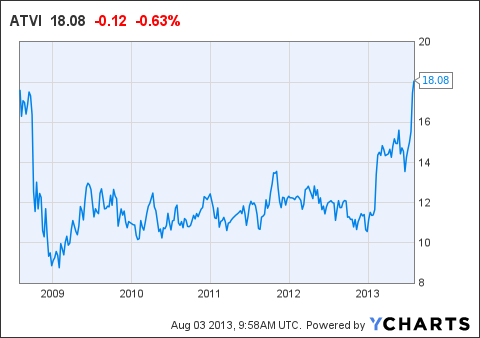 But, in the wake of the strong move, it seems an apt time for ATVI shareholders to take their profits and move on. With the Vivendi overhang gone, attention will soon turn to the challenges facing Activision Blizzard going forward: they are several, and they are difficult.
Most notably, Activision's valuation will change demonstrably, and not necessarily for the better. When I recommended the stock last year, ATVI generally traded at about 8-10x its forward earnings plus its cash balance. The low multiple was justified in large part by three factors: fears about declining subscribers to Blizzard's MMORPG (massively multi-player online role-playing game) World of Warcraft; declining overall sales of console games; and the possibility that Vivendi would dump its stake either through a secondary offering or at a discount to a private equity firm or other institutional investor. (Indeed, Vivendi did wind up selling at a 10 percent discount to the share price when the deal was announced; at Friday's close of $18.08, Vivendi's $13.60 per share haul is nearly 25% less than the market price.)
In the wake of the repurchase, however, Activision's fundamentals will change dramatically. While the sharply lower share count is obviously accretive to earnings, many observers have failed to account for the substantial interest expense required of the $4.75 billion in debt Activision will issue to fund its repurchase. While share count is expected to drop nearly 40 percent, earnings will rise no more than 33 percent (and that on a non-GAAP basis). On the Q2 conference call, Activision CFO Dennis Durkin broke down the effect of the repurchase on the company's updated guidance. Based on existing share count, Activision is now guiding for full-year earnings of 77 cents per share on a GAAP basis and 82 cents per share on a non-GAAP basis. On the call, Durkin explained the effect of the buyback on that guidance:
So let's take a look at the numbers on a pro forma basis, assuming the transaction took effect January 1, 2013. In that case our GAAP EPS outlook would be $0.91 to $0.99 and our non-GAAP EPS outlook would be $1.01 to $1.09, reflecting as much as 29% and 33%% accretion on a GAAP and non-GAAP basis, respectively. The significant accretion reflects the 38% reduction in shares outstanding at closing, partly offset by approximately 150 million to 225 million in incremental after-tax interest expense associated with the new debt.
Thus, at Friday's close of $18.08, the company is now trading at 19 times the midpoint of its pro forma GAAP guidance and 17 times the midpoint of pro forma non-GAAP guidance. To be fair, that multiple is based on Activision's projected earnings, and the company has a long history of under-promising and over-delivering. As analyst Michael Pachter of Wedbush Securities told Reuters in February, "No one believes their guidance." Activision did modestly raise full-year guidance in the wake of the Q2 beat, and could do so again.
Still, it's clear that the fundamental bull case for Activision is dramatically different in the wake of the repurchase, and the company's interest expense is no small matter. Based on Activision's full-year guidance, it is expecting GAAP net income of $861 million and non-GAAP net income of $918 million excluding the effects of the debt issuance. As such, after-tax interest expense should remove from 20-25 percent of the company's current net income, a substantial amount.
For Activision's business, meanwhile, the optimism of the first half could give way to disappointment in the back half of the year. CEO Bobby Kotick directly addressed several near-term challenges in his opening comments on the conference call. Among them were "a more crowded competitive landscape" with "highly anticipated, heavily marketed games launching around our [own] launch dates." For instance, Grand Theft Auto V, from Take-Two Interactive (NASDAQ:TTWO), launches two weeks after Activision's Diablo 3 is released for the PlayStation and Xbox 360. Meanwhile, Disney (NYSE:DIS) is releasing its Disney Infinity game as a direct challenge to Activision's Skylanders franchise, with competition expected to be intense during the holiday season.
Kotick also noted that the long-awaited arrival of new consoles from Sony (NYSE:SNE) (the PlayStation 4) and Microsoft (NASDAQ:MSFT) (the Xbox One) could create near-term issues for the company. With launch dates still uncertain, according to the Reuters article linked above, the transition may "create purchase hesitation and otherwise affect consumer spending." As a result of both competition and the new consoles, both Kotick and division chief Eric Hirshberg projected higher marketing spending for the holiday season this year, which could limit the company's ability to once again exceed its guidance. That guidance shows the impact of the second-half headwinds, as it anticipates double-digit drops (on a percentage basis) in both revenue and net income year-over-year.
The longer-term challenges facing Activision -- challenges responsible for the company's low multiple over the past few years -- haven't diminished, either. World of Warcraft continues to lose subscribers; the subscriber base fell to 7.7 million from 8.3 million, continuing a long recent slide: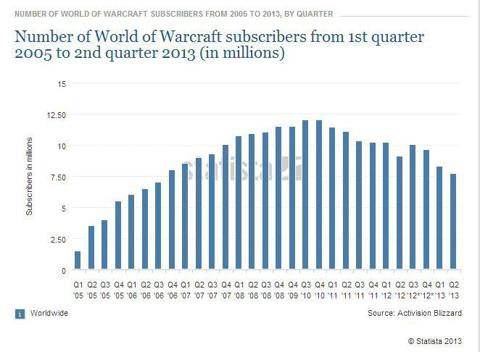 That game alone represents about $1 billion in annual revenue for Activision Blizzard, over 20 percent of yearly sales. With subscriptions and revenues declining, many ATVI bulls had pointed to the company's new MMORPG, code-named "Titan," to replace the WoW stream. Yet that project has been delayed multiple times, and then re-set in May, before Blizzard CEO Michael Morhaime made what appears to be a significant, but undercovered, announcement on the Q2 call:
Before I get into the other game updates, I want to say a few words about our unannounced project, codename Titan. We're in the process of selecting a new direction for the project and re-envisioning what we want the game to be. And while we can't talk about the details yet, it is unlikely to be a subscription-based MMORPG. I also want to reiterate that there has not been an official announced or projected release date.
Titan is now expected to be released no earlier than 2016, and the hopes that it would replace the literally unprecedented blockbuster that is World of Warcraft seem limited at best.
And while there is great optimism surrounding the new console cycle, it's important to note that the competitive landscape for console gaming is vastly different than it was in 2006, when the new generation of current consoles first hit the market. Notably, the impact of mobile and social games was essentially nonexistent, and many of the features of the new consoles -- such as the Xbox's Kinect motion-sensing device -- have already been released. It's fascinating, for instance, that the Xbox One will be powered on merely by saying "Xbox On," but whether the new consoles will create the same demand for new titles remains unclear.
To be sure, Activision still has a lot in its pipeline, ranging from Call of Duty: Ghosts, to be released in November, to a Call of Duty online game in China (in partnership with Tencent (OTCPK:TCEHY)) to a potential World of Warcraft movie. (According to the conference call, a writer/director has already been chosen.) But this is also a company that now has a $20 billion market capitalization, and will soon have a $22-23 billion enterprise value. Movies and free-to-play multi-player games are simply unlikely to substantially move the needle here.
And while the company's new independence is a blessing, the financial commitment needed to secure that independence may ultimately bind the company as surely as Vivendi's ownership did. On the conference call discussing the repurchase, CFO Durkin noted that, historically, 35 to 45 percent of the company's cash flow had come from domestic operations, and that total cash flow had averaged a little over $1 billion annually over the previous five years. But with pre-tax interest expense coming between $240 and $330 million annually, the $400 million or so in domestic free cash flow would not leave much room for a significant dividend increase or share repurchase, particularly if Activision Blizzard seeks to pay down some of its newly issued debt. The nearly $3 billion held overseas could be used for an acquisition, but the list of foreign targets seems limited. US acquisitions would seem to be ruled out; the company reiterated in its 10-Q that it had no plans to repatriate that cash and pay the required US tax (which could be as high as $1 billion).
All told, in the near term, it's difficult to see any additional catalysts to drive ATVI higher. In the long term, there are serious questions about its ability to overcome the loss of World of Warcraft revenue and create the type of earnings growth that will justify its new, higher multiple. The company certainly deserves credit for creating back-to-back earnings beats and freeing itself from Vivendi. But there is plenty left to do for the company, and plenty standing in its way.
Disclosure: I have no positions in any stocks mentioned, and no plans to initiate any positions within the next 72 hours. I wrote this article myself, and it expresses my own opinions. I am not receiving compensation for it (other than from Seeking Alpha). I have no business relationship with any company whose stock is mentioned in this article.