The market's upward momentum this year has hordes of investors still looking for opportunities with good entry points. Finding them is tough because markets can turn quickly and many sectors are already fully valued. Nonetheless, with crude prices hovering around the $70 per barrel range, even with reduced demand, oilfield services remains one of the more promising sectors still with room to grow.

The following are some of the emerging trends setting the medium to long term outlook for the sector:

North America Natural Gas – Check Back in 2011

Baker Hughes (NYSE:BHI) and BJ Services (BJS) $5.5 billion stock and cash deal is the first major merger in the oilfield services sector since energy prices collapsed last year and the biggest merger in the sector for a decade. It will boost the size of Baker Hughes' pressure pumping business to provide more than 20% of its revenue, from less than 1% today. Baker Hughes once owned BJ Services but spun it off in the early 1990s.

This merger tells investors three things:

( 1 ) BJ Services is the number three player in the pressure pumping business with 73% of its revenue generated from the North America region. BJ Services' exit at this point suggests the North America onshore shale gas market is not expected to rebound any time soon, and this is a marriage made in recession.

( 2 ) This is a strategic move by Baker Hughes, suggesting a diversified suite of services is becoming more important to compete and win contracts with majors and larger independents.

( 3 ) The better revenue prospect lies in the overseas market, as BJ Services has far less the international presence of Baker Hughes (click to enlarge).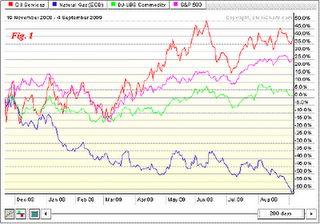 In addition, as the graph indicates, natural gas has decoupled from the commodity and equities markets. (Fig. 1) Both the fundamental and technical signals are extremely bearish for natural gas with some analysts predicting a sub $2/mmbtu price scenario. Due to various market factors, it is likely that natural gas will stay on this bearish path at least through 2010, and unlikely to be a factor for the services sector, assuming no major hurricanes or an unusually cold winter.

Deepwater Oil to Drive Growth

BP PLC (NYSE:BP) announced a major new oil find, called the Tiber well, one of the latest in a string of discoveries in the Gulf of Mexico (GoM) that cements the prospects for the Lower Tertiary region as one of the oil world's most promising exploration regions. Tiber, with an estimated 3 billion plus barrels, is at a depth of more than 35,000 feet, greater than the height of Mount Everest.

This is part of a new frontier in exploration where oil companies are spending billions of dollars to find oil on the bottom of seas offshore in places such as Brazil, The North Sea, and West Africa. These discoveries were made possible by new technologies now capable of unlocking deep deposits that were before either undiscoverable or too costly to exploit.

The U.S. also has lower taxes, royalties, oil payments and other levies than most other governments. This combination of financial and geologic advantages will support the continuing growth of the deep-water GoM. Since most of the oil majors have backwardly integrated services operations, and rely on third party services companies to supplement their own activities, this new find by BP could translate into more work for the deepwater services sector over the next couple of decades.

North America Onshore M&A to Intensify

The oil and gas sector has been hemorrhaging due to the factors of the economic downturn, the credit squeeze, falling commodity prices and an extreme pricing environment. For example, during its earnings calls, BJ Services indicated that the average pricing for its products and services was down about 35% during the 1st half of 2009. There are indications that the average oilfield services pricing was down another 10-15% from late 2nd quarter levels.

The Baker Hughes and BJ Services merger is one of the first signs that the valuation gap is finally narrowing between potential buyers and sellers. After free falling from the 4th quarter of 2008, the rig count in the U.S. has begun to creep upward, now breaking 1,000 from the low point of 876 in mid June. This could spur more M&A activity, particularly in the North America Onshore services sector, before values start rising again along with commodity prices.

From that perspective, both Schlumberger Limited (NYSE:SLB) and Weatherford International (NYSE:WFT) could be ready to acquire smaller players in the sector, with small niche players like Smith International (SII) and Newpark Resources (NYSE:NR) as potential targets.

Sector Strategy

The entire oil patch is not likely to resume growth till oil prices stabilize for at least 6 months or longer around the $70-75 a barrel level, which seems to be the 'fair price' that OPEC demands.

Ergo, for investment in the services sector as part of a long term portfolio holding, investors should seek out companies with an international deepwater niche such as Transocean, Inc. (NYSE:RIG), Technip (TKP), Oceaneering International Inc. (NYSE:OII), and Tidewater, Inc. (NYSE:TDW).

ETF investors should research whether the following Exchange Traded Funds meet similar investment objectives: Oil Service HOLDRS ETF (NYSEARCA:OIH), Dynamic Oil & Gas Services (NYSEARCA:PXJ) and SPDR S&P Oil & Gas Equipment & Services (NYSEARCA:XES), which can be less risky than investing directly in specific companies.