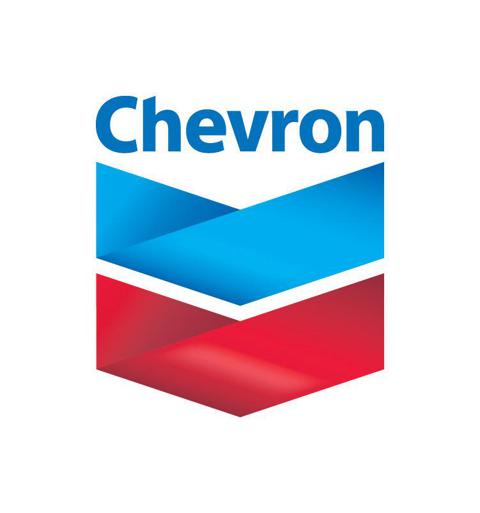 Click to enlargeChevron's (NYSE:CVX) Q2 earnings last week were a disappointment and as a result the stock dropped 1.2% on Friday. However, Chevron vastly outperformed competitors ExxonMobil (NYSE:XOM) and Royal Dutch Shell (NYSE:RDS.A) and the company has a shot at earning $13 or more for full year 2013.
Chevron's Q2 earnings were $5.4 billion, or $2.77/share. That was down 24% from the same quarter last year, but compares favorably with peers Exxon (down -57%) and Shell, also down -57%. A closer look at CVX's supplemental earnings release show things are not so bad after all. Here's why:
Year-Over-Year Comparisons Tough
First of all, Q2 2012 was an excellent quarter in which CVX earned $7.2 billion and $3.66/share. That makes YOY comparisons tough. But looking at sequential earnings, Q2 vs. Q1, we see that US Upstream and Downstream earnings were relatively flat, and that International Downstream results actually rose by ~$62 million. The big miss was in International Downstream, where earnings contracted by $918 million.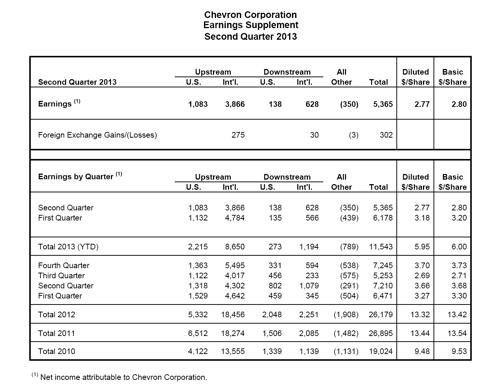 Click to enlarge
However, it wasn't a big drop in production that caused International Upstream earnings to decline, it was a reduction in realized prices for liquids: $102.35/bbl in Q2 vs. $93.71 in Q1, a drop of $8.64/bbl.
Why The 2013 Full Year Outlook Is Still Bright
There are several reasons why the outlook for 2013 full year earnings are still bright:
CPChem
Angola LNG
Firming Brent and WTI Prices

Although CVX does not separately break out its chemicals earnings from its downstream results, we know from Phillips 66's (NYSE:PSX) earnings report that CPChem (the 50/50 chemicals joint venture between Chevron and Phillips 66) operations were severely impacted by unplanned power outages at the Sweeny Complex and an extended 91-day turnaround at Port Arthur. As a result, PSX reported chemical earnings down $61 million YOY. But operations at both facilities are up and running now and we know from PSX's conference call transcript that the new NGL fractionator expansion project at the Sweeny facility came online in Q2. The new fractionator increases Sweeny capacity by nearly 20%. As a result, we can expect outstanding results during the second half of 2013 from CPChem. CPChem is arguably the best chemical company in the world in terms of margins and ROCE. Low domestic NGL and natural gas feedstock continue to be a positive catalyst for CPChem's operations if it can simply keep the power on for a full quarter!
Angola LNG
Last month I wrote an article on Chevron's Angola LNG ("ALNG") startup: Chevron: Finally Cashing In Big On Big Angola LNG Investment. I was a bit premature. We learned on the CVX conference call that higher operating expenses due to increased maintenance activities for startup of the LNG plant in Angola decreased earnings by $195 million between periods. That said, we also learned on the conference call that while ALNG has only loaded two cargoes to date (with another preparing to load), the company expects to load at least 13 cargoes by year end. At peak rates, ALNG should contribute about 60,000 barrels per day to our production.
Firming Oil Prices Over The Last Month
The last reason why the second half of 2013 looks bright directly addresses the main problem in Q2: realized prices. Oil prices have been firming since the beginning of July, especially WTI: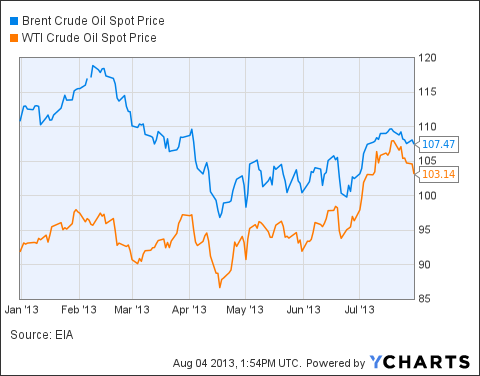 Brent Crude Oil Spot Price data by YCharts
The ~5/bbl increase in Brent since the beginning of Q3 bodes well for Chevron to get its International Upstream earnings back on track.
Summary and Conclusion
Year-to-date CVX has earned $6.00/share. While Q2 was disappointing, the miss was not due to a drop in production as much as it was due to lower realized international liquids pricing. The company also took a hit in its share of CPChem's earnings due to unplanned production interruptions. Overall, the company continues to perform well and much better than its peers Exxon and Shell. The full resumption of expanded chemicals capacity, the ramping up of LNG exports from Angola, and firming prices are positive catalysts for the company heading into the second half of 2013.
Currently, the Wall Street Journal reports average analysts estimates of $3.12 for both Q3 and Q4. I don't believe these estimates have been updated to include the newly added 20% increase in capacity at the Sweeny chemical complex as well as the 60,000 boe/day of production coming online from Angola LNG. As a result, I believe earnings could be ~$3.25 in Q3 and for $3.50-$3.75 in Q4 as ALNG becomes fully online. At the top range of that guidance, full year earnings could hit $13/share. This will set the company up nicely prior to big production growth in 2014. In the Gulf of Mexico, Chevron has three big growth projects all on schedule for startup in 2014. These projects have a total production capacity of 296,000+ boe/day. You can read more about Chevron's deep-water GOM operations here.
I retain my STRONG BUY rating on Chevron despite the weaker than expected Q2 results. Investors should advantage of any short-term dips under $120 to incrementally add to their positions. Remember, of the $13/share I expect the company to earn in full-year 2013, $4 will be returned directly to shareholders via the company's $1/share quarterly dividend. The Q3 dividend will be recorded on 08/19/2013 and paid out on 09/10/2013.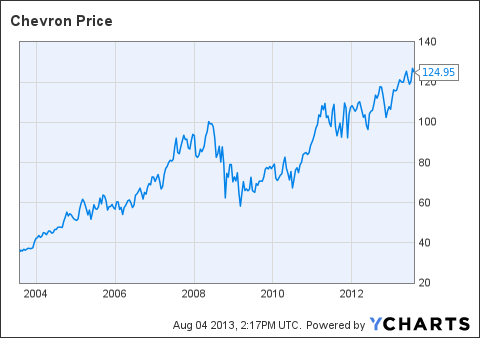 Disclosure: I am long CVX, PSX, XOM. I wrote this article myself, and it expresses my own opinions. I am not receiving compensation for it (other than from Seeking Alpha). I have no business relationship with any company whose stock is mentioned in this article.
Additional disclosure: I am an engineer, not a CFA. The information and data presented in this article was obtained from company documents and/or sources believed to be reliable, but has not been independently verified. Therefore, the author cannot guarantee its accuracy. Please do your own research and contact a qualified investment advisor. I am not responsible for investment decisions you make. Thanks for reading and good luck!