According to ETF Channel, on a week-over-week basis among the universe of ETFs covered by the site, the largest inflows were seen in the Gold Miners ETF (NYSEARCA:GDX), which added 11.4 million shares, or a 4.7% increase week over week.
Back on July 11 (please consider: Gold Selling Exhaustion, Miners And The Bottom In Gold), I hinted that maybe gold, and especially gold stocks, have bottomed due to selling exhaustion. Looking at the relevant performance of the top 5 positions of the GDX ETF since then, the bounce that most of these stocks exhibited probably confirms the selling exhaustion theory I talked about back then.
While many of the top five stocks in the ETF have pulled back a little since then, it is interesting to note that the performance for that very short amount of time since July 11 has been more than adequate to satisfy even the most greedy of all speculators.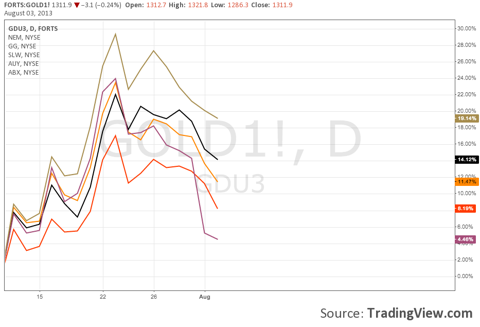 Click to enlarge
Since July 11th:
The question is, do mining stocks have a way to go from here? The answer is probably yes; however, one has to be very careful, because (according go me) we might even see gold fall as low as $1,000 in the future. And over the long term, the price of gold will be a big factor for the profitability of mining stocks.
However, just because I say gold might go to $1,000 does not mean it will do so. Gold might not go that low and current levels might be the absolute low (at least for the next 12 months or so).
But even then, gold miners might hold at current levels or go even higher, even if gold goes a bit lower. Remember gold stocks are smarter than the mineral and adhere to investing rules, as opposed to gold.
So as far as miners are concerned, we have two very bullish pieces of information that point to higher prices for the stocks mentioned above, and probably for the sector as a whole.
The first is that we have technical confirmation that the miners are outperforming gold itself. Please recall that as a prerequisite for the possibility of gold to see a bottom, miners must outperform gold for a significant period of time (according to me).
Second, we have seen very high inflows into the GDX ETF, and chances are that the sector has seen very large inflows across the board over the past several weeks.
Disclosure: I have no positions in any stocks mentioned, and no plans to initiate any positions within the next 72 hours. I wrote this article myself, and it expresses my own opinions. I am not receiving compensation for it (other than from Seeking Alpha). I have no business relationship with any company whose stock is mentioned in this article.