Chemical and agricultural conglomerate DuPont (NYSE:DD) announced uneventful second quarter results Tuesday morning, which were overshadowed by the firm announcing it will explore "strategic alternatives" for its performance chemicals business. The firm believes spinning off its highly-cyclical titanium dioxide business will allow it to focus on higher-growth segments and reduce performance volatility. We'll address this issue later.
During the second quarter, DuPont's revenue declined 1% year-over-year to $9.8 billion-slightly below consensus estimates. Earnings per share declined 15% year-over-year to $1.28 per share, a touch better than consensus expectations.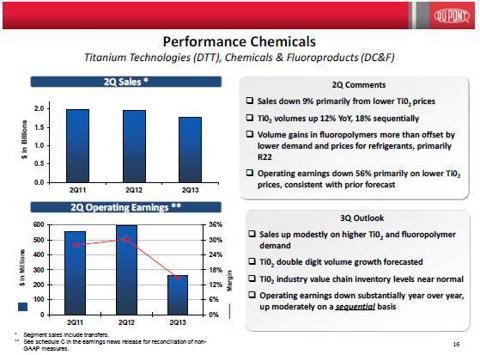 Image Source: DD 2Q 2013 Investor Presentation
The bigger story is that the firm is exploring strategic alternatives for its "Performance Chemicals" business. DuPont believes spinning off its highly-cyclical titanium dioxide business will allow it to focus on higher-growth segments and reduce performance volatility. As we can see from the above chart, the "Performance Chemicals" business has struggled significantly as of late.
Management noted several options, including a full or partial spin-off or sale, though it gave no indication of which route it preferred. We're sure management will take into consideration how the move impacts shareholder value, but from what CEO Ellen Kullman said on the conference call, we believe the firm will likely have little or no interest in the "Performance Chemicals" business going forward, as it now sees the business as commoditized. Kullman explained why the segment had to go, saying:
"We're considering strategic alternatives on performance chemicals because of the reasons that I stated in my talk earlier. It has to do with the cyclicality, the volatility and low growth. And we've gotten to a place where we've determined that the science really can't help make a difference and truly differentiate those businesses except for things like costs and productivity and areas like that."
Some think the firm might fare better if it spun-off its higher-growth agricultural business as a pure play against rival Monsanto (NYSE:MON). Kullman elaborated on why DuPont feels differently, mentioning:
"And when you think about your provocation about an Ag pure play, it gets back to the integrated science. As we've developed biotechnology and you look at how it's transformed industry, you look at how it's transformed Ag. It's transforming animal nutrition and human nutrition. It's transforming the materials businesses. And the power of the science is fundamental. It crosses all those boundaries. We have phenomenal value chain capability that we can utilize to advance that science and be very successful down those roots, whether it's an automotive polymer, whether it's an advanced material in many different areas. And so I think power that we can generate from driving that science across those value chains creates a much stronger return for our shareholders."
As for the rest of the firm, industrial biosciences saw 1% sales growth in spite of ethanol production and low demand out of China. Operating earnings in the segment increased 2% year-over-year to $43 million, and DuPont believes new enzyme launches will fuel revenue growth during the third quarter.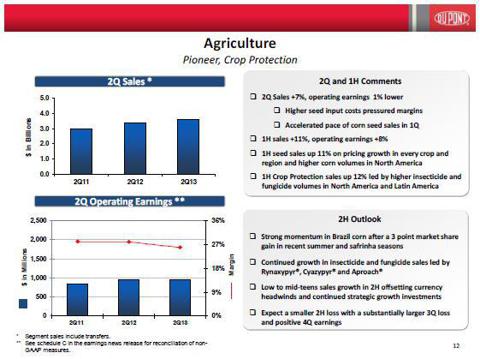 Image Source: DD 2Q2013 Investor Presentation
As for its "Agriculture" segment, DuPont's most important business, sales increased 7% year-over-year while operating earnings fell 1%. Management noted the cold, wet growing season as an impediment to second quarter sales as well as an early ramp in corn production in North America. The future of DuPont's agricultural business is much more certain after the company settled its long-standing dispute with Monsanto earlier in the quarter.
Though the corn planting season in the third quarter may not be as robust as usual, the firm remains optimistic that it will return to positive earnings in the fourth quarter thanks to strong North American planting rates and Brazil safrinha corn sales.
On a geographic basis, we think it was interesting to see the firm perform relatively weak in Asia where revenue declined 8% year-over-year. Volume in the region was flat year-over-year, and the company suffered from price erosion of 6%. It appears the company can largely blame photovoltaic (solar-related) demand in China. Excluding photovoltaic sales, revenue in China grew 4% year-over-year.
Looking forward, the firm expects to earn $3.85 per share in 2013, which is at the very low-end of the guidance range management provided at the beginning of the year. Management expects $1 of the earnings going forward to come in the fourth quarter from agriculture, implying earnings of $0.27 per share during the third quarter, well below consensus estimates. Though disappointing, we aren't too worried about the timing of earnings (between the third and fourth quarter).
Valuentum's Take
We like DuPont's decision to exit a low-growth commodity business. We've seen what happens when weak growth strikes commodity producers, and it's not good. Selling off the stake should add value to shareholders regardless of the option DuPont chooses. Shares of DuPont trade within our fair value estimate range.
Disclosure: I have no positions in any stocks mentioned, and no plans to initiate any positions within the next 72 hours. I wrote this article myself, and it expresses my own opinions. I am not receiving compensation for it (other than from Seeking Alpha). I have no business relationship with any company whose stock is mentioned in this article.