The Coca-Cola Company (NYSE:KO) has a long and venerable history as both an enduring brand and as an outperforming investment. In fact, it is the Coke's investment in its numerous brands that drives much of its performance. With this in mind, we analyzed Coca-Cola's SEC filings over the past 5 years to determine how well the company is doing with its brand management. It should be no surprise to learn that the company scores well.
Brand drives fundamentals
Investment in brands leads to higher customer preference for Coca-Cola's 500 products across the more than 200 countries in which the company operates. Strong preferences for Coke products lead to volume growth and better pricing power for the company. The share price reflects this strength with a high P/E multiple, which is supported by respectable earnings growth for a mature company. Coca-Cola's P/E of 21x is higher Pepsi's (20x) and S&P500's average (19x). According to Yahoo Finance, analysts expect EPS to grow by 8.1% in 2014 after a respectable 4.5% growth in 2013.
Filings show increasingly maniacal focus on brand
Coke firmly acknowledges that its brands are a critical part of its business, and even lists "Consumer Marketing" as the first core capability in the MD&A section of its 10-K.
Read this short but important 10-K snippet to see an example of how brand-focused the company is.
Revealing as it is, a single anecdote is not enough to understand the genuine nature of management's focus. As a result, we have developed an algorithm that calculates how often the company talks about the reputational value of its brand in its filings relative to other companies, such as Pepsi (NYSE:PEP). More frequent discussion of brands means that management views this asset as more critical to the success of the company.
Our textual analysis of KO's 10-K filings since 2007 reveals that the company has increased its emphasis on its brands over time.
calculated by www.SECLive.com
The company also ranks well against the 1.32 average score across all companies.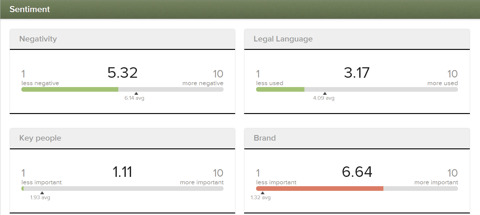 proprietary scoring by SEC Live
The persistence of the trend means that this wasn't just an episodic event that changed in the filings language. Instead, the increasing trend reflects the company's commitment to a long-term strategy of brand development. Although ownership of bottling operations and regulatory challenges are important issues for the company, it is the paying customer's attraction to brand that drives the ultimate purchasing decision. Thus, the more focus management gives to brands, the more Coca-Cola invests in them, the more frequently the customer chooses a Coke product, the more revenue the company makes. It seems straightforward enough but alludes many of Coke's competitors.
Brand focus underpins catalyst for further growth
Coke has had this marketing advantage over its peers for a long time so past financial results already reflect the discrepancy. Now, a new trend will help Coca-Cola increase the distance ahead of competitors. As customers and governments in developed countries more and more favor healthier drinks, beverage companies will need to adjust their product portfolio and change the emphasis of their advertising. Coca-Cola's focus on giving its customers what they want will allow the company to respond better and quicker to the switch in customer preferences. Any time you see new information that points to strengthening of the trend towards healthy drinks, remember that this is good news for Coca-Cola because it will allow it to differentiate even better from Pepsi and local competitors.
Conclusion
With increasing emphasis on its core asset - the strength of its brands - it is unsurprising that Coke has outperformed its peers. Unless management's marketing commitment wavers, which filings language will reflect, Coke will continue to outperform with its maniacal focus on brand equity.
Disclosure: I have no positions in any stocks mentioned, and no plans to initiate any positions within the next 72 hours. I wrote this article myself, and it expresses my own opinions. I am not receiving compensation for it. I have no business relationship with any company whose stock is mentioned in this article.