Vivus (NASDAQ:VVUS), the company behind the anti-obesity drug Qsymia launched last Fall to some very modest sales numbers. While Qsymia had the advantage of being first to market, it was hampered by REMS restrictions and perhaps the lingering consumer "stigma" that weight loss pills are dangerous.
Vivus sales started off slowly and then suffered after the first month when refills dropped off (non-renewals) while new prescriptions remained at just a modest pace. After 12 weeks on the market, Vivus initiated free trials and discounting to spur sales. This is something that competitor Arena Pharmaceuticals (NASDAQ:ARNA) and its marketing partner Eisai did immediately from launch with Belviq. The chart below depicts the respective launches.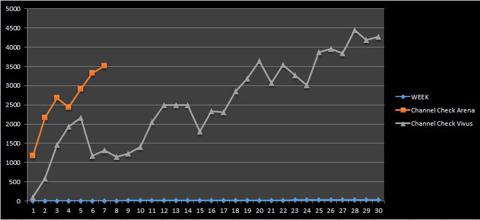 As you can see, the launches have distinctly different patterns. Qsymia, with restrictions and no discounts saw a pronounced dip after the first month. Belviq was able to avoid that condition. Some of that is attributable to discounts, and some to the fact that marketing partner Eisai, a name physicians recognize, has reps on the street keeping doctors in the loop. Clearly Eisai saw what transpired with Qsymia and developed a path to minimize the dips in sales. Vivus instituted discounts between week 11 and 12. You can see that the pronounced dips in sales are much smaller after the free trial program was initiated.
In July of this year Qsymia became available at retail pharmacies for the first time. The initial retail launch included about 8,000 pharmacies. The impact on sales of Qsymia was immediate and positive. Weekly sales, unadjusted, went from over 6,000 in the first week of the month to a peak of almost 9,500 by the third week of the month. Last week we saw the "retail lift" level off with unadjusted sales actually decreasing to about 9,000.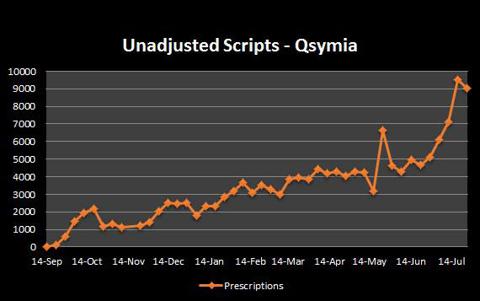 What we see this week is that the "newness" of retail pharmacies is wearing off. It would appear that the exponential type growth we saw over the past few weeks will return to the more linear growth trajectory we had been seeing. Make no mistake, sales will still grow. They will simply not be as robust as this retail spike. The real issue at hand remains insurance coverage. With better coverage from insurance, the growth curves on both Qsymia and Belviq will be dramatically improved. Stay Tuned.
Disclosure: I am long ARNA. I have not position in (VVUS). I wrote this article myself, and it expresses my own opinions. I am not receiving compensation for it (other than from Seeking Alpha). I have no business relationship with any company whose stock is mentioned in this article.