On Thursday, one of LyondellBasell's (LYB) largest shareholders sold 16.5 million shares in an underwritten public offering priced at $68/share. The sale had no impact on the outstanding share count of the company. As a result, Apollo Management Holdings L.P., an affiliate of Apollo Global Management, unloaded its shares for net proceeds worth approximately $1.1 billion. The sale marks a significant departure for the large shareholder, who additionally agreed to sell 8.5 million ordinary shares in LyondellBasell in a private transaction.
Ironically, it is the private sale that highlights an odd twist on the latest transactions. According to the Form 4 filed here, the purchase was made by another large insider. Ai International Chemicals S.A.R.L purchased the 8.5 million shares for an average price of $67.71. This brings the total transaction value to $575,535,000. Upon completion of the transaction, Ai International Chemicals S.A.R.L now directly and indirectly controls 88,943,366 shares.

However, just one year ago the 10% owner sold a similar amount of shares at a lower transaction price. As seen in the chart above, Ai International Chemicals S.A.R.L sold 9,976,973 shares at $44.01 in February 2012. The latest purchase for 8.5 million shares suggests a change in sentiment as the company recuperates part of its formerly departed portion at a significantly higher price.
For its own part, LyondellBasell continues to perform well. The company recently reported its Q2 2013 earnings results, although these numbers failed to meet analyst expectations. However, a look at the earnings call transcript shows that LyondellBasell fundamentally continues to remain on course. Some of the highlighted points are found below:
The company reported record income from continuing operations of $923 million and record diluted earnings per share of $1.60.
North American ethylene margins and operations continued to be strong.
European operations exceeded expectations as olefin plants operated at increased rates and raw material costs declined.
U.S. crackers operated at or above nameplate capacity
The company raised its dividend by 25%.
The company also initiated a share repurchase program.
Cash balances rose by $355 million.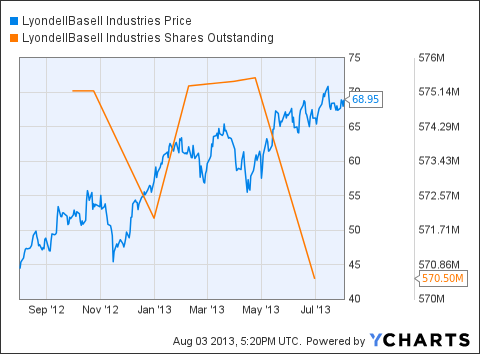 Seen in the chart above, LyondellBasell now appears to be tackling its outstanding shares as it returns value to its shareholders. The company has also been increasing its dividend. Although it tends to issue a special dividend at the end of the year, LyondellBasell's base dividend rate has also grown sequentially year-over-year. This can be seen in the chart below.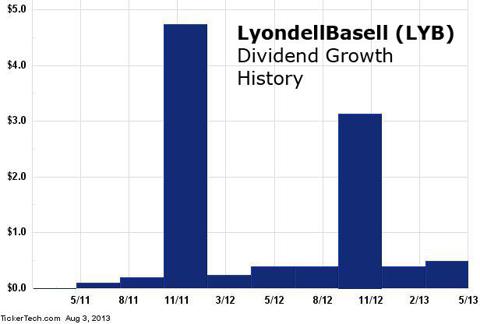 Conclusion
There is nothing exciting or new here about LyondellBasell despite its heavy-handed internal dealings between investors. Although one large investor in the company is selling out, it remains interesting that another is willing to pick up a significant portion of the outgoing shares. This is especially odd given that it replaces the buying insider's own sold position at a much higher price made a little over a year ago.
LyondellBasell's outlook continues to look fundamentally strong. The company's facilities in both the United States and in Europe continue to perform at or above nameplate capacity. Additionally, the company has now turned back to the shareholder in order to return some of the value it now accumulates.
With a $39.67 billion market capitalization, the company remains far from cheap. However, LyondellBasell now trades with a forward price-to-earnings ratio of only 9.64 based on analyst expectations of $7.15 for 2014. Likewise, it trades with a price-to-sales ratio of only 0.89 and a low PEG ratio of 1.06. The company carries a trailing annual dividend yield of 6.6% after taking the special dividend into account. Overall, based on its continued growth LyondellBasell continues to look like a reliable chemical giant that investors should continue to hold onto. This is especially the case as its begins to return more value to its investors through share buybacks and dividend growth.
Disclosure: I have no positions in any stocks mentioned, and no plans to initiate any positions within the next 72 hours. I wrote this article myself, and it expresses my own opinions. I am not receiving compensation for it (other than from Seeking Alpha). I have no business relationship with any company whose stock is mentioned in this article.