Eaton (NYSE:ETN) is a global technology leader in electrical components to the aerospace and automotive industries, both of which are hot industries right now. Before the market opened on 02Aug13, the company reported second quarter earnings of $1.09, missing analyst's estimates by $0.02; and revenue of $5.6 billion (for a 38% year over year increase) which missed analyst's estimates by $0.18 billion. The bigger issue which caused the stock to drop 5.53% on the day is that the company cut the top end of its full year outlook because of slower growth in its target markets. I currently hold Eaton in technology sector of my dividend growth portfolio, and after this earnings announcement, I'd like to take a fundamental, financial, and technical look at the stock right now to determine what to do with my shares.
Fundamentals
Eaton currently trades at a trailing 12-month P/E ratio of 19.43, which is fairly priced, but I mainly like to purchase a stock based on where the company is going in the future as opposed to what it has done in the past. On that note, the 1-year forward-looking P/E ratio of 12.74 is currently inexpensively priced as well for the future in terms of the right here, right now. Next year's estimated earnings are $5.19/share, and I'd consider the stock cheap until at least $77.85 on those estimates. The PEG ratio (1.62), which measures the ratio of the price you're currently paying for the trailing 12-month earnings on the stock while dividing it by the earnings growth of the company for a specified amount of time (I like looking at a 5-year horizon), tells me that Eaton is fairly priced based on a 5-year EPS growth rate of 12.01%.
Financials
On a financial basis, the things I look for are the dividend payouts, return on assets, equity and investment. Eaton boasts a dividend of 2.54% with a payout ratio of 45.6% while sporting return on assets, equity and investment values of 4.7%, 11.1% and 4.7% respectively; which are all respectable values. If maybe you feel the market feels a bit choppy here and would like a safety play, I believe the 2.54% yield of this company is good enough for you to take shelter in for the time being with great dividend growth potential.
Technicals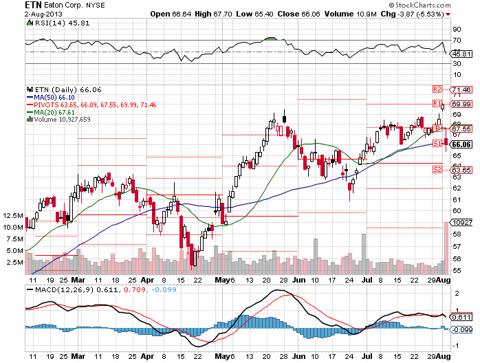 Looking first at the relative strength index chart [RSI] at the top, I see the stock dropped from overbought territory on this earnings report, but has downward trajectory, which is a bearish pattern. To confirm that, I will look at the moving average convergence-divergence (MACD) chart next and see that the black line is above the red line with the divergence bars increasing in height to the downside, indicating the stock is trading with downward momentum. As for the stock price itself ($66.06), I see it sandwiched between the 50-day and 20-day moving averages. If it breaks down below the 50-day, I see it going to $63.65, but if it can break above the 20-day, I think it can get to $67.55, but using this scenario, I calculate a risk/reward of -3.65% to 2.26% which isn't enough for me considering the RSI and MACD charts are in bearish patterns.
Recent News
The company went ex-dividend on 24Jul13 with a quarterly dividend of $0.42 per share and a pay date of 23Aug13.
Conclusion
The company hasn't had any new news in quite some time, which makes it difficult to make a bullish case for the stock. The bearish case is obviously the lowering of the top end of its full year outlook, but it can also be a matter of under-promising and over-delivering, because from doing this evaluation on the company, there are still great growth prospects for the near term and long term. The company is inexpensively valued on an earnings basis, but fairly priced on a growth basis. Financially the company is sound, with great potential for dividend growth; however, the technicals on the other hand suggest there might be a bit of a move down. The fundamentals and financials seem pretty good to me, but the short term technicals do not, and that's why I'll deploy about a quarter of my capital that I normally would to buy more shares with the expectation that I'll buy more as the price comes down. If it doesn't come down from here, I at least will realize a bit of appreciation with what I did buy.
Disclosure: I am long ETN. I wrote this article myself, and it expresses my own opinions. I am not receiving compensation for it (other than from Seeking Alpha). I have no business relationship with any company whose stock is mentioned in this article.