Introduction
Looking at the latest filings for Union Pacific (NYSE:UNP) and Burlington Northern, we can see that the two companies have a lot of similarities. We use the Union Pacific June 30, 2013 10-Q and the Burlington Northern June 30, 2013 10-Q for many comparisons along with the 2012 Union Pacific 10-K and the 2012 Burlington Northern 10-K.
Per the 2012 10-Ks, Union Pacific's network includes 31,868 route miles and Burlington Northern's includes about 32,500.
Both railroads have extensive networks west of the Mississippi.
Union Pacific Rail Network Map from the 2012 10-K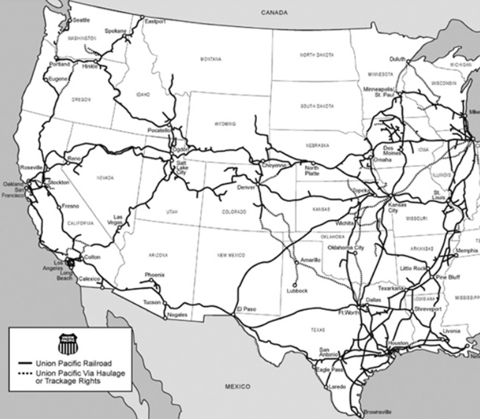 BNSF System Map from the 2012 10-K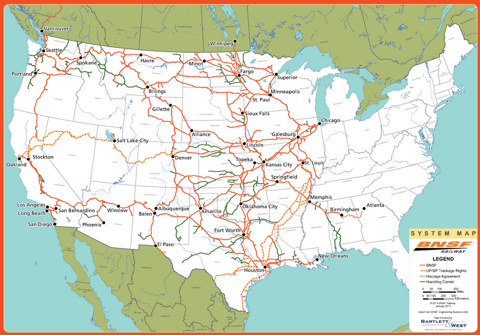 Income Statement
Burlington Northern had higher freight revenue over the last 6 months (10.3b vs 10.1b), but Union Pacific had higher total revenue (10.8b vs 10.6b).
Union Pacific had higher operating income over the last 3 months (1.9b vs 1.6b) and over the last 6 months (3.5b vs 3b).
Union Pacific had higher net income over the last 3 months (1.1b vs .9b) and over the last 6 months (2b vs 1.7b).
Balance Sheet
Here are some key numbers from the balance sheets through June 30, 2013:
Union Pacific
Total assets: 49b
Total liabilities: 28.5b
Total equity: 20.5b
Deferred income taxes: 13.5b
Long-term debt: 9b
Burlington Northern
Total assets: 72.9b
Total liabilities: 38.9b
Total equity: 34b
Goodwill: 14.9b
Intangibles: 1b
Deferred income taxes: 16.5b
Long-term debt: 15b
Note that deferred income taxes can be thought of as a nice liability because they are basically a free loan from the government.
Cash Flow
Including equipment acquisition, both companies have capital expenditures that are higher than depreciation.
Union Pacific defines free cash flow as cash provided by operating activities less cash used in investing activities and dividends paid.
Ignoring the (646m) dividend paid component, Union Pacific has 1.5b in free cash flow for the first six months of 2013 (3,218m - 1,739m).
Defined the same way, BNSF has .5b in free cash flow for the first six months of 2013 (2,171m - 1,670m).
6 Month Revenue Segmentation
Union Pacific
Industrial Products: 1,893m
Coal: 1,911m
Agricultural: 1,568m
Automotive: 1,021m
Chemicals: 1,763m
Intermodal: 1,981m
------------------------
Total freight: 10,137m
Other: 623m
------------------------
Total operating: 10,760m
Burlington Northern
Industrial Products: 2,777m
Coal: 2,390m
Agricultural: 1,703m
Consumer: 3,390m
------------------------
Total freight: 10,260m
Other: 346m
------------------------
Total operating: 10,606m
Competition
It is no secret that these 2 companies compete against each other. The 2012 Union Pacific 10-K says it directly:
We are subject to competition from other railroads, motor carriers, ship and barge operators, and pipelines. Our main rail competitor is Burlington Northern Santa Fe LLC. Its rail subsidiary, BNSF Railway Company [BNSF], operates parallel routes in many of our main traffic corridors.
It is better to have one rail competitor west of the Mississippi than a bunch of rail competitors. We won't call this situation a duopoly, because there is also competition from motor carriers and ships/barges. Still, these 2 companies are in a good position.
History
The New York Times explained Berkshire Hathaway's (NYSE:BRK.A), (NYSE:BRK.B) acquisition of Burlington Northern shortly after it was announced on November 3, 2009:
Berkshire Hathaway, the investment vehicle of Warren E. Buffett, said on Tuesday that it planned to buy the 77.4 percent of Burlington Northern Santa Fe it did not already own for $26 billion in cash and stock, in the largest deal in Berkshire history.

The deal, which including Berkshire's previous investment and the assumption of $10 billion in Burlington Northern debt brings the total value to $44 billion, represents what Mr. Buffett said was a big bet on the United States. He told CNBC in an interview that railroad operators cannot do well unless American businesses were producing goods and customers were buying them.

"It's an all-in wager on the economic future of the United States," he said in a written statement. "I love these bets."
Per Berkshire's Berkshire's 2010 10-K, the deal closed on February 12, 2010.
Burlington Northern's 2012 10-K goes into more details about this merger. In addition to the figures below, Berkshire also assumed 10.5b in long-term debt.

Looking at 2009 10-Ks, we can compare the June 30 market value of stock held by non-affiliates. This is the last year we can do this due to the 2010 Berkshire acquisition. The 2009 UNP 10-K puts this value at approximately 28.7b while the 2009 BNSF 10-K puts this value at approximately 24.8b.
Mr. Market liked both companies better the previous year in 2008. During that year the
2008 UNP 10-K shows a June 30 non-affiliate value of approximately 41.6b while the
2008 BNSF 10-K shows a June 30 non-affiliate value of approximately 34.1b.
Here is the Union Pacific 10 year stock price chart from InvestorPoint: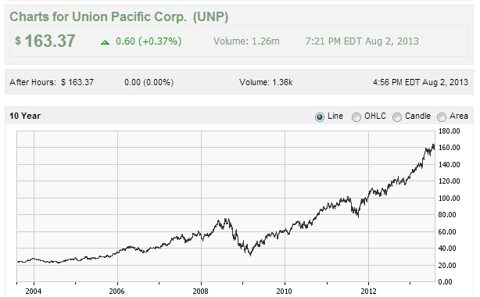 Seeing as Burlington Northern is no longer publicly traded, many financial sites stopped showing its historical stock prices (its ticker was BNI). Fortunately InvestorPoint still has a partial 10 year chart (2004 to early 2010):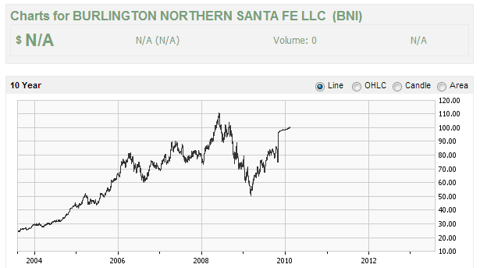 We can compare these stock prices from 2004 to early 2010 to see how they moved with respect to each other over the years. It would be even better if we could compare historical market cap charts, but at the time of this writing, I didn't see market cap charts for non-current ticker symbols like BNI. Both companies have increased dramatically in value since early 2010. In the case of Union Pacific, we can see it clearly in their chart.
Valuation
If we assume Mr. Market is more or less correct about Union Pacific's market cap, then we can use it as a proxy for Burlington Northern's value. YCHARTS shows that Union Pacific had a market cap of 72b on June 28th.
Based on 6 month operating income, one could make the argument that Union Pacific is 17% more valuable than Burlington Northern (3.5/3 = 1.17). The balance sheets tell us that tangible book value is about the same once we back out goodwill and intangibles from Burlington's equity. Using the 17% multiplier, we can estimate that Burlington Northern had a value of about 61.5b at the end of the June quarter.
Closing Thoughts
Both these railroads are a big part of the US economy and both have done very well since Berkshire Hathaway acquired Burlington Northern in early 2010. Union Pacific has higher net earnings and a higher valuation but the numbers are pretty close.
Disclosure: I am long UNP, BRK.A, BRK.B. I wrote this article myself, and it expresses my own opinions. I am not receiving compensation for it (other than from Seeking Alpha). I have no business relationship with any company whose stock is mentioned in this article.
Disclaimer: Any material in this article should not be relied on as a formal investment recommendation.