Last week, Genomic Health, Inc. (NASDAQ:GHDX) announced that a number of leading U.S. surgeons ask for Genomic Health's Oncotype DX breast cancer assay at the time of surgery or biopsy, in an effort to provide patients with prompt, critical information about treatment options available at their maiden visit to an oncologist.
Oncotype DX, the growth engine of the company, was launched in 2004. It is the first and only multi-gene expression test commercially available that has clinical evidence validating its ability to predict the likelihood of chemotherapy benefit as well as recurrence in early-stage breast cancer.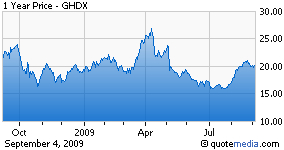 In late May 2009, Genomic Health announced that more than 100,000 test results have been delivered in over 40 countries worldwide since the commercial launch of Oncotype DX.
The assay analyzes the activity of 21 genes within a breast cancer patient's tumor to calculate an individualized result (Recurrence Score). Upon generation and delivery of a Recurrence Score report to the physician, the company generally bills third-party payers for Oncotype DX. Further, the test report provides quantitative scores for certain individual genes.
Oncotype DX came up with $108.7 million sales in 2008. We expect growth for Oncotype DX to remain strong in the coming years.
The company is also developing Oncotype DX for colorectal cancer. Genomic Health intends to make the colon cancer version of the test available to patients and physicians in early 2010.
The company's main competitors are Clarient, Inc. (CLRT) and Life Technologies Corporation (NASDAQ:LIFE).
Even though we are optimistic on the growth prospects of Oncotype DX, we are concerned about the company's heavy reliance on Oncotype DX for both short-term and long-term growth. We believe the company needs to diversity its product mix further in order to sustain long-term growth.