Readers have been receptive to my first three articles on the constituents underlying the S&P Buyback Index, which has tripled the cumulative performance of the S&P 500 (NYSEARCA:SPY) over the trailing twenty years as graphed below: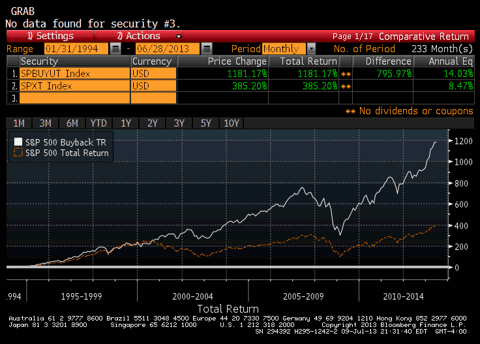 Click to enlarge
Source: Bloomberg
The S&P Buyback Index has also strongly outperformed the broad market gauge this year, besting the S&P 500 by over ten percent in 2013 (graphed below) with only (NOW) four of the one hundred constituents posting negative year-to-date returns.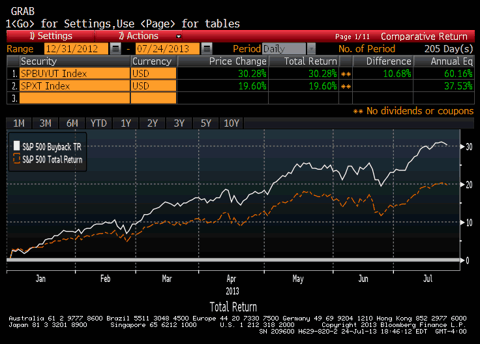 Click to enlarge
Below is a table of key financial and return metrics for the ten constituents discussed in this fourth version of the article:

Click to enlarge
Source: Bloomberg (as of close of trading 8/2)
Discover Financial Services (DFS)
Discover Financial Services is a direct banking and payment services company and one of the leading credit card issuers in the United States as operator of the fourth largest U.S. bank card network. The company released second quarter numbers last week with net income rising fifteen percent on higher net interest income and lower charge-offs.
The company repurchased $340 million of shares in the second quarter, or roughly 1.5% of the company's market capitalization. Discover also announced on its earnings call that the firm intended to use slightly more than half of the $2.4 billion total share repurchase authorization through the end of first quarter 2014, signaling continued share repurchases ahead. In an additional shareholder friendly action, the quarterly dividend has doubled over the past year with the stock now posting an indicated dividend yield of 1.62%.
Despite the more than thirty percent return year-to-date, the company is conservatively valued at 10.6x trailing earnings even when taking into consideration that these earnings are artificially elevated due to the benign credit environment. The company likely will experience tailwinds from increased consumer spending, and Discover's healthy cash flow generation and aggressive shareholder-friendly actions should continue to support the stock. The stock remains exposed to potential additional financial services regulation that could lower profitability for credit card companies.
Dover Corp. (DOV)
Dover Corporation is a diversified global manufacturer focused on four major operating segments: communication technologies, energy, engineered systems, and printing and identification.
In the company's recent capital allocation, Dover has balanced share repurchases and bolt-on acquisitions. The company repurchased just $59 million of shares in the second quarter given the spinoff of Knowles in the period, yet remains on pace to complete 70% - 80% of its $1 billion share authorization in 2013. Free cash flow increased 47% year-over-year due to lower capital expenditures and higher cash flow from operating activities.
Dover maintains a set of solid businesses in niche industrial segments with a diversified global footprint that provides adequate leverage to global growth. It is easy to trust a company to return capital to shareholders when they have a fifty-seven year history of steadily increasing dividends. This track record puts the company amongst the Dividend Aristocrats, a group I have also shown has a long track record of outperforming the broader market. With Dover trading just slightly rich to the S&P 500 based on trailing earnings, this is a strong and stable company expected to market perform.
Dun & Bradstreet (DNB)
DNB is a leading source of commercial information and insight on businesses with a strong franchise in business credit information. The company's traditional marketing services were lists and labels for customers' direct marketing efforts, but the company's marketing solutions have evolved to include target market research and customer base analysis and segmentation.
The company is currently operating with a lame duck CEO given Sara Matthew's announced retirement in May 2014. Whether new management can enhance organic growth, which has been essentially zero over the trailing four years, and drive shareholder returns remains an obvious uncertainty. Share repurchases have accelerated recently given the company's historically low valuation, but unless the company fulfills its promise to generate revenue growth the stock will continue to maintain a below market multiple despite steady and consistent free cash flow generation from its subscription-like businesses.
Electronic Arts (EA)
Electronic Arts is a global leader in digital interactive entertainment. The company delivers games, content and online services for internet-connected consoles, personal computers, mobile phones, and tablets to over 300 million registered players in seventy-five countries.
The company lost a bid last week to block lawsuits for profiting from the use of college athletes' likenesses in the company's popular "NCAA Football" video game series without their permission in a Federal appeals court. The ruling followed the NCAA's decision two weeks ago not to renew its licensing relationship with EA for the game. While the company intends to seek further court review and the market reaction to the news has been muted, I am abstaining from offering guidance on the stock until further information is released on the company's future plan of action with respect to the litigation is announced, especially in light of the stock's tremendous eighty-three percent return year-to-date.
Expedia Inc. (EXPE)
Expedia is one of the world's largest online travel company's operating under notable brands: expedia.com, hotels.com, hotwire.com, and trivago.com. The company's stock plunged the most in eight years on July 26th, slumping twenty-seven percent and erasing year-to-date gains, after the company saw second quarter net income slip thirty-two percent on increased competition from search products of competitors TripAdvisor (NASDAQ:TRIP) and Priceline (NASDAQ:PCLN).
Expedia's 2012 return of 112% placed it in the top one percentile of all S&P 500 constituents, but the company's lagging return now has it in the bottom two percentile for the broad market gauge in 2013. Keep in mind that total bookings are still up thirteen percent year-over-year with twenty-three percent growth in international markets. While management lowered its EBITDA growth outlook from "low double digits" to "mid-to-high single digits" for 2013, this is still a growth rate that would be attractive to the broader stock market. It is natural to expect that the company's extremely high margins will compress due to more fierce domestic competition.
Large swings in the price of this stock are not anomalous. The stock rose by at least twenty percent after earnings beats in April and July of last year. The company generates very solid free cash flow. The company has deployed over $700 million in a combination of acquisitions, buybacks, and its increased dividend. If the company smartly balances its capital allocation between necessary investments in the business and marketing with share repurchases given the newly depressed share price, I expect shareholder value to be enhanced prospectively. Given the network effects inherent in this business, a dominant player could emerge and increasingly take market share, damaging this business. Upside exists if Expedia is a winner in this high stakes game, or if competitors are taken out of the market, relaxing future pricing competition.
Fidelity National Information Services (FIS)
Fidelity National Information Services is the world's largest global provider of banking and payments technologies, serving more than fourteen thousand institutions in over one-hundred countries including seventy percent of the top fifty global banks. The company is a leading provider of core processing for financial institutions, card issuing and transaction processing services, and various outsourcing services.
Recurring revenues represents roughly eighty percent of total revenue given the long-term contracts and embedded nature of FIS within its clients' core processing technologies. Retention is very high and client concentration is quite low. While the business lines are fairly mature in the U.S., the company continues to increase revenues in higher growth international markets. Consolidation within the banking industry is a risk as well as the secular decline of check volumes in its processing segment.
FIS has outperformed in 2013 with a return exceeding thirty percent. While the company trades at an earnings multiple roughly a quarter higher than the broader market, the stock trades at a meaningful discount to its pre-crisis multiple as detailed below. While revenue has doubled and profits have nearly tripled, the company is trading at a third of its multiple of earnings and free cash flow from its pre-crisis level. With a free cash flow yield of over 9%, sticky domestic revenues, and the potential for overseas growth, FIS should command a premium over the market multiple. FIS repurchased $100 million of stock in the first quarter, $125 million in the second quarter, and has $425 million under its authorization remaining.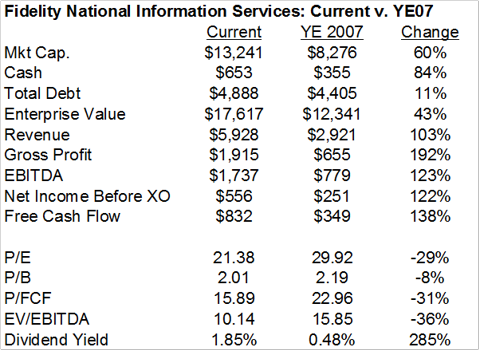 Click to enlarge
Fiserv Inc. (FISV)
Like FIS, Fiserv is a leading global technology provider serving the financial services industry through payments and processing services with the two companies representing the industry leaders in core processing. These two companies have traded approximately in line over the past five years, and this linkage has continued to the valuation today. These two companies are likely to generate low double digit earnings growth over the next three years through a combination of organic growth from an improving banking environment, cost cutting, and bolt-on M&A. Fiserv repurchased $204 million of stock in the first quarter, $271 million of shares in the second quarter and has more than $200 million under its current authorization.
Flowserve Corp. (FLS)
Flowserve is one of the world's leading providers of fluid motion and control products and services, producing engineered and industrial pumps, seals, and valves to oil and gas, power, and chemical customers in fifty-six countries.
Bookings in the second quarter increased just 1.3%, but margins in the company's diverse end markets expanded moderately. Flowserve generated $75 million from operations during its recently announced second quarter results. The company repurchased $150 million of shares and has more than half a billion remaining under its current buyback program.
Like Dover, Flowserve is a fairly valued industrial company that generates fairly steady free cash flow and has a smart plan around capital allocation. At current valuations, I prefer Dover to Flowserve in part due to its lower financial leverage and long-term track record.
Gamestop Corp. (GME)
Gamestop is the world's largest multi-channel video game retailer, delivering products through 6,544 company stores and the company's online network. In an article in the spring of 2012, I listed Gamestop as one of 10 Companies Cheap By My Favorite Valuation Metric. That metric, free cash flow to enterprise value, has been shown in academic research to produce long-run alpha. Since that article, Gamestop has returned 135%, including reinvested dividends. With the company's free cash flow yield now lower than the market average, and the stock at a five year high and still plagued by the headwinds of a box retailer in an industry that increasingly delivers games digitally, the stock appears fully valued. EBITDA is still lower than in fiscal year 2011, but the enterprise value has more than doubled.
Gap Inc. (GPS)
Gap Inc. is a leading global specialty retailer with a portfolio of brands that notably include the namesake Gap, Banana Republic, and Old Navy. Since 2004, the company has repurchased roughly $12 billion worth of shares at an average price of roughly $20, cutting the share count in half. The company has concomitantly expanded the dividend per share from $0.09 per share to $0.60. Over the last five years, the company has also expanded operating margins by over four percentage points, generating an earnings per share growth rate of 17% on average. I am not sure if the stock's tremendous performance is more or less notable given the fact that top-line revenues are flat over the trailing five years. The company has squeezed operating efficiencies out of the business, and been aggressive at returning free cash flow the shareholders. I expect that margin expansion has peaked, but that the company will continue to generate meaningful free cash flow and return it to shareholders via share buybacks and a steadily increasing dividend. Perhaps an improved consumer will help expand top-line growth, but growth is more likely to come from an enhanced international footprint.
Summary
As I featured in the first three versions of this article, and will further detail over six additional articles introducing the remainder of the S&P Buyback Index constituents, collectively this is a group that trades at a slight earnings discount to the broader market while generating higher cash flow per share and more readily returning that cash to its investors. The Buyback Index is both underweight utility and consumer staples companies that have come under pressure recently due to higher interest rates while also underweight underperforming materials stocks hampered by falling commodity prices.
Readers who stick through the remainder of these articles will see a listing of companies bent towards healthcare, financial, and consumer discretionary stocks with stable business profiles. These companies also are collectively smaller than the broader index constituents with an average market capitalization roughly three quarters of the size of the average S&P 500 constituent. While there is currently not an exchange traded fund that replicates this particular index, readers of the first version of this article pointed me to the PowerShares Buyback Achievers Portfolio ETF (NYSEARCA:PKW), which tracks U.S. companies that have repurchased at least five percent or more of their shares over the trailing twelve months. As seen below, the Buyback Achievers Index has bested the S&P 500 by roughly five percent per annum over the trailing five years.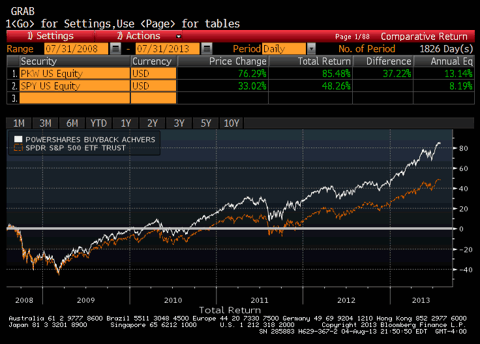 Click to enlarge
Source: Bloomberg
Collectively, this list is a group of stocks that have produced an equal-weighted return of over forty percent thus far in 2013, so much of the value has been wrung out of these shares. However, with an equal weighted free cash flow yield of over ten percent, four percent higher than the broader market, these are companies that can concurrently invest in organic growth, satisfy their debt obligations, and return cash to shareholders. As I said in the third version of this article, the trick will be finding the companies that have these favorable characteristics but still trade at reasonable multiples that portend above market future returns. At the end of this ten article series, I will be offering my pick of ten companies that I believe will produce risk-adjusted returns in excess of the broader market over the next twelve months.
Disclosure: I am long SPY. I wrote this article myself, and it expresses my own opinions. I am not receiving compensation for it (other than from Seeking Alpha). I have no business relationship with any company whose stock is mentioned in this article.