Wall Street is handsomely rewarding companies that are demonstrating an ability to generate just a minority of their revenue from mobile Internet usage in their 2Q13 reports. Recent examples include Facebook (NASDAQ:FB), Yelp (NYSE:YELP), LinkedIn (NYSE:LNKD), Trulia (TRLA) and Baidu (NASDAQ:BIDU). Further, just the read-through from Trulia's 2Q13 report to Zillow (NASDAQ:Z) has increased Zillow's stock price 20% since July 24, 2013 and Zillow has not even reported 2Q13 results yet.

An examination of these companies' 2Q13 commentary leads to the inescapable conclusion that Wall Street is upwardly rerating companies that are demonstrating even a modest ability to benefit from the rapid consumer transition to mobile Internet usage.
In comparison to the companies above, NQ Mobile (NYSE:NQ) generates 100% of its revenue from mobile, is globally diversified and is not only growing faster than the comps above, but doing so with better operating margins. Oddly, the comps above currently trade at multiples that are 450% - 650%+ higher than NQ! So…investors are paying 4.5x - 6.5x higher valuations for companies with slower revenue growth, lower operating margins, more geographic concentration risk and much lower percentages of revenue generated from mobile. Hmmmm. Investors are beginning to discover that NQ is a mobile pure play hidden gem, as its stock price has increased 97% since July 1, 2013. That said, mobile pure play NQ still trades at an unsustainably steep discount to companies that generate just a small fraction of their revenue from mobile.
Why Is Wall Street Laser Focused on Mobile?
It is no secret that the combination of faster wireless connections, better mobile handsets with bigger screens and faster processors and the widespread adoption of apps have combined to create the strong transition of Internet users to the mobile Internet. Mary Meeker, a partner at world famous venture capital firm Kleiner Perkins Caufield & Byers, presented the data below in her "2013 Internet Trends" report. Mobile's percentage of all Internet traffic is growing market share 50% annually. This is an astounding metric.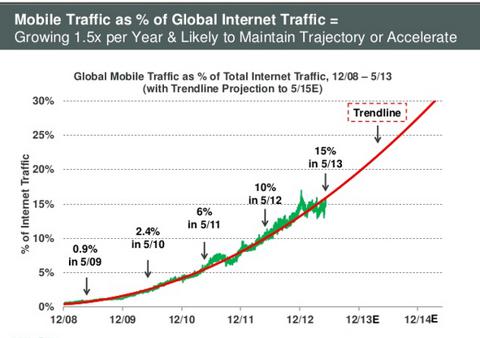 Not only is mobile's share of overall Internet traffic exploding, but the global growth of smartphone users is exploding as well. Globally, there are 1.5 billion smartphone users, up 31% year-over-year. That said, smartphones have still only penetrated 21% of the total global mobile subscribers. Hence, there are several more double-digit years ahead for global smartphone growth.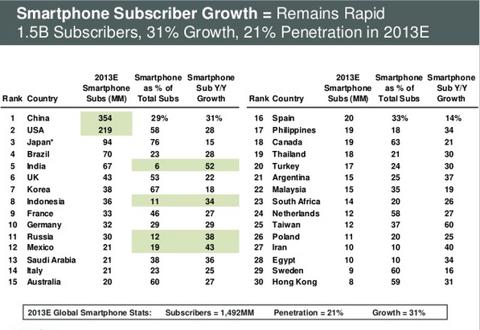 China and Asia Pacific Smartphone Users Lead the Way
China's online population is rapidly approaching 600 million users with 354 million of these users on smartphones. Many of the other China Internet users access the Internet via wireless tablets (yup, even more mobile Internet users). GSMA, a global mobile communications industry association, said that by 2017, the Asia Pacific region will have 1.9 billion mobile subscribers. By 2017, it is expected that the vast majority of mobile Internet users will access the Internet via smartphones and tablets (versus plain feature phones).
China's explosive Internet and mobile Internet growth is the key driver behind the impressive stock price performance of numerous China Internet and mobile companies over their recent 52 week lows (YY up 300%, QIHU up 360%, VIPS up 825%, etc.). Of course, all of these returns pale in comparison to Japanese mobile game company, GungHo Online Entertainment (3765.JP). GungHo's stock price has increased 4,000%+ over the past 12 months on the back of its successful Puzzles and Dragons mobile game!!
NQ is Perfectly Positioned in Mobile
NQ Mobile is literally at the intersection of three of the hottest highest growth mobile Internet themes: (1) Mobile Security and Productivity (2) Mobile Device Management and (3) Mobile Games. As stated on a July 15, 2013 call by NQ's VP Capital Markets, Matt Mathison, "NQ is firing on all cylinders." Here are the accomplishments announced by NQ since just June 24, 2013. Yes…..all of the items below were announced in just the last six weeks!
Mobile Security and Productivity - (1) announced a partnership with Target's (NYSE:TGT) 1500+ stores to sell all of NQ's flagship mobile security and productivity products (2) U.S. Cellular (NYSE:USM) added NQ's Mobile Security and Mobile Vault products to sell to its 5.2 million subscribers (3) China Mobile's (NYSE:CHL) largest subsidiary renewed its contract with NQ Mobile to manage and support its mobile malware monitoring, alert and other security analysis services. (4) Additionally, NQ Mobile will continue to provide anti-malware services for China Mobile's Mobile Marketplace, which it has done since 2010.
Mobile Device Management (MDM) - (1) announced GE Healthcare, AnBang insurance Group (one of the largest insurance companies in China) and 20 other large enterprise companies have adopted the NQSky MDM solution since its February 2013 launch. Given that NationSky has over 1,250 enterprise customers and NQSky is being sold into these current customers, the pipeline for NQSky adoption is extremely full. (2) Additionally, NQ purchased the remaining minority stake in NationSky, so NQ now owns 100% of NationSky.
FL Mobile Games - (1) FL Mobile now ranks #1 in terms of both total revenues and total number of mobile users on Apple's (NASDAQ:AAPL) iOS platform in China with 38.6% share in 1H13 and ranks #3 across all platforms for both revenues and mobile users with an 18.8% share of total revenues in the first half of 2013 according to EnfoDesk (2) Signed a strategic deal with Baidu for Baidu to publish the FL developed game "The Martial Arts Champion" on the Android platform in China (3) FL Mobile has become a game content provider to China Mobile's Game Center. China Mobile has over 740 million subscribers and has a massive presence on the Android platform. This partnership will dramatically accelerate FL's growth and market share on the Android platform in China (4) Signed a strategic agreement with one of TenCent's (0700.HK) game studios to operate its developed games for the iOS platform in China (5) Distribution of China Mobile Games and Entertainment's game "Gods and Dragons" on iOS and is now a top 10 iOS game in China (6) FL has now had 4 separate titles reach the Top 10 on the iOS platform in China in 2013.
NQ Is Still Dirt Cheap
Even after a strong performance in July, NQ remains dirt cheap. One needs to realize that NQ's stock did not have a single institutional owner with larger than a 3% ownership position as of 1 month ago. Further, NQ's stock is still not followed by a single bulge bracket broker. NQ is still a relatively undiscovered gem.

On July 2, 2013 Atlantis Investment Management announced an investment into NQ Mobile. Atlantis is a $3.2 billion manager out of Hong Kong and specializes in identifying deeply undervalued tech and mobile companies and taking large ownership positions. Atlantis is well-regarded for its deep due diligence and rigorous analytical approach. Assuming Atlantis follows its previous investment strategy, it will likely continue to add to its investment in NQ until it holds 10%+ of NQ's shares outstanding. Atlantis's investment acted as a wake-up call to several other large funds that were in the midst of their own due diligence on NQ. Several of these funds have begun building positions.
Even though NQ's stock price increased sharply in July, it was off of ultra-depressed levels. Therefore, NQ's valuation has only gone from ridiculously dirt cheap to plain dirt cheap. In my previous Seeking Alpha article, I laid out my analysis as to why NQ is worth $44 per ADS at a minimum. Since then, the valuations of many of the relevant comps have increased 20% - 40%+ (see table at the top of this article). Hence, NQ's fair value using comps should increase accordingly. NQ reports earnings on August 12, 2013. On that call, I believe we will receive further confirmation as to why NQ is the must-own stock to play the exploding growth of the mobile Internet and its stock price will sharply appreciate in the coming weeks.
Disclosure: I am long NQ. I wrote this article myself, and it expresses my own opinions. I am not receiving compensation for it (other than from Seeking Alpha). I have no business relationship with any company whose stock is mentioned in this article.