The first article of the series has introduced the Carbonate Triangle of the renowned Canadian oil sands. The region is the world's third-largest oil reserve with its rich carbonate-hosted bitumen deposit located in the northern Alberta's deep underground. Precisely, the Carbonate Triangle is situated between three major bitumen areas, Athabasca, Cold Lake and Peace River.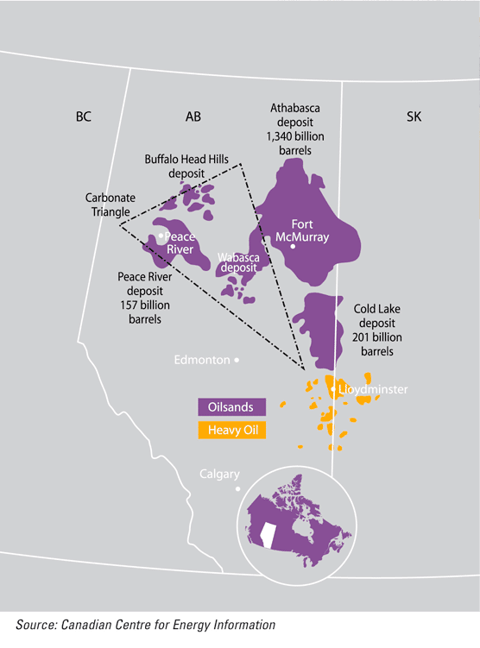 In today's investment guide on the Carbonate Triangle, I will present the main characteristics of the Athabasca area to have a better assessment of its potential. Then, I will review one of the largest oil producers that has been analyzed previously with its Cold Lake assets and that owns a few assets as well in Athabasca. So far, I looked into several producers involved in Peace River and Cold Lake regions of the Carbonate Triangle:
Peace River's most notable producers:
Cold Lake's most notable producers:
Athabasca's most notable producers:
An analysis of the current operations of the company will be examined with the objective to provide the most complete information available to potential investors before deciding to seize the opportunity that the 54,132 square miles of the Carbonate Triangle has to offer. Let's start by introducing Athabasca, a famous and most prolific region in the Canadian oil sands as well as one of the largest reserve in the world.
Athabasca Region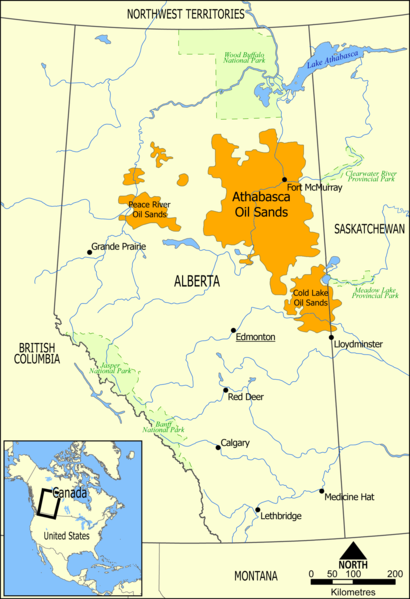 The Athabasca oil sands are named after the Athabasca River, which cuts through the heart of the deposit, and traces of the heavy oil are readily observed on the river banks. Commercial production of oil from the Athabasca oil sands began in 1967, when Great Canadian Oil Sands Limited, now incorporated into an independent company known as Suncor Energy, opened its first mine, producing 30,000Bls/d of synthetic crude oil.
The Athabasca region can be defined with two major oil sands deposits: the Grosmont Formation and the Wabiskaw-McMurray Formation. The Grosmont Formation is a late-Devonian shallow marine to peritidal platform carbonate consisting of four recognizable units within the deposit. All of the hydrocarbons are located in an updip position, structurally trapped along the erosional edge and contained by the overlying Clearwater Formation.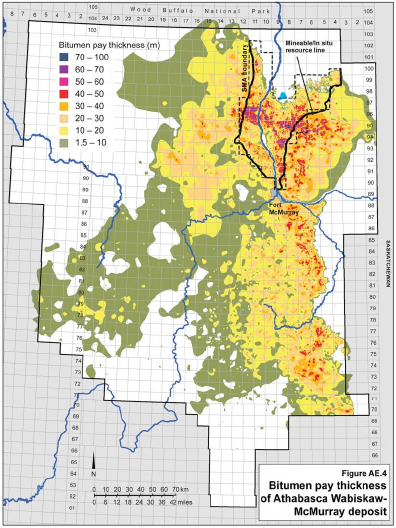 Source: ERCB
The McMurray Formation was deposited on an exposed karstic landscape of ridges and valleys and varies in thickness from being absent over Devonian highs to over 426 feet thick in the Bitumont Basin. Bitumen-rich reservoirs formed within estuarine valleys stacked above the Lower McMurray channel sands and are assigned to the Upper McMurray Formation.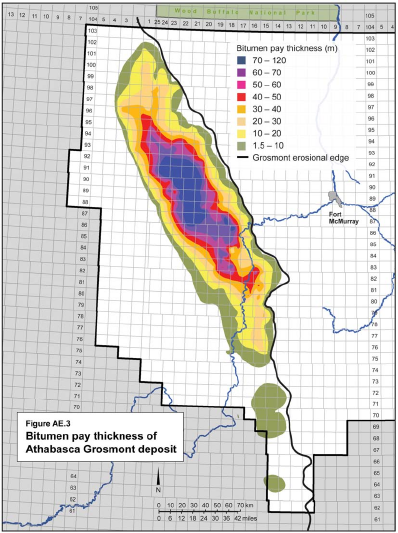 Source: ERCB
The Athabasca region is estimated to hold total reserves of 1.34 trillion barrels of oil. Approximately 8-10% would be recoverable with current technology, which would represent a total reserve of 134 billion barrels. Compared to the estimated 7 billion barrels contained in Peace River and approximately 16 billion barrels in Cold Lake, the Athabasca region is the most prolific and the most promising of the three, located in the Carbonate Triangle.
Imperial Oil
Imperial Oil is a leading member of Canada's petroleum industry. It is one of the country's largest producers of crude oil and natural gas and is Canada's largest petroleum refiner with the leading market share in petroleum products sold through a coast-to-coast supply network that includes about 1,850 service stations.
Athabasca' Oil Sands Projects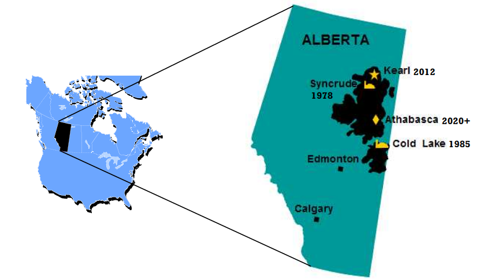 Source: Imperial Oil
Imperial owns significant undeveloped land in the Athabasca region. This area has promising development opportunities and the company continues to target future resource additions to build on its current high-quality oil sands assets. As a matter of fact, the producer's upstream division has approximately 200Mbls/d of projects starting up or in construction while it plans to deliver 300Mbls/d of new production by 2020.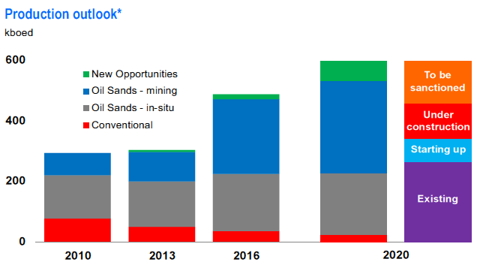 Source: Imperial Oil's June 2013 Investor Day
Let's take a look at its most promising assets in the region.
Kearl Mining Project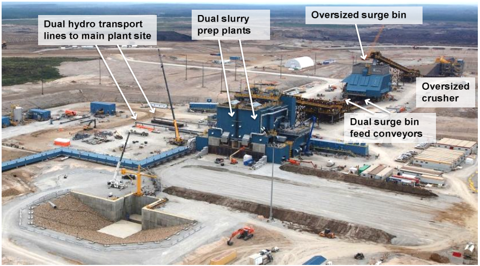 Source: Imperial Oil's June 2013 Investor Day
The Kearl Project is a joint-venture where Imperial owns 70.96% in interests, ExxonMobil (NYSE:XOM) owning the remaining 29.04%. The project will use the producer's proprietary PFT (paraffinic froth treatment) technology to process bitumen on-site to where it can be blended with natural gas condensates to create a diluted bitumen product.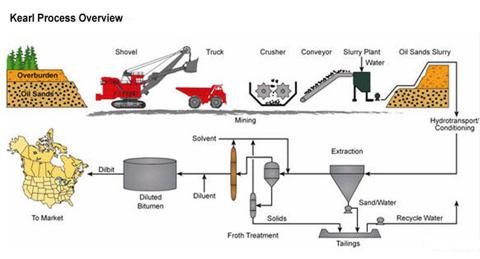 Source: Imperial Oil
Diluted bitumen is suitable for transportation direct to market via pipeline from the mine site. This process eliminates the cost and environmental impacts of an on-site upgrader. Since Kearl will be connected to a substantial North American pipeline system, diluted bitumen can be transported directly to refineries that are already configured to process heavy oil and bitumen.
The mining process consists of using high-capacity shovels and heavy-haul trucks to remove ore and transport it to an on-site facility where the ore will be crushed and mixed with water for slurrying. From here, the slurry will be transported by pipeline to a bitumen extraction facility where bitumen will be separated as froth, a mixture of bitumen, water and fine solids, and the froth will be further treated in a PFT plant to produce bitumen suitable for blending.

Source: Imperial Oil's June 2013 Investor Day
In addition to mining equipment, Kearl will also require development of related infrastructure, such as a river water intake and water pipeline to allow water volumes to be withdrawn from the Athabasca River and stored on-site. Recycled water will be the main water source for the operations once the system is filled and a steady state is reached. Fresh river water will then be used as a supplementary source.
Imperial Oil reported that the construction on Phase 1 is complete and start-up activities are under way. The project is now expected to cost $12.9 billion, a $2-billion increase from previous estimates. It also announced the start up of one of three froth treatment trains at Kearl on April 27, 2013. Start up of the remaining two will happen sequentially as planned, bringing production to capacity of 110,000 barrels per day later in 2013, the initial capacity of Phase 1.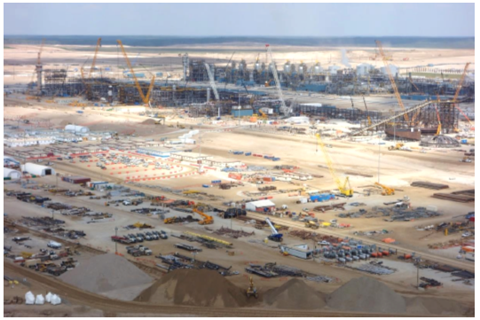 Source: Imperial Oil's June 2013 Investor Day
At the end of Q4 2012, the company said that Kearl Phase 2 was 32% complete. This second phase is estimated to add another 110,000Bls/d to the production and start-up is expected for 2015. Finally, a Phase 3 Debottleneck is scheduled for 2020, adding 70,000Bls/d for a total production of 290,000Bls/d.
According to the company, the development cost per barrel for the entire project is estimated at $6.80, relying on a competitive cost structure over the life of the asset.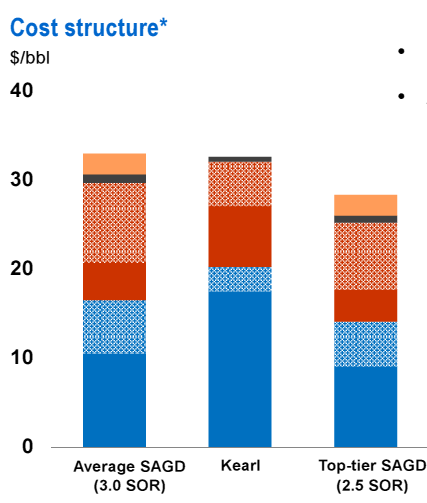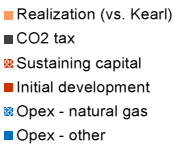 Source: Imperial Oil's June 2013 Investor Day
Furthermore, the quality of bitumen that would be recovered is considered above-average grade. The chart below illustrates the positioning of Kearl comparing the ore grade percentage with the total volume of bitumen in place. Kearl has a recoverable resource of approximately 4.6 billion barrels of bitumen.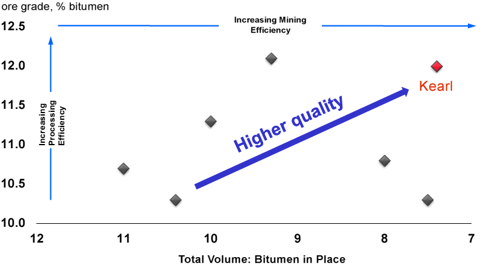 Source: Imperial Oil's June 2013 Investor Day
As seen in my previous article in Cold Lake, the Cold Lake asset combined with Kearl and its participation in Syncrude will drive a significant growth for years to come for Imperial. The following chart shows the estimated 3.6 billion oil-equivalent barrels of long-life proved reserves of these world-class assets in the Carbonate Triangle.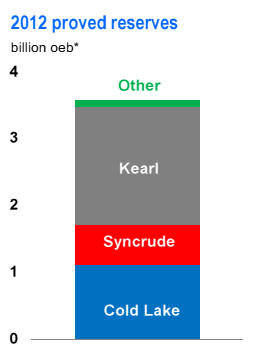 Source: Imperial Oil's June 2013 Investor Day
Aspen SAGD Project
Located approximately 21.7 miles South of Kearl, the Aspen project consists of 52 sections of lease lands will come in two 40,000 barrels per day stages over the next decade. However, only Phase 1 has been announced but no date has been determined yet for construction.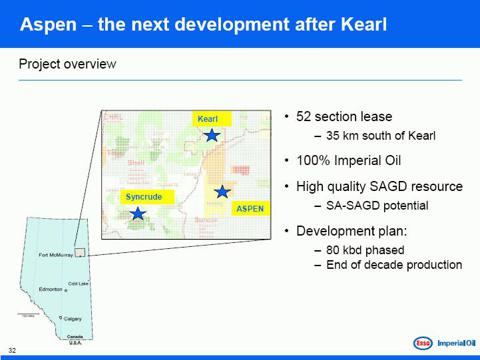 Source: Imperial Oil March 2011 Slide
Bottom Line
Imperial Oil is a strong competitor in the Canada's oil sands play as it owns about 301 square miles of lease lands in Cold Lake, developing a world-class asset there. However, the company owns several lands in the Athabasca region as well, developing the very promising Kearl project. This asset is also assessed as world-class, estimated to contain about 4.6 billion barrels of recoverable high ore grade bitumen.
Imperial Oil holds an extensive and attractive portfolio of future development opportunities with a proved and non-proved resource base of over 16 billion oil-equivalent barrels. The following picture represents the current ratio of its proved reserves for Athabasca and Cold Lake as well as its mineable and in-situ operations.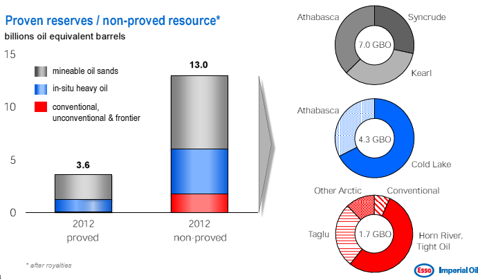 Source: Barclays Americas Select Franchise Conference, May 2013
Imperial Oil is the largest refiner and one of the largest crude oil and gas producers in Canada. Besides its upstream operations, the producer has generated free cash flow of about $5 billion over the last 4 years with its downstream and chemical division. Its capability to optimize use of its existing systems to maximize value is an asset on its own. Imperial also participates in multiple new pipeline opportunities, to develop further its capabilities, currently transporting more than 400MBls/d of crude oil from Alberta by pipeline.
Finally, Imperial Oil is a leader in R&D for years, its Calgary research center is considered one of the leading oil sands research facilities in the world. Imperial Oil and Exxon Mobil have held more than 160 upstream patents since 1961, including the first patents on CSS (cyclic steam stimulation) and SAGD (steam-assisted gravity drainage), two key processes used across the industry in bitumen recovery. Today, those inventions are continually being refined at the center to improve productivity and environmental performance.
Imperial Oil is definitely a major producer that cannot be ignored by the seasoned investor as the future looks very bright. Trading around $42/share, the stock price is discounted, in part because of the oil price declines of the last few months on the market. However, Morningstar assessed its fair value at $52 a share, which gives plenty of room to go short on the stock or, getting it at great discounts to maximize its long-term growth over the years while pocketing its dividend payouts. Whatever the decision, Imperial Oil is a great way to get involved in the Canadian oil sands play.
Disclosure: I have no positions in any stocks mentioned, and no plans to initiate any positions within the next 72 hours. I wrote this article myself, and it expresses my own opinions. I am not receiving compensation for it (other than from Seeking Alpha). I have no business relationship with any company whose stock is mentioned in this article.