If you are invested in Sirius XM (NASDAQ:SIRI) you are likely well aware that the company garners most of its subscribers from the sale of new cars equipped with satellite radio. Sirius XM has been installing satellite radios into cars for nearly a decade now.
In general, 65% of the new cars sold are satellite radio equipped. That number, called the penetration rate, has remained pretty constant for a few years now. Frankly, it does not make business sense at this point to increase the penetration rate. Sirius XM is usually able to convert 45% of the promotional subscriptions to self paying status.
The first half of July was very promising for auto sales. The pace at mid-month was for a 16 million Seasonally Adjusted Annualized Rate [SAAR]. The second half of July saw the sales pace slip, and the tally by the end of the month delivers sales numbers of 1,312,129 and a SAAR of 15.6 million. For perspective, the SAAR in June was a multi-year high of 15.9 million.
Within the car sales chart are three distinct categories. They are "Leading", "Point-Of-Sale", and "Trailing". The leading category delivers counted subscribers when a car is manufactured. The point of sale category delivers counted subscribers when a consumer buys a car. The trailing category only delivers a counted subscriber if the consumer elects to keep the service after a promotional period.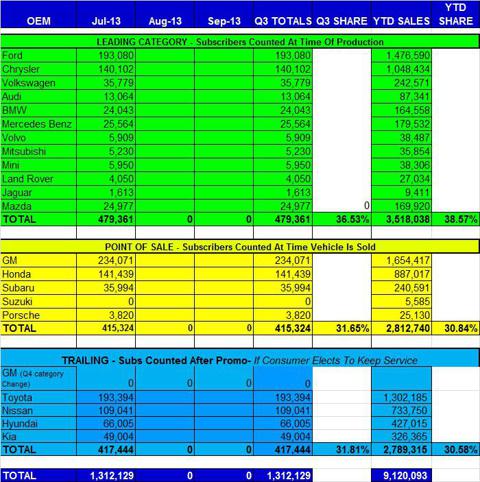 One interesting item to note is that the percentage of cars sold in the leading category dropped from 38.57% to 36.53%. If this trend continues, it could create an interesting dynamic in Q4 that investors will want to note. Bear in mind, that cars made in Q3 from the leading category will sell in Q4, and that inventory is manufactured to meet sales demand.
Savvy investors in Sirius XM are already aware that the GM (NYSE:GM) deal is shifting from the point of sale category to the trailing category starting in Q4. Simply stated, Q4 was already going to be subscriber challenged with the GM shift. The dip in the leading category will be almost unnoticeable beside the GM issue, but this is worth monitoring.
Lastly, despite a weak second half of July, car sales for the year are still anticipated to be in the 15.5 million neighborhood. There is no reason to think that the annual rate will change substantially. Selling over 1.3 million cars to start the third quarter is good. August sales are usually more robust, and that month should deliver over 1.4 million cars sold.
Disclosure: I am long SIRI. I wrote this article myself, and it expresses my own opinions. I am not receiving compensation for it (other than from Seeking Alpha). I have no business relationship with any company whose stock is mentioned in this article.