Today should be a rather calm day on the economic news front, and the entire week should also be that way when compared to the hectic week we had last week. Today we only have the ISM numbers to look for, and those are due out mid-morning.
Last week we saw new highs set and now we have many of the indices trading near those highs, which is causing concern among many of the talking heads. We would point out that we did have inflows into equities over the past month that were greater than the outflows from fixed-income securities, so this rally is not only coming at the expense of bonds but cash as well. It appears the data is now indicating we are finally seeing all of that cash on the sidelines make its way into the market, and that indicates to us we may be set for another "pop" in equities.
Chart of the Day
Click to enlarge images.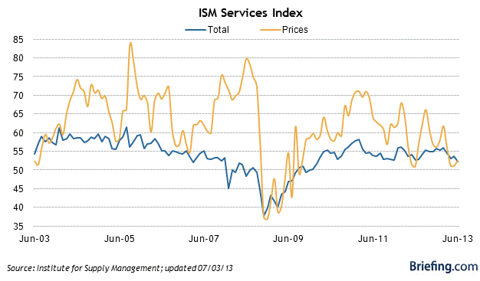 Click to enlarge
Source: Briefing.
We have economic news due out today, and it is as follows:
ISM Services (10:00 a.m. ET): 53.2
Asian markets finished mostly lower today:
All Ordinaries -- down 0.10%
Shanghai Composite -- up 1.04%
Nikkei 225 -- down 1.44%
NZSE 50 -- up 0.14%
Seoul Composite -- down 0.37%
In Europe, markets are trading mixed this morning:
CAC 40 -- up 0.12%
DAX -- down 0.13%
FTSE 100 -- down 0.55%
OSE -- up 0.14%
Media
There are reports beginning to surface that the negotiations between Time Warner Cable (TWC) and CBS (NYSE:CBS) will drag on until the National Football League kicks off its new season, as that will be the first programming consumers will miss out on and truly care about. This weekend many missed Tiger Woods in a PGA event and "Dexter" on one of CBS's premium channels, which did cause a stir on social media. According to Time Warner Cable, CBS wants a 500% increase in the rates they receive for their programming. According to CBS, they simply want to receive a rate that is more in line with what cable operators with less popular content are paid.
We can see both sides to this argument and although 500% is a very big increase, we would point out that historically the broadcasters were paid little, if any, for their rebroadcast rights. We are watching this closely as it has far-ranging effects for the industry and could rewrite the playbook on how these situations are handled -- especially if the government decides to step in. As odd as it sounds, that move might be necessary as neither company seems to either be able to agree or knows whether they are currently negotiating with the other.
There is no winner or loser yet, and in many cases such as this there isn't one. But if this does last a month or more, then CBS would be the clear loser -- no matter how much of a rate increase they are able to wrestle from Time Warner Cable.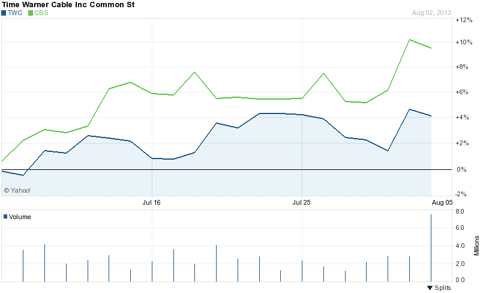 Click to enlarge
Source: Yahoo Finance.
Technology
Shares in Apple (NASDAQ:AAPL) were quoted higher this morning in pre-market trading after the Obama administration came out this weekend and stated that Apple could continue to sell their older iPhones and iPads, which had been ruled to violate Samsung's (OTC:SSNLF) patents. These items are Apple's lower-margin items right now, and should probably not be on the market for too much longer if the company is set to release a new generation of gear this fall. However, the ruling does allow Apple to remain active in the market for the price-conscientious consumer.
Long term, this action could alter the way in which these patent battles are fought, especially if the administration makes it a case to issue these overrides of the ITC's rulings. This was the first one in nearly 25 years, so they are, in fact, rare. However, if we see this become a frequent action, we could see patents diminish in value and many cases move to other venues.
Biotechnology
It appears that BioCryst Pharmaceuticals (NASDAQ:BCRX) is "the little engine that could" as it continues its move higher. We have warned readers to be careful around this one, as the stock has a history of disappointing investors. We think much of the recent gains are a result of the hot money in the biotech industry now rotating into the potential "next big thing." Yes, the company has Permivir, which is approved in a few countries and is looking to gain approval in the U.S., but most of their recent excitement is for drugs that are in the earlier stages of development -- and that means both time and money will be required. On that note, we would close by pointing out that the company announced this morning that their recent offering was oversubscribed and that the underwriters exercised in total their over allotment shares (see press release here).
Medical Equipment
We think day traders had a lot to do with the move Friday, and looking at this chart is how we arrived at our conclusion. Look at the $6/share level and what happened on Friday: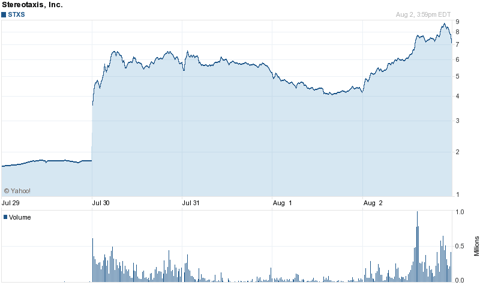 Click to enlarge
Source: Yahoo Finance.
In trading on Friday, Stereotaxis (NASDAQ:STXS) saw shares rise $3.14 (74.76%) to close at $7.34 on volume of 17.3 million. The move took place with no news, but we did notice that the trading went parabolic after shares broke through the $6 level. That was a level of resistance set up earlier in the week when the company rose on positive news from the Food & Drug Administration. It looks to us like another name that day traders have pushed higher.
Disclosure: I have no positions in any stocks mentioned, and no plans to initiate any positions within the next 72 hours. I wrote this article myself, and it expresses my own opinions. I am not receiving compensation for it (other than from Seeking Alpha). I have no business relationship with any company whose stock is mentioned in this article.