During its recent Q2 2013 conference call, Vanguard Natural Resources (NYSE:VNR) could not have been more explicit that it is looking to make a deal. During the call, Vanguard mentioned that it was evaluating numerous transactions of various sizes, had large amounts of liquidity available, and that it could move swiftly in the current acquisition market. This basically confirms my previous speculation on the matter. Also note that Vanguard recently reported its Q2 2013 results, with production and DCF levels basically in line with its previous guidance. Vanguard also boosted its monthly distribution 1.20% to $0.2075 and current prices yield about 9.15%.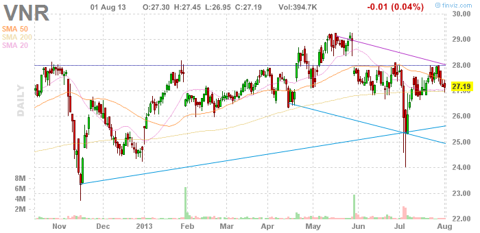 Q2 2013 Overview
Vanguard's quarter was pretty much uneventful. Production came in at about 36,477 BOE/D, up 10% from Q1 2013 levels and nearly triple Q2 2012 levels. Vanguard's production mix was about 24% oil, 66% natural gas and 10% NGLs. Adjusted EBITDA increased to $80.3M, up 81% from Q2 2012 and 11% from last quarter.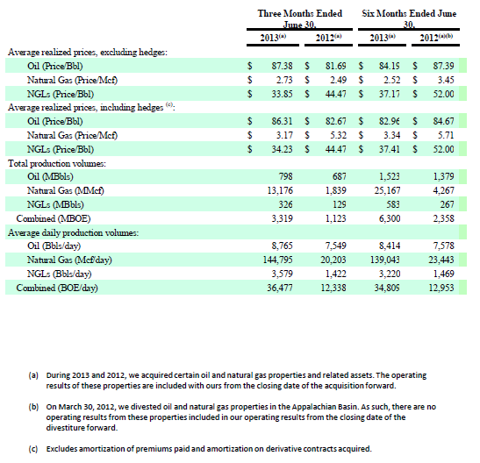 During the conference call, Vanguard noted that it was shifting some of its maintenance capital spending away from natural gas and towards oil. This may result in weaker overall production levels but higher cash flows. Vanguard also noted that NGL prices fell in the quarter. Its realized price for NGL decline to about 36% of WTI from 44% last quarter. If NGL prices would have been similar to Q1 2013 levels, Vanguard's DCF coverage ratio would have been closer to 1.10X instead of 1.05X.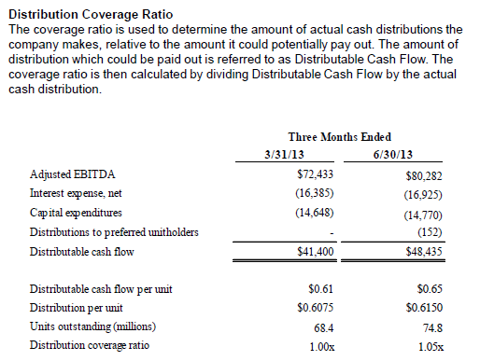 Vanguard's DCF came in at $48.4M, up 154% from Q2 2012 and 17% from last quarter. As a result, Vanguard's DCF coverage ratio improved to 1.05X from the 0.61X last year and the 1.00X last quarter. As a result of its improving DCF, Vanguard boosted its distribution 1.2% to $0.2075 per month, from $0.2050. This new monthly rate is expected to be paid starting with the September payment.
Preferred Units Lower Vanguard's Funding Costs
Vanguard made upstream MLP history when it issued its Series A cumulative perpetual preferred (VNRAP) equity in June. This is one of the first publicly offered preferred unit offerings by an MLP. This sort of equity is beneficial to Vanguard as it yields a full 100 basis points lower than its common units and has a fixed distribution. Vanguard also noted that adding this sort of financing opens up more avenues for the company in the future. The preferred units were mostly bought by retail investors and demand for them was fairly strong and they are currently trading above par. Vanguard noted that other income oriented sectors, such as REITs, issue preferred equity often and that the MLP sector may starting using them in the future.
Vanguard Hedges are Mostly Costless
Over the last month we and our peers have received a lot of attention in regards to our hedging strategy. As is indicated by the different instruments we used in our own portfolio specifically on the oil side, hedging can be done in many different ways. No strategy is necessarily better or worse than the other, just different. At Vanguard, we structure our hedging programs to be mostly costless and thus less capital intensive than some of our peers. We do not buy puts, but rather we sell oil puts to finance the costs of our oil hedging strategy, sometimes in the form of a three-way collar or using the sold put premium to enhance the price of a fixed price swap as I just discussed.
Source: Q2 2013 conference call transcript
Considering some of the recent noise surrounding the largest upstream MLP Linn Energy (LINE), Vanguard went to great effort to explain its hedging policy in its conference call and in the associated presentation. Unlike what some short-sellers imply, Vanguard does not buy oil puts as part of its hedging policy. Instead, Vanguard's hedging program sells oil puts to finance the costs of its hedges. The company uses mostly swaps and three-way collars to manage risk.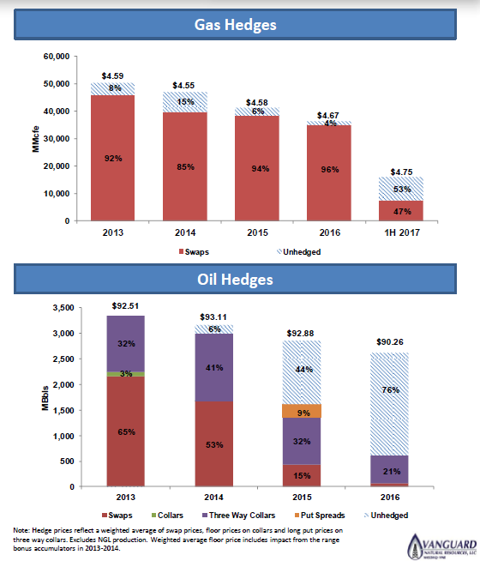 Vanguard also notes that it would face some cash flow risks if oil prices were to decline below $75 per BBL for an extended time period.
We feel that it is a more cost effective way to improve our hedged portfolio, but it does expose us to some cash flow risk should oil prices decline below $75 for any extended period of time. Clearly we don't feel that it is a realistic scenario and is worth taking that risk. Our approach on the natural gas side is quite different and quite simple. We only have fixed price swaps at the moment.
An Acquisition is Likely to Happen Soon
...We are confident that we will have an active second half of the year on the acquisition front, which should improve our distribution coverage for this year and going forward.
Source: Q2 2013 conference call transcript
I think the above quote perfectly sums up Vanguard's willingness to partake in an asset purchase. As noted in the conference call, Vanguard has been evaluating numerous potential transactions of varying sizes. Vanguard also heavily hinted that it was looking for a natural gas and NGL rich asset, as the current weakness in NGL pricing allows it to get a better price while also giving it some upside if and when NGL prices recover. Vanguard also noted that since natural gas can be hedge while NGL currently cannot, any price improvements in NGL would have an immediate impact on revenues.
Vanguard has nearly $900M in liquidity available and has noted that they can move swiftly if need be. It was also noted that many of Vanguard's peers have recently undertaken major transactions, which leaves the company in a strong position as competitors for these assets are fewer in number. Vanguard is also well below its historic average for deals.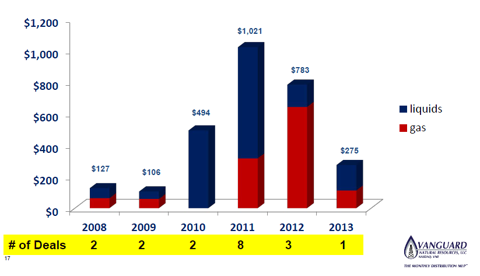 It should also be mentioned that Vanguard, while apparently eager to do a deal, is currently not in need one to increase its cash flow. As noted above, Vanguard's DCF coverage ratio is above 1.00X. In addition, the company also announced a distribution increase, which further highlights its current financial strength.
It is my opinion that Vanguard will very likely announce a transaction within the next few months. This transaction is also very likely to increase Vanguard's DCF coverage ratio, which could potentially lead to another distribution boost.
Conclusion
Among the upstream MLPs I follow, Vanguard seems to be the one with the best fundamentals. Except for a few quarters in 2012, its coverage ratio has remained robust. Add to this the fact that Vanguard has no General Partner and thus does not have to pay IDRs. This allows Vanguard to share its incremental cash flow increases to its unitholders quite frequently. Vanguard has increased its distribution at least once per year, and often times quarterly, since its 2007 IPO.
Disclaimer: The opinions in this article are for informational purposes only and should not be construed as a recommendation to buy or sell the stocks mentioned. Please do your own due diligence before making any investment decision.
Disclosure: I am long VNR. I wrote this article myself, and it expresses my own opinions. I am not receiving compensation for it (other than from Seeking Alpha). I have no business relationship with any company whose stock is mentioned in this article.
Additional disclosure: I am also long MEMP and QRE.