Barron's published a feature article Saturday, August 3, 2013, entitled How Long Can Green Mountain Stay Hot? The major message of the article was that K-Cup competitors were gaining market share and Green Mountain Coffee Roasters (NASDAQ:GMCR) might just fall by 20%. The article was apparently responsible for the stock trading about 1½% lower on Monday.
In my opinion, the article misrepresented the facts and manipulated statistics to support its own negative point of view. In many respects it reminded me of a front-page article Barron's published on November 27, 2006, entitled Google: 500 Reasons To Worry referring to Google's lofty $500 stock price. The article argued that "Unless the company's efforts to move beyond its core search franchise begin to pay off handsomely -- ... our bet is investors will wake up and smell the coffee."
Funny that it should mention coffee in the article, which was so patently off base. GOOG closed at $906.57 Friday, nearly double the worrisome number it was trading at seven years ago.
Now Barron's has gone after GMCR. First, because of its lofty P/E - "If investors merely trim Green Mountain's current-year price/earnings ratio to the 20-times level of its competitors, the stock would retreat 20%." It conveniently doesn't mention what it considers to be the competitors. It can't be Starbucks (NASDAQ:SBUX), which trades at over 35 times earnings. It can't be Processed & Packaged Goods companies (which Yahoo! Finance considers to be the competitors) - these companies also trade at 25 times. (By the way, GMCR's forward P/E is only 21.)
Barron's must figure that GMCR should be compared to Food Manufacturers such as Nestle (OTCPK:NSRGY) and ConAgra Foods (NYSE:CAG), which trade at 20 times earnings (although Smithfield Foods (NYSE:SFD) sports a 25 multiple).
It seems to me that SBUX or Processed & Packaged Goods companies are far closer competitors to GMCR than commodity food manufacturers. GMCR is a specialty product maker in a fast-growing and higher-margin segment of the food industry and comparing it to low-growth, low-margin commodity food products is not a relevant comparison.
The Barron's article also raised concerns about a shrinking market share - "As we show in the chart below, single-serve products climbed from 23% to 33% of ground coffee sales in Nielsen's measures for the 14 months through June 8. However, Green Mountain's share shrank from 52% to 43%." These same numbers could have been presented in a different manner and a different conclusion reached. At the beginning of the period, GMCR owned 52% of 23% of the total market (making its share 11.96% of the total coffee market) and 14 months later it owned 43% of 33% of the total market (14.19% of the total market).
Using Barron's own numbers we can see that GMCR's share of the total coffee market grew by some 18% over the 14 months. And the total market is growing nicely as well. These numbers suggest a bullish assessment of the company, not the bearish position taken by Barron's.
Last week the company announced a non-business expenditure - Green Mountain Coffee Roasters, Inc. Pledges $1.6 Million for Two Heifer International Projects. It seems to me that if GMCR were fearful that it might not attain estimates or guidance when it announces after the close on Wednesday, August 7, it would not have made this discretionary gift.
Another reason I believe the stock at least will not fall after the announcement is that the short interest number continues to move higher, up 3% since the May announcement and now a whopping 37% of the float. It seems that most of the people who have a negative outlook on the stock have already sold it, and the possibilities of a short squeeze are good.
I must admit that I am a GMCR bull. Three months ago I wrote a Seeking Alpha article entitled How To Play The Green Mountain Coffee Roasters Earnings Announcement in which I outlined my reasons for believing that the company would move higher over the long run. However, I expected that the stock would fall after the earnings announcement because expectations were too high. When it announced a five-year extension of its agreement with Starbucks, the stock soared. Even though I was wrong about the post-announcement price move, the options spread I recommended managed to gain 20% for the week.
Today I bought Dec-13 67.5 calls and sold Aug2-13 77.5 calls for a debit of $11.15. This is what the risk profile graph looks like if you assume that IV of the December options will fall by 5 (from 55 to 50) after the announcement: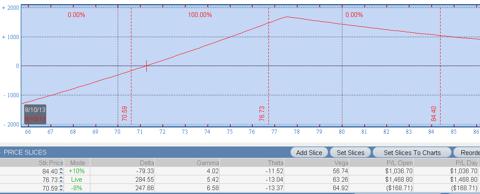 Click to enlarge
These positions (4 spreads) cost less than $4500 including commissions and should make over 25% this week if the stock stays flat or goes up by any reasonable amount. It can fall about 7% before a loss should come about.
Regardless of whether you use options or buy the stock, I believe that the Barron's article has pushed the stock price down enough to make a bullish bet on GMCR going into Wednesday's announcement. The company is fairly valued and expanding both internationally and to new segments such as institutional restaurant operations, and the market itself is growing nicely, as Starbucks reminds us nearly every quarter.
This could be a very good week for GMCR.
Disclosure: I am long GMCR, GOOG. I wrote this article myself, and it expresses my own opinions. I am not receiving compensation for it (other than from Seeking Alpha). I have no business relationship with any company whose stock is mentioned in this article.