The $17 billion hostile bid for Cadbury (CBY) should bring home the inherent underlying actual strength of this bull market as the bid signals that business is returning to normal. Today's bid by Kraft Foods (KFT) sent the Cadbury stock price soaring by more than 38% and clearly illustrates that multinationals are increasingly awakening from the credit crisis fear to taste greed at being able to pick up corporate giants such as Cadbury at rock bottom recession prices, even after a 38% one day price hike. Watch this space for many more mega bids to come as the bull market momentum continues to gather steam as we have a long, long way to go before we reach the merger and acquisition mania levels associated with bull market peaks.
Meanwhile, bull market deniers, in the face of overwhelming evidence of a bottom as evidenced by price trends, continue to cling to literally anything that leaves the door ajar towards revisiting the March lows and below. They are even resorting to delving back to the 1930's for any glimmer of hope. It should be obvious by now to everyone that transposing current price action onto a graph of the 1930's bear market makes it rather obvious that that is not going to happen.
One of my fundamental rules of analysis is that the further one deviates from the present, the more probable that one is going to be wrong, and the 1930's is more than just a deviation. At most I would go back perhaps a year to look for relative strength and weakness. But nearly 90 years? That era is long gone and buried and bears NO significance to the PRESENT! Yes we have echoes through time, but not that far back. For actual market impact events on today's markets, one needs to look at the peak in the housing markets and credit crisis events of the past two years where the three most notable events were:
Lehman's sparking of the financial collapse of September / October 2008.
Zero interest rates.
The implementation of quantitative easing.
They are the most important echoes from the recent past impacting on the present, rather than trying to match a chart from the 1930's to the present.
Is this a Bull Market or a Bear Market Rally?
My point of view is simple (it is good to keep it simple). Pick up any reputable technical analysis book and you will read that a bull market in stocks is confirmed when major stock indices (that's the DJIA) rally by 20% from the low (allowing for a few days of whipsaw). Similarly, a bear market is confirmed when stock indices fall by 20% from the high. Therefore, regardless of certain views that this is a bear market rally, the facts are clear that under the basis of technical analysis this rally has long since been confirmed as a bull market more than 30% ago!
The rules exist for a reason and that is for the investor / trader to recognise when he or she is wrong. Another reason is to arrive at a firm, tradeable conclusion.
However, the answer is NOT to change the rules, but to change your opinion! Being stubborn in the face of the trend is the surefire way towards financial oblivion. Yes those that clutch at contrary views will soon eventually have an opportunity to crow loudly, but the bottom line is to monetize on analysis through means of investing and trading, and in that regard making 15% on a plunge is pretty much meaningless against a 50% loss on the preceding rally. For me, the bull market remains intact as long as the DJIA steers clear of 20%+ declines. If such a decline were to occur, then the market is telling me what it wants to do rather than me telling the market what it should do!
Stock Bull Market Trend Update
The stock bull market continues to resolve towards the pattern I painted some 7 weeks ago - Vicious Stocks Stealth Bull Market Eats the Bears Alive!, What's Next?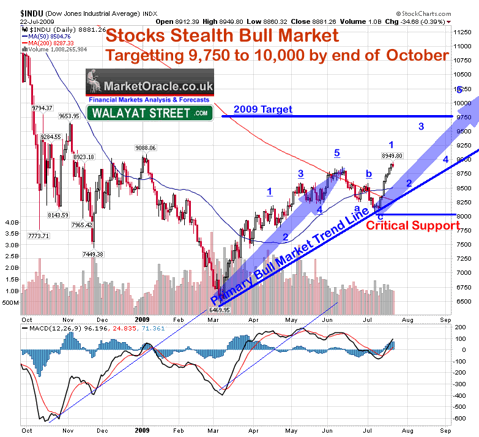 Click to enlarge
CONCLUSION - My earlier fears about a bull trap appear to be unfounded. The stock chart indicates that we are in a stock bull market, and is suggestive of a trend higher towards a 2009 target of between 9750 and 10,000, with a high probability that we may get there before the end of October. Key danger areas for this scenario are a. for the trend line to contain corrections, and b. that 8080 MUST HOLD.
The last update of 3 weeks ago (Stocks Stealth Bull Market Crushes Bears Hopes Again) showed the trend resolving towards an earlier peak given the strength of wave 1, which implied weaker waves 3 and 5.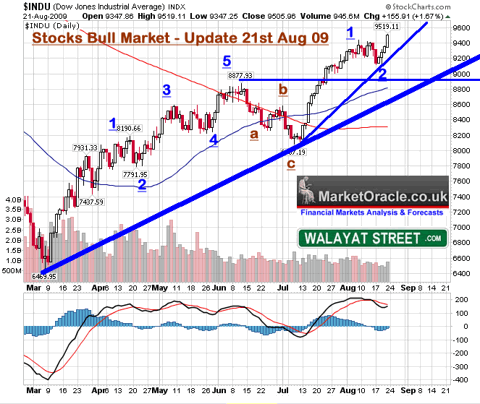 Click to enlarge
The Price action to date has shown relative strength against the forecast of a month ago. This suggests a higher target than the original 9750 to 10K before the end of October 2009, and the secondary stated target was 10,450. However it also suggests that the market may put in an earlier peak. I am still leaning towards the next correction AFTER the peak to be of greater significance than the last correction from June to July. Also, whilst my in depth economic analysis is on the UK economy, however much of the conclusions could equally be applied to other western economies. The analysis of February 2009 has been projecting towards a a double dip recession (updated June 09) which has negative implications for stocks during 2010, but for now don't be silly, don't fight the stock bull market (time to drop the word stealth).
Subsequent price action has continued to imply a scenario that resolves towards a 5 wave pattern, though this is now far too easy to interpret which therefore suggests a more complex pattern. The velocity of the uptrend is also in line with the original projection of 22nd July as indicated by the Blue Arrow, which continues to resolve towards a target juncture date of mid-October 2009.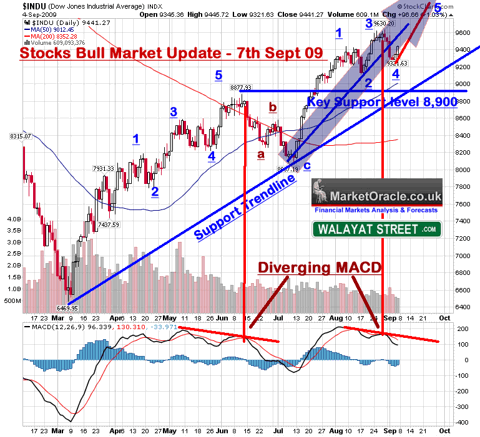 Click to enlarge
The target for the termination of the current phase of the bull market rally was between 9750 and 10,000. As mentioned above, I am not expecting an easy ride for the fifth wave as clearly it is an obvious pattern to interpret following waves 1, 2, 3, and 4. What does this mean? Well, wave 3 is screaming weakness, so that suggest a weak push higher rather than something that resembles wave 1.
The MACD is also signaling serious price weakness as there is clear divergence taking place between the rising trend and a falling MACD, very similar to the June peak.
Two possible outcomes:
That the fifth puts in a lower peak than the wave 3, which is significantly more bearish.
That we get some sideways drift (possible false break lower) before a sharp rally for a higher fifth into the target zone.
Despite the increasingly bearish technical indicators, at this point I continue to march with the bull market and favour outcome b. ahead of a more serious correction that would first . target target the main support trendline and 2. 8900 Previous Peak.
Robert Prechter presents an alternative view for the 'bear' market in his latest 10 page newsletter, which can be downloaded for free here.
Trading Lesson From this Update - The further you deviate from the present in terms of analysis / trade scenario building, the greater the probability that you will be wrong. Therefore you MUST attach LESS importance to whatever you are looking at, particularly a chart of the Dow from the 1930's for EVEN IF it repeats it will be pure coincidence, as there CANNOT BE ANY ECHO from the events of that time into TODAY's Market. You are much better served by reacting to price movements in real time than getting sidelined by historic events or fundamentals.