After Reserve Bank of Australia (RBA) Governor Glenn Stevens made it clear on July 30, 2013 that the RBA will maintain exceptionally low interest rates for quite some time, the Australian dollar (NYSEARCA:FXA) broke to fresh 3-year lows against the U.S. dollar. The RBA Rate Indicator showing the odds of a rate cut to 2.50% in Tuesday's RBA decision on monetary policy soared from 79% to 91%. It got as high as 96% on July 31st before settling back down to 91% at Friday's close. I cannot even remember the last time a central bank disappointed such near certainty of a rate move, so I am fully expecting the RBA to cut.
The market should also be pricing in this near-certainty in the Australian dollar. The Australian dollar is trading at or near fresh 3-year lows against the U.S. dollar, the euro (NYSEARCA:FXE), and the pound (NYSEARCA:FXB).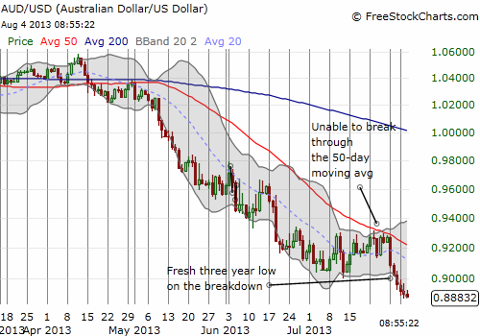 Fresh three-year lows for AUD/USD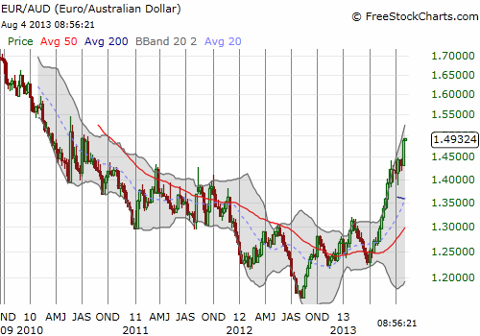 Even Eurozone citizens can enjoy better prices on Australian goods and vacations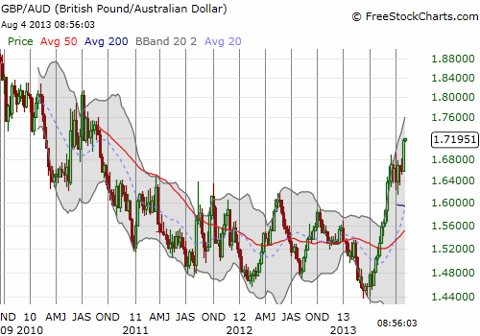 Like a slingshot from historic lows to 3-year highs
Even the weakening yen (NYSEARCA:FXY) has not kept up with the Australian dollar.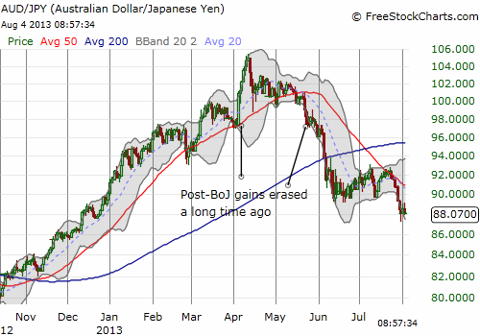 Not even the Japanese yen can keep up with weakness in the Australian dollar
Source for charts: FreeStockCharts.com
For four months, the Australian dollar has provided forex traders their only consistent trend - weakness begetting yet more weakness. At some point, all good things must come to an end, or at least a rest, right?
With this pervasive weakness and near-certainty of a rate cut, it seems to me that conditions are ripe for a relief rally. If the RBA somehow disappoints by failing to cut, the Australian dollar will of course soar. However, the RBA has made it abundantly clear it wants the currency to stay as low as it is and even go lower. Disappointing the market is not in the RBA's interest, so a relief rally on RBA inaction is not what I am talking about. In fact, I fully expect the RBA to craft its language in the statement accompanying the decision on monetary policy with more affirmations it wants a low Australian dollar.
The relief rally I am expecting is one that features a dissipation of catalysts for selling. For example, the Australian stock market (NYSEARCA:EWA) is finally responding again to the beating of the Australian dollar. It rallied throughout July with the rally accelerating somewhat after Stevens's speech.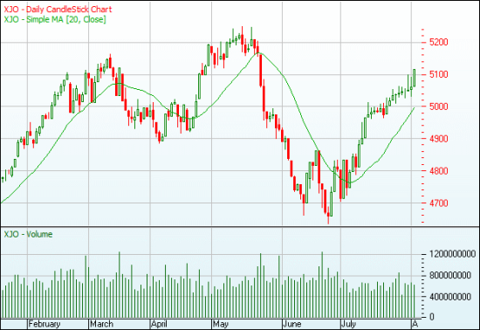 The Australian stock market (S&P/ASX 200) rebounded in July and the rally seems to be accelerating now
Source: Australian stock exchange (ASX)
With the market anticipating better days ahead again, at some point the currency will have to at least stabilize to represent the improved economic prospects.
More importantly, I cannot imagine the RBA will be able to credibly craft a statement that suggests rates will go even lower. The RBA will certainly claim that it still has "scope" to lower rates if inflation conditions warrant, but as long as the stock market is in rally mode, there is no reason to expect the inflation outlook to worsen from where it is.
In other words, for the short-term at least, it seems the Australian dollar is so downtrodden now, it has nowhere to go but up.
The persistent devaluation of the Australian dollar has proven quite profitable to us forex traders, I daresay even more lucrative than playing the recent weakness in the Japanese yen. So, these musings about a relief rally are very speculative. My positioning for a relief rally is accordingly very small. This will also let me sit out any subsequent volatility to the downside. If no relief rally has begun by the end of the week or so, I will accept that the sellers still have plenty of ammunition.
Finally, if the RBA is already anticipating that the path downward for the currency will get tougher from here, it could decide to put some very explicit and forceful language in its statement to further grease the skids. (Recall that I estimated a 0.86 to 1.02 range for the next twelve months for AUD/USD based on projections from the Australian Government Bureau of Resources and Energy Economics (BREE)). Such a tactic would also be a signal to get out of the way. Central banks have been winning battle after battle in recent years: this is not the time to expect that the RBA will become a rare loser.
Be careful out there!
Disclosure: I have no positions in any stocks mentioned, and no plans to initiate any positions within the next 72 hours. I wrote this article myself, and it expresses my own opinions. I am not receiving compensation for it (other than from Seeking Alpha). I have no business relationship with any company whose stock is mentioned in this article.
Additional disclosure: In forex, I am net long Australian dollar; long USD/JPY; net long British pound, net short euro.