Nokia's Brand Faded But Unsullied in India
There was a time, not too many years ago that Indians referred a cell phone generically as a Nokia (NYSE:NOK) in much the same way as Americans refer to cotton swabs as Q-tips. At its peak, Nokia's market share in India had eclipsed 80%. Only five years ago, during my last visit to the motherland, when I needed to borrow my cousin's Nokia for five days, so good was the battery life that he did not even bother to lend me his charger. "It is fully charged," he told me, "and you only need it for a week."
But as the years have passed, Nokia has lost vast amounts of market share at both ends of the market (feature phones and smartphones). Earlier this year, Samsung (OTC:SSNLF) surpassed Nokia as the leading handset vendor for the first time in history. There are several reasons for this market share erosion. But with respect to smartphones, the availability of Android has energized the local vendors who have taken significant share over the past year with aggressive pricing.
Market Size and Marketshare
In calendar 2013, the size of the Indian cell phone market is expected to be approximately 265MM units. (India's population is a little over 1.2 billion). Of this, only 11% of the units (but 46% of the revenues) are expected to be smartphones. This segment of the market is also the fastest growing as can be seen in the following chart.
India's Cell Phone Market
Type
2013E
YOY %
Growth
Estimated
2012
YOY %
Growth
2011
Feature Phone
235 MM
15%
206 MM
20%
172 MM
Smart Phone
30 MM
100%
15 MM
36%
11 MM
Total
265 MM
20%
222 MM
21%
183 MM
Source: CMR, Proprietary
The Attack of the Android Clones
Wikipedia has a list of 118 handset vendors in India. But the four largest local vendors are shown below, along with their shipments (both feature and smartphones) for the past three years.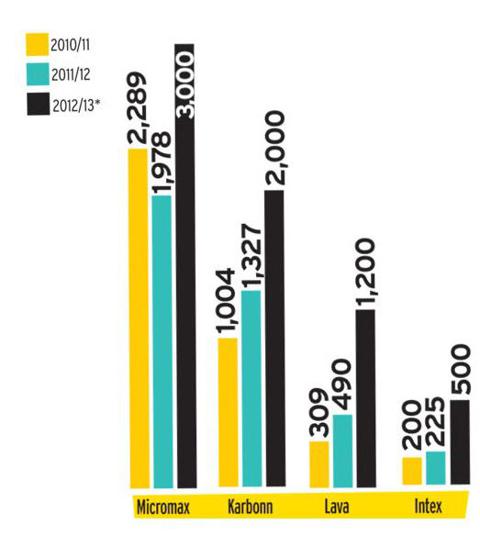 Source: BT Research
The two largest, Micromax and Karbonn, have both gained significant share over the past few years and look poised to attack the foreign vendors, including Nokia, at the low end. On the high end, Samsung recently surpassed Nokia in shipments for the first time with their aggressively priced line of Rex phones as well as their flagship Galaxy line.
The growth of the local vendors in the smartphone market in India over the past year alone has been staggering. In 1Q12, the local vendors controlled only 3% of India's smartphone market. But by 1Q13, their market share had risen to 30% of new shipments! Micromax grew its market share over this period from 2% to 19%, while Karbonn grew from 1% to 8%. Over this same period, Nokia's smartphone share in India has declined from 26% to 6% as Symbian sales have gone to zero. As a result, Android now has 90% of the smartphone marketshare in India. Samsung controls about 33% of India's smartphone market.
Both Micromax and Karbonn appear to have positioned themselves in the Indian market as reasonable value for the money. The one repeating issue with their phones appears to be related to battery life but otherwise, most consumer reviews suggest that these phones are of reasonable build quality. Most Indian consumers identify Samsung and Nokia as superior overall in quality and features but far more expensive for the privilege. Given their positioning at the low and middle portions of the market, I believe the local brands will take a disproportionate percentage of the new customers who transition from feature phones to smartphones in the coming years.
Given that this is the portion of the market in which Nokia wants to drive volume and recapture marketshare, I believe the local brands will be Nokia's main competitive threat rather than Samsung, Sony, or Apple. In addition, Micromax recently announced plans to build its first Windows phone. Still, the real and on-going threat continues to be the availability of low-cost Android clones.
Lumia 520 Disrupts Nokia's Indian Market Share
Not all the news is bad for Nokia in India. The recently released Lumia 520 has already proven to be a big hit. What is so remarkable about the following adduplex chart is that it shows that in only a few months' time, the Lumia 520 has already managed to become 31% of the installed Windows Phone base in India.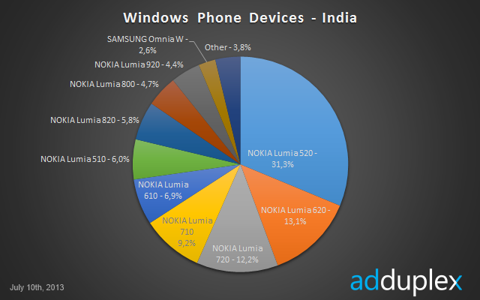 Source: adduplex
This data point is so outlandish, we are not quite sure whether we should believe it. If we take it at face value, even if we assume some cannibalization of Lumia 620 sales, the conclusion would be that on the next Kantar report, Nokia's smartphone market share in India will have moved from 6% to 8% (of the installed base) just from the strength of the Lumia 520, alone. The success of the Lumia 520 demonstrates the importance of delivering a low-priced smartphone in this rapidly growing market.
Conclusion: Nokia in Trouble in India But Not Without Any Hope
Nokia's chances of a rebound in India are tied to two legs. First, the latest round of Asha phones, highlighted by the Asha 501 have to help stem the bleeding in the feature phone/quasi smart phone portion of the market. For reasons listed in another article, this phone appears to have built up a lot of interest.
With respect to the smartphone market, the availability of low cost handsets like the Lumia 520 are the key to reestablishing Nokia's marketshare. Because the Lumia 520 was released after the latest OS poll in India and thus is not included in the stated 6% Windows Phone marketshare. Based on the strong interest in this handset, alone, we expect at least a modest rebound in Nokia's smartphone marketshare in India in the next Kantar report, perhaps up to 8% or so. As an aside, this handset shows why Here maps remains strategic to Nokia as it continues to battle Google (NASDAQ:GOOG) in key markets.
However, Nokia remains under significant attack in this low-end portion of the smartphone market from several local vendors, most notably Micromax and Karbonn. As in other markets, the difference in the app environment between Android and Windows Phone represents a large barrier to WP adoption in India's rapidly growing smartphone market. But even more important than the app environment in India's smartphone market is the importance of price - Nokia must continue to drive smartphone pricing down further to remain competitive.
Disclosure: I am long NOK. I wrote this article myself, and it expresses my own opinions. I am not receiving compensation for it (other than from Seeking Alpha). I have no business relationship with any company whose stock is mentioned in this article.