My head very well might explode around Aug. 8, so if my articles suddenly come to a stop you'll at least have an explanation. Two of the biotech companies that I follow pretty closely both report on Aug. 8: Celsion (NASDAQ:CLSN) and Amarin (NASDAQ:AMRN). And it also happens to be my wife's birthday. Now, stocks and the market I at least know a little bit about, but ducking out on your wife on her birthday to listen to two hour-long biotech conference calls -- well, let's just say I'll take whatever advice I can get on how to do that without winding up in the doghouse.
Having said that, let's move on to business. It was announced at the end of the day on Friday that Amarin is going to be reporting on Aug. 8, so I figured I'd write about the most recent prescription data and what I'm going to be expecting from executives during this earnings call. From its website:
Amarin Corporation is a biopharmaceutical company focused on the commercialization and development of therapeutics to improve cardiovascular health. Amarin's product development program leverages its extensive experience in lipid science and the potential therapeutic benefits of polyunsaturated fatty acids. Vascepa (icosapent ethyl) is Amarin's first FDA approved product and is available in the United States by prescription.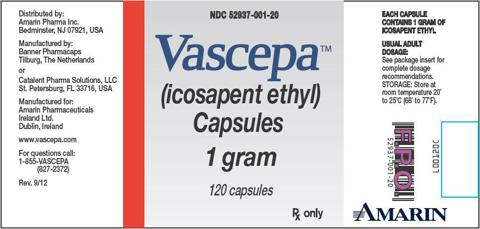 After the drug's approval, the company failed to produce any major pharmaceutical partners, brought on its own sales staff, and is taking a stab at launching Vascepa on its own. In the face of the stock losing a good portion of its value over the past six months, prescription data (provided by Symphony and IMS Health) continues to head in the right direction.
As many loyal followers of the Amarin saga know, it's been a year full of ups and downs. The company is arguably making the best possible progress that a company could make without pairing with a big pharmaceutical company to launch Vascepa. The stock price, on the other hand, has had a bit more of an "unceremonious" past 12 months. I switched gears on Amarin from skeptical and bearish to mostly bullish, after the price had settled in the mid-$5 range in the midst of continued decent prescription data. I still believe this company is undervalued, and continue to argue that it's a buy at current levels. There are, however, a few items that I'm watching very closely.
Here is a look at the data for total prescriptions, as of the most current data cited July 26, 2013. After another small aberration the week of July 19, 2013, growth of total scripts is up another 5.05% for the week ending July 26, 2013. You can't ignore the data, no matter what direction Amarin's stock is heading: Vascepa scripts continue to grow at an adequate pace. Here's an updated chart of total scripts, showing the prescription number continuing to trend in the right direction:
Click to enlarge images.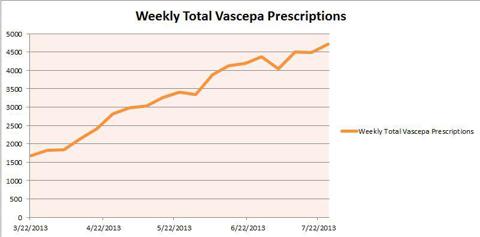 I've touched on this a few times already in a previous article, but I wanted to lay out in simple bullet points nine things I'd like to hear about during Thursday's earnings call:
1. Prescription data that's subsequent to the last data that we have, or some editorializing on prescription data (details behind the numbers -- geographical successes, subgroup data).
2. The tone of executives on the call -- previous conference calls have sounded reserved and conservative, with little excitement or confidence coming through from Amarin executives. If Vascepa is still on track to be the winner that longs think it's going to be, how about a nod toward that on the call by sounding like you have a vested interest?
3. Any updated information on the October FDA Advisory Panel for the ANCHOR indication, which will no doubt hold much of the company's future in its balance.
4. Exactly how Amarin has reduced their spending, while ramping up revenues from sales of Vascepa. Where are spending cuts being made and where is a majority of the spending occurring?
5. What portion of sales and script data comes from pharmacy discounts, samples, and other means that cost the company money? This was alluded to on a previous conference call, but executives said it was a "necessary evil" for any drug starting out. Are we past that point, or still relying on coupons and free samples to get the word out?
6. Guidance, for Pete's sake, guidance. Amarin executives have been dodging the guidance question in their last two disclosures, citing that its too early for them to get a handle on how the data is going to go. I want to know if the company thinks that script data can continue to grow.
7. Comments, if any, on the multiple studies putting fish oils in a dark light. Hitting these head on and explaining how Vascepa's chemical makeup is different than most fish oils would do the market a lot of good.
8. Information on any new patents or intellectual property developments.
9. Allusions to any type of partnerships to help roll out Vascepa quicker, should things be heading in the direction that the company wants them to be.
Also, I'd be interested to hear exactly what other Amarin investors are going to be listening for in this earnings call. Feel free to leave comments and discuss what the key items you think are going to be in order to drive the stock and the company forward from this point.
My caveats remain the same that they've been for the past month or so. I'll take another hard look at Amarin if any of the following "bearish" nods take place:
Prescription data slows dramatically week over week (or total prescriptions continue to regress in any facet) -- I'm going to be keeping an extremely close eye on week over week numbers. It's the lifeblood of the entire company and extremely important that data continues to trend upward.
The company reports a cash burn that is equivalent to last quarter's -- Amarin, even with a massive cash position and it's recent infusion at $5.60/share, needs to get its spending under control now that the launch is no longer in its beginning stages.
Prescription data winds up being a continued major product of discounts, giveaways and samples -- we need the data that we're seeing to be as true as possible.
Continued media and medical study that begins to consistently show that fish oil shows no benefit/does more harm than good.
Barring any unforeseen disaster, I remain bullish on the company heading into the end of the year, where the stock price is likely to grow in anticipation of upcoming catalysts -- regardless of their outcomes. It's my argument to not only be bullish on the company due to their product in the long term, but based on the emotional run-up, the stock price is likely to see ahead of catalysts at the end of the year.
Disclosure: I have no positions in any stocks mentioned, and no plans to initiate any positions within the next 72 hours. I wrote this article myself, and it expresses my own opinions. I am not receiving compensation for it (other than from Seeking Alpha). I have no business relationship with any company whose stock is mentioned in this article.