Recently, there seemed to be some concern over Intel's (NASDAQ:INTC) dividend. When the chip giant announced its quarterly payout, there was no dividend raise. The $0.225 payout matched the payout from the last four payments, surprising many who thought a raise was coming, including myself. For those that missed it, here was my preview article on a potential dividend increase. There seems to be a prevailing thought that no dividend raise is a huge negative signal from Intel that the weak PC market is hurting the company more than originally thought. Today, I'll break down my thoughts on the dividend, and explain why I wouldn't necessarily be worried just yet.
When does a raise normally come?
There were many that assumed, and I'll include myself in that crowd, that Intel would raise the dividend with the current payout since they had paid the same rate for four straight quarters. Well, that didn't happen, so we were all wrong. However, I'm not ready to push the panic button right now.
A review of Intel's dividend history in the past decade reveals the following information:
2004: dividend raised with 1st payout of the year.
2005: dividend raised with 1st payout of the year.
2006: dividend raised with 1st payout of the year.
2007: dividend raised with 1st payout of the year.
2008: dividend raised with 1st payout of the year, and then raised again with 2nd payout of the year.
2009: no raise in the dividend.
2010: dividend raised with 1st payout of the year.
2011: dividend raised with 1st payout of the year, and then raised again with 3rd payout of the year.
2012: dividend raised with 3rd payout of the year.
Do you notice a pattern there? In most cases, Intel's dividend raise came with the first payout of the year. In the past two years, Intel got "off-cycle" in a bit, so we changed our expectations, assuming that four straight $0.225 payments meant a raise was coming this time around. Perhaps, we missed the company's true dividend raise pattern, and one will come with the first payment of 2014. It is quite possible that Intel wants to get back to a calendar year raise cycle. It's also possible that they could announce a raise at any time, but it might not go into effect until that first payment in 2014.
Analyzing the balance sheet and cash flow:
The following table shows some key balance sheet metrics against last year's Q2 and this year's Q1. Dollar values in millions.

*Includes cash and cash equivalents, short-term investments, trading assets, marketable equity securities, and other long-term investments.
Intel's balance sheet did get partially stronger from both the Q1 and Q2-year ago ending figures, although part of that was due to the addition of debt. According to their recently filed 10-Q report, cash flow from operating activities (first 6 months of 2013) did increase from $7.711 billion to $9.007 billion, a rise of just under $1.3 billion. However, when one peels back the numbers, they are not as bright as they may seem. Intel reported a net income decline of $1.52 billion for the six-month period, some of which was offset by additional add-backs from depreciation, amortization, etc. However, a lot of Intel's improved cash flow was due to changes in working capital items. For instance, Intel's cash flow "improved" by $977 million because inventories went from a large negative (hit to cash flow) to a slight positive (helps cash flow). When they next have to build inventories, this process will reverse.
Slowing down the buyback and share count decline:
One reason why investors might be missing the true cash flow picture is due to the company's buyback. In 2012, Intel reported a decline of more than $1.9 billion in net income, nearly a 15% drop. However, Intel's earnings per share only fell from $2.39 to $2.13, a drop of less than 11%. This was due to the company's buyback, which reduced the diluted share count by 4.64% for the year.
Intel has certainly done a great job in reducing its share count. It has been one of the better names in recent years, when compared to other tech giants like Microsoft (NASDAQ:MSFT), Cisco Systems (NASDAQ:CSCO), and Apple (NASDAQ:AAPL). The following table is one I used in a recent article about Microsoft, showing how each names' diluted share count came down in their recent quarter.

*Cisco has not reported their quarter yet, which they will do in a couple of weeks. This figure is from their previous quarter, fiscal Q3.
Intel has been the leader in the past couple of years in reducing the share count. Apple will take over that title for the next year or two, as Apple's massive buyback cannot be matched by any other name out there. The following table shows Intel's diluted share count by quarter over the past few years. As always, I watch the diluted share count, not the outstanding share count, because the diluted one is used in the calculation for earnings per share.

You may notice that so far in 2013, the decline in the share count has slowed a bit. In fact, the sequential rise from Q1 to Q2 was the largest since 2010, which might start to concern some. Why did this happen? Well, I've been mentioning for a while that Intel is slowing down the amount of shares they repurchase. They still have bought back a solid amount of shares, but the pace is slowing. The following chart shows the quarterly buyback in recent years.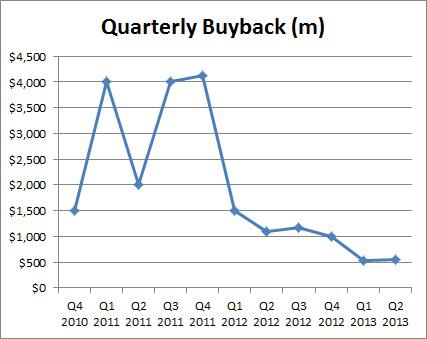 I don't think anyone expects them to be buying back $4 billion or so every quarter, but the $1 billion or so run rate was working well, and now we are running at roughly half that pace. This is certainly going to have an impact on the diluted share count, as well as earnings per share, going forward. When you combine the slowing in the buyback with no dividend raise, you can see why investors seem worried about Intel at this point.
Intel versus other tech giants:
When it comes to large cap tech dividends, Intel is and has been the clear leader for some time now. In addition to the more effective buyback in recent years, Intel's dividend yield has been well above its tech industry peers. The following chart shows Intel's dividend against the other three giants I've already mentioned, Cisco, Apple, and Microsoft. All four names have market caps over $100 billion, and annual dividend yields over 2.50%.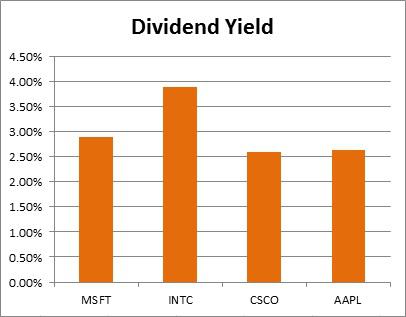 When it comes to Intel, it's not like the dividend yield is bad, 3.88% as of Friday's close. Intel's yield is much higher than the rest of the tech space, so you can't really complain on that front. Yes, I understand that at one point last year, the dividend yield was at 4.68%. But what would you rather have, a yield of 4.68% and a stock at $19.23, or a 3.88% yield and a stock at $23.22? Think about that one for a second. If you want Intel to have a yield of more than 4.50% consistently, you really are asking for one of two things. Either you want the stock price to be a lot lower, or you want the buyback to slow down even more, or maybe it be eliminated altogether. What happens if Intel's stock rises to $25.00 a share in the next month? Will you be complaining that your yield is down to 3.60%, despite the fact that you've made 7.67% on the stock's gain? Investors need to be realistic.
As of Friday's close, Intel maintained a 99 basis point advantage in yield over Microsoft. Intel also had a 124 basis point advantage over Apple, and a 128 basis point advantage over Cisco. That's a huge lead, as you saw above. Also, let me show one more chart. The following chart shows Intel's daily yield at close since the day they declared that first $0.225 dividend. I didn't go back to when they announced the raise, because they still paid another dividend at the lower rate. This chart shows the yield once we got official news of the higher rate, based on the actual closing prices for each day since (not adjusted closing prices for dividends). I also put a 50-day moving average line in, starting with the 50th trading day after declaration.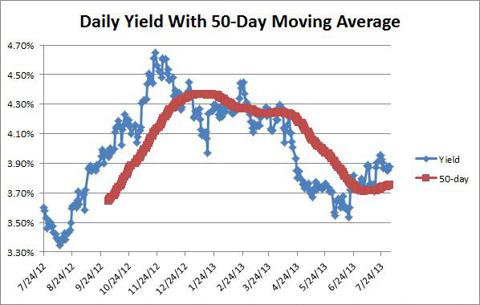 There are two reasons I created this chart and am sharing it with you. First, you will notice that Intel is trading above its 50-day yield average, by 13 basis points as of Friday's close. The other reason I brought this up is the beginning of the chart compared to the end. On the day that Intel first declared the $0.225 dividend, the stock closed at $25.01, and the yield was 3.60%. Friday's closing yield was 3.88%. So despite Intel not raising the dividend yet, the yield has gone up by 28 basis points. There is a raised yield, just not a raised dividend. For new investors looking at the name, does it really matter?
An update on estimates:
It's been a couple of weeks since Intel reported, so let me briefly discuss how average analyst estimates have changed. Intel's Q3 guidance was light, and since then, analysts have taken down their revenue forecast from $13.73 billion (2.0% growth) to the current estimate of $13.48 billion (0.2% growth). On the flip side, analysts have raised their earnings estimates from $0.50 to $0.54. This is primarily thanks to the company cutting their operating expense and tax rate guidance, as well as improving gross margins sequentially. However, analysts still expect a year over year decline in earnings from last year's Q3 figure of $0.58, and don't forget the buyback should help a little.
In terms of 2013 full year estimates, you probably know that Intel cut its yearly forecast, something I cautioned earlier last month. Going into Intel's Q2 report, analysts were looking for revenues of $53.51 billion, or 0.3% growth. Intel cut its forecast from "low single digit growth" to "flat." Analysts now expect $53 billion even, which would actually be a decline of 0.6%. Analysts do not believe Intel's forecast at the moment, and are pricing in another guidance cut. Analysts have not changed their earnings per share forecast for the year, however. They are still at $1.87, reflecting lower revenues but the above mentioned cut in expenses as well.
We've also seen a reduction in 2014 estimates. The average revenue estimate has come down from $55.69 billion to $55.10 billion. This only represents a decline in the growth figure from 4.1% to 4.0%, because the base number (2013 value) has been reduced so much. In terms of earnings per share, the average has declined from $2.01 to $1.98.
Final Thoughts:
Intel investors seemed to panic a little when Intel did not raise its dividend this time around. I'll admit I was a bit surprised by this move, but after checking all of the numbers again, I think I can understand the move. The first possibility is that they are lining themselves up for a first-payment raise in 2014, to get back onto the calendar cycle they were on for a number of years. The second possibility is that they are fine with their dividend yield approaching 4%, especially in a time where the business is not performing well. Intel has certainly slowed the pace of the buyback, but they have maintained the dividend here. It seems that investors took no raise to almost equal a dividend cut, and those are two vastly different items. Intel still has a strong dividend yield, well above its industry peers. I would not panic at this point, and let's see what happens over the next few months before we start to worry about Intel.
Disclosure: I have no positions in any stocks mentioned, and no plans to initiate any positions within the next 72 hours. I wrote this article myself, and it expresses my own opinions. I am not receiving compensation for it (other than from Seeking Alpha). I have no business relationship with any company whose stock is mentioned in this article.
Additional disclosure: Investors are always reminded that before making any investment, you should do your own proper due diligence on any name directly or indirectly mentioned in this article. Investors should also consider seeking advice from a broker or financial adviser before making any investment decisions. Any material in this article should be considered general information, and not relied on as a formal investment recommendation.