As I presented in my first article on Star Bulk Carriers Corporation:
I believe the deep undervaluation of Star Bulk Carriers Corporation ("Star Bulk") (NASDAQ:SBLK) presents a great opportunity for smaller value-focused investors/funds. Star Bulk is a global shipping company that owns and operates vessels, primarily in the dry bulk sector. The company currently owns thirteen vessels and has contracts for an additional four vessels. The company has also recently completed an equity rights offering that raised $80 million ("MM") in gross proceeds.
Like the overall shipping sector, since 2008, Star Bulk has suffered from an unprecedented collapse in charter rates. This collapse, which has recently seen Capesize rates back at early-1980s nominal levels, has led to the bankruptcy of several operators and a general revulsion to investing in the shipping sector. However, this aversion has created an attractive opportunity in the shares of Star Bulk.
In this second part of my three-part series on Star Bulk, I hope to move past a simple analysis of the company's net asset value[1] or "liquidation value". In this report, I would like to discuss the quality of the company's management team. I believe that proper valuation of any company must incorporate its human capital; especially in an industry such as shipping that has had several cases of poor corporate governance and shareholder abuse. I hope to show you that the management team at Star Bulk is in several ways, unique to the public shipping universe in its fair and equitable treatment of shareholders.
A little history about Star Bulk and its management
Star Bulk was formed in late 2006, following the successful launch of Star Maritime Acquisition Corp ("Star Maritime"), its "blank check" predecessor. Star Maritime was formed by Prokopios Tsirigakis and Petros Pappas. In 2007, it acquired its initial fleet of eight vessels for an initial $345 MM in both cash and stock. It commenced operations on December 3, 2007 with the delivery of its first vessel. At the onset of the global financial crisis in the third quarter of 2008, it was operating twelve vessels. The following points on the thinking/events behind the formation of Star Bulk are based on my interpretation of the company's filings and industry newsletters, primarily TradeWinds.
Mr. Tsirigakis was originally the founder of Combine Maritime Inc., a ship management company that was part of Mr. Pappas' Oceanbulk Group ("Oceanbulk"). It seems that Mr. Tsirigakis was the driver behind the creation of Star Maritime/Star Bulk as he was listed as the Chairman, Chief Executive Officer and President in the original Form S-1 registration statement. Following the offering, Mr. Tsirigakis would own 12.6% while Mr. Pappas, a company director, would own 1.6%.
Though Mr. Pappas had sold his personal fleet of roughly thirty vessels leading up to the shipping boom in 2007, it seems he was ready to invest both his financial capital and expertise in his protégé's new company. Mr. Pappas increased his stake in Star Maritime as it approached its public offering and was named the Chairman of Star Bulk at its inception. Since its inception, Mr. Pappas and his family have owned/controlled roughly 10-15% of Star Bulk.
It seems Mr. Pappas involvement in the company increased as the shipping downturn progressed. In February 2011, Mr. Tsirigakis resigned as President and CEO. From my review of TradeWinds' archives, I believe this transition occurred because Mr. Tsirigakis wished to pursue a more aggressive growth strategy[2] while Mr. Pappas was "not sure where the market is going… [and saw the value of] patience[3]." Spyros Capralos was brought in as the new President and CEO, and Simos Spyrou soon followed as the new CFO. And finally, following their acquisition of roughly 40% of the company in the recent equity raise, Oaktree Capital Management L.P. ("Oaktree") and Monarch Alternative Capital LP ("Monarch") will join the Board of Directors.
Why do shareholders in public shipping companies need good management?
The dry bulk shipping business is unique in that often only a handful of individuals are necessary to effectively manage and control hundreds of million or even, billions of dollars in shipping assets. Moreover, due to the incredible short-term volatility of freight rates and vessel values, decision-making must be rapid and decisive. These aspects of shipping have historically resulted in private ownership of most shipping companies; controlled by either one individual or family.
Additionally, chartering and supplying vessels is conducted in a relatively nontransparent and secretive manner with large sums of cash transacted on a regular basis. And the proper maintenance of these long-lived assets is critical to maximize return on investment. So again, to prevent mischief by intermediaries, vessel owners have generally chosen to manage their own vessels rather than use agents.
Unfortunately, many shareholders in public shipping companies have painfully learned of the dangers of separating vessel management from vessel ownership. The public shipping sector is littered with stories of management self-dealing and corruption. Possibly, the greatest pitfall that shareholders have faced is a management team that looks at the public vehicle as a "riskless call option:" using extremely high financial leverage on shareholders' capital (to accumulate more ships) to benefit from an upswing without equal suffering on the downswing; all the while, receiving very generous compensation. Sadly, many of these "calls" have expired worthless, wiping out stockholders.
Not surprisingly, I believe management is the most valuable asset in a public shipping company. If management has not treated its shareholders with integrity, investors will not find much safety in the company's liquidation value. Conversely, if management is faithful, the company is worth substantially more than its net asset value.
What are the characteristics of good management?
Dry bulk shipping is an extremely unpredictable commodity business. Even a company with the strongest financial position is at the mercy of freight rates. Furthermore, there is no known predictive model that has consistently forecasted the drivers of these rates: i.e. the vagaries of global commodity demand, and vessel ordering and demolition activities. So shareholders need a skilled and reliable management team to carefully navigate this volatile market.
1. We need a management team that is prudent enough to manage the unavoidable downturns while effectively exploit the upturns. More specifically, this means management should generally look to sell vessels and/or secure long-term time charters in periods of high freight rates, and buy vessels and trade vessels in the spot market in periods of low freight rates. I believe analyzing how management has reacted to past cycles is the best way to judge its ability going forward.
2. Shareholders are at the mercy of management when it comes to operating the company at the lowest possible cost levels while also, properly maintaining vessels. So shareholders must be sure that management is disciplined and honest in its operation of the company. Strong corporate governance is vital.
3. Shareholders need management to frankly convey the potential opportunities and hazards of current and prospective market environments. Depending on the level of freight rates, shareholder value may be maximized with either capital distribution or contributions. Therefore, it is imperative that management is competent and transparent in guiding shareholders.
Star Bulk's management has proven investment acumen
Chairman Pappas has a proven history of effectively exploiting the shipping cycle: buying low and selling high. As mentioned earlier, there is no known quantitative model that has consistently predicted freight rate movements and thus, vessel values. However, the great successes in this industry are the individuals who have purchased "cheap" vessels during downturns and sold "expensive" vessels in upturns. Since it is unlikely that either of these transactions will occur at the perfect point in time, the application of this theory is enormously difficult.
Mr. Pappas has demonstrated that he has this ability. The following annotated chart of the Baltic Dry Index (index of freight rates) shows some of his historical purchases and sales at Oceanbulk Maritime, which he started in 1990 with one vessel. The following information is from the TradeWinds news archives and is not necessarily comprehensive.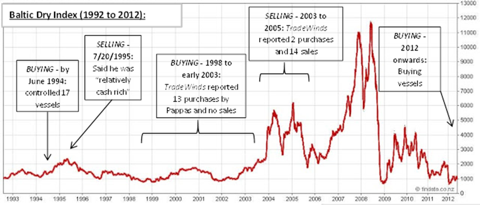 Notably, during the recent boom in freight rates, Mr. Pappas dramatically reduced his fleet count from about thirty vessels in 2003 to just three vessels by 2006, and by 2011 he had sold his last vessels. I have calculated that, on average, he sold his vessels at prices that were roughly double what he had paid (based on TradeWinds reporting of the purchase and sale of seven Oceanbulk vessels). Considering the generally significant levels of debt associated with vessel purchases, he probably grew his equity by a few multiples.
As impressively, he demonstrated incredible patience in returning to the market with his first set of purchases in 2012, during the depths of the current shipping downturn. In fact, Oaktree recognized his investment acumen and entered into a shipping joint venture with Oceanbulk in 2012. TradeWinds reports that the joint venture, referred to as Oceanbulk Shipping, has already committed $1.3 BN in vessel purchases[4]. Undoubtedly, Mr. Pappas has one of the best investment records in the shipping sector.
Star Bulk's management has demonstrated operational discipline
Operationally, CEO Capralos has demonstrated a strict focus on cost control bringing average annual operating costs lower every year since his arrival at the start of 2011. In fact, Star Bulk has maintained all-in operating costs[5] that are below the industry's average as shown in the chart below. This is more remarkable considering that most of its peer group operate significantly larger fleets and should benefit from some economies of scale.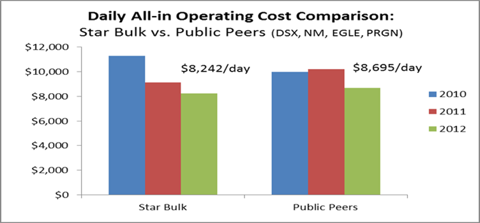 This focus on cost control has not occurred at the expense of vessel maintenance as measured by Port State Control inspections. These inspections are conducted at global ports to evaluate the seaworthiness of the vessel and its crew, with serious deficiencies leading to ship detention. From 2009 to 2012, Star Bulk has consistently had fewer deficiencies than the industry average (as per company presentations).
Star Bulk's management has demonstrated strong corporate governance
a. In-house management company
One significant reason for Star Bulk's lower operating cost levels are due to its in-house vessel management. At many public shippers, commercial and/or technical vessel management services are outsourced to companies usually owned by the controlling shareholder. These management service payments to related parties are regular and substantial, and present a significant conflict of interest.
In sharp contrast, Star Bulk has recently started managing outside vessels; generating a new revenue stream and enhancing overall economies of scale. Uniquely, these vessels are owned by Pappas-related entities. This arrangement demonstrates his financial commitment to the company and the management's desire to maximize value for all shareholders. Mr. Capralos stated that he expects the company to manage thirty-five vessels by 2015, most likely vessels acquired in the Oceanbulk Shipping joint venture[6].
b. Transparent: Fairly-impaired vessels
Management has also demonstrated its commitment to corporate transparency by consistently impairing vessel values as the shipping market declined. Generally accepted accounting principles (GAAP) call for asset values to be marked-down when their earning potential has been impaired. Since most public shipping companies acquired their fleet during the boom years of 2005 to 2008, their "book" or financial statement vessel values will be grossly inflated unless they have taken substantial impairment charges. The chart[7] below shows how dramatically vessel values have collapsed; the price for a 10-year old Capesize is down 80% from its peak value in 2007.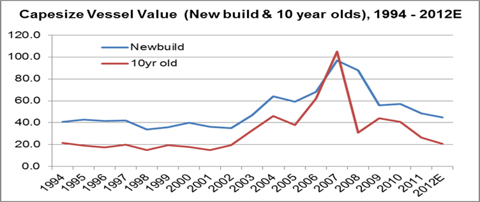 Interestingly, lenders do not utilize book values in evaluating loan covenants. So this over-valuation of vessel values on financial statements implies either management does not accept economic reality or they do not want to present accurate information to their shareholders. Conversely, honest management is quick to recognize the true value of the company's assets.
Star Bulk has taken some of the largest impairments (as a % of its fleet value) in the dry bulk shipping sector. Though this led to huge net losses there was no cash flow impact. In fact, the company has generated positive cash flows every year of its existence (see chart in prior article). Regrettably, the share price suffered sharp drops on these reporting dates demonstrating that shareholders could not see past these non-cash charges in evaluating the stability of the company and the quality of its management.
c. Rational capital allocation
In a commodity business such as shipping, rational capital allocation decisions are critical not only for success but also for survival. Logically, in "times of plenty" the company should distribute cash to shareholders as excess capital is generated. On the other hand, during the "doldrums", capital is needed to exploit vessel acquisition opportunities. Shareholders in public companies depend on management to evaluate market conditions and make such rational capital allocation decisions.
In today's depressed environment, paying dividends is an example of inefficient use of shareholder capital. Though it may seem to signal managerial competence, it is in fact an indication of the exact opposite. As I will describe in more detail in my next report on the general shipping business, shipping requires skillful capital allocation to generate adequate long-term returns. So managers who decide to pay out dividends when vessel values are at historical lows are doing a disservice to their investors.
Star Bulk went from paying $53 MM in dividends in 2008 to just less than $4 MM and ceasing the dividend in 2012. And on some shareholders' suggestions, the Board even instituted a share repurchase plan as the stock price dropped well below net asset value. I strongly believe these actions, in addition to the recent equity raise, demonstrate its rational management of shareholder capital.
Analysis of the recent equity raise
Overall, my confidence in the management team at Star Bulk rose dramatically after carefully considering the recent equity raise (described in detail in my prior article). It is notable that both Oaktree and Monarch were willing to invest the majority of a $75 MM offering in Star Bulk which at the time had a mere $30 MM market capitalization. To be sure, this capital raise was already higher than the $30 MM required by lenders, demonstrating strong investor demand. Additionally, this large investment was to be priced at a relatively modest 10% discount to its concurrent trading range. I believe these factors demonstrate the confidence these large investors had in the inherent value of the assets and the strength of the management team.
And I consider it is a testament to management's integrity that they chose the more complex rights offering procedure rather than the easier private placement option to raise capital. To explain, issuing rights is a more time-consuming process since it requires the issuance and processing of subscription rights. Also, the outcome is uncertain until after expiration. Conversely, a private placement is quick and certain once a large investor(s) is found, as was the case with Oaktree and Monarch.
However, a private placement dilutes current shareholders. Generally, they will not be able to purchase shares at the lower offering price and maintain their previous ownership percentage. Essentially, a rights offering is less attractive to management and more favorable to current shareholders. So, unlike similar capital-raising actions taken by their public peers, Star Bulk management commendably chose a more shareholder-friendly option.
My (expanded) view on Star Bulk's valuation
As I mentioned earlier, I believe Star Bulk is being undervalued by the stock market. In my prior report, I hope I have successfully demonstrated that the company was undervalued on a net asset or liquidation basis. In this report, I hope I have shown that there is more to the value of this company than the sum of its parts. Indeed, I strongly believe that the management of Star Bulk is best-in-class both in ability and reliability. And this value should be added to its net asset value.
Unlike in my last report, I will not attempt to calculate a more precise value for Star Bulk that incorporates its managerial quality. This value will be demonstrated if and when shipping markets recover and shipping companies reap the rewards of what they have currently sown. However, I reaffirm that Star Bulk should trade at a similar valuation as the best operators in this industry, i.e. the viable players as described in my last report. These viable players have recently traded at roughly a 10% premium to their net asset value.
In the next report, I will continue by analyzing the general dry bulk shipping market. I look forward to present my thoughts on the current and historical nature of the shipping market. And what I believe is the optimal way to think as an owner of dry bulk ships.
---
[1] Roughly, the net asset value equals the value of cash, current fair or market value of vessels and other assets less the outstanding debt and other liabilities. This measure approximates the potential value achieved by equity investors if the company was liquidated in an orderly and equitable manner (assumptions that may not necessarily be realistic).
[2] Kelley, Aaron. "Tsirigakis talks up M&A." TradeWinds 4 December 2010. Tradewindsnews.com. 29 July 2013.
[3] Whittaker, Gillian. "Boom over - it's time for a comeback." TradeWinds 3 June 2010. Tradewindsnews.com. 29 July 2013.
[4] Whittaker, Gillian. "Oceanbulk eyes up fresh contracts with Oaktree." TradeWinds 17 July 2013. Tradewindsnews.com. 29 July 2013.
[5] All-in operating costs = vessel operating expenses, drydocking costs, management fees and G&A. My calculations based on companies' SEC filings.
[6] Kelley, Aaron. "Oceanbulk fires up Star Bulk expansion campaign." TradeWinds 5 June 2013. Tradewindsnews.com. 29 July 2013.
[7] Chart created by author and based on vessel value data from Morgan Stanley, Arctic Securities and shipping company filings.
Disclosure: I am long SBLK. I wrote this article myself, and it expresses my own opinions. I am not receiving compensation for it. I have no business relationship with any company whose stock is mentioned in this article.
Additional disclosure: I may change my views on Star Bulk and the value of Star Bulk's shares at any time and for any reason. And I reserve the right to buy or sell shares in Star Bulk at any time. I disclaim any obligation to publicly notify of any such changes.