Introduction
In this article I'll have a look at Yamana Gold (NYSE:AUY), which released its Q2 production numbers and financial results last week. I'll first of all discuss the numbers and will then move over to a possible option strategy for people who are interested in the Yamana story and who might want to take a long position.
The Q2 results
Yamana Gold produced a little bit over 295,000 gold-equivalent ounces at a cash cost of $476 per ounce of gold-equivalent using the by-product calculation. The total all-in sustaining costs are much higher, at $950/oz on a co-product basis.
The company recorded revenues of $430.5M, considerably down from $535.7M during the same period last year. This was obviously mainly caused by the decrease in the gold price as the total amount of produced gold-equivalent ounces actually increased from 288,700 to 295,600 thanks to a 16% production increase at the company's El Penon mine in Chile. The higher output at El Pinon was caused by the higher average gold head grade, and the company expects to increase the recovery rate of the silver in the second half of this year, leading to a higher output of gold-equivalent ounces.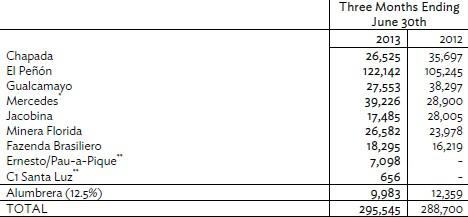 Contrary to some other gold mining companies, Yamana Gold doesn't think it's necessary to take impairment charges on its assets because of the lower metal prices.
Yamana's operating profits decreased by a stunning 65%, caused by a lower revenue and a slightly higher cost of sales, which obviously isn't a good combination.
Outlook
I expect the company's production to increase as its C1 Santa Luz project in Brazil, which only completed construction in Q1 2013, is still ramping up. Yamana also poured its first gold at the Pilar mine in July, and expects to finish the mill commission by the end of this year.
Investment Thesis
Despite the drop in the gold price, Yamana Gold seems to be holding up pretty well, despite the net loss. As the C1 and Pilar mines are respectively ramping up production and starting production, Yamana Gold should be able to increase its revenues and operating cash flow even more. I expect most of the cash flow to be spent on the Cerro Moro project in Argentina, which is nearing the construction phase. Yamana Gold could be an interesting buy for someone who believes in a stable or increasing gold price and who wants to have exposure to gold production in different South American countries.
Instead of buying the stock, I'd prefer to have a look at some option possibilities. If I'd write a Put 8 January 2014, I'd receive an option premium of $0.60, which results in an annualized return of 14%. And if I'd get the shares assigned, my average buying price would be $7.40. For people who believe in the price of gold, it might be interesting to write an in-the-money put option, such as the Put 12 for the same expiry date, which has an option premium of $3.00. This means if the shares of Yamana Gold close below the $12-level in January, you get shares assigned at an average price of $9/share, which is a discount of 6.25% compared to the current share price. If Yamana expires higher than $12/share, you just keep the $3 option premium.
Disclosure: I have no positions in any stocks mentioned, and no plans to initiate any positions within the next 72 hours. I wrote this article myself, and it expresses my own opinions. I am not receiving compensation for it (other than from Seeking Alpha). I have no business relationship with any company whose stock is mentioned in this article.