In previous articles I have written about some of the more attractive dividend growth prospects found on David Fish's outstanding research source, the U.S. Dividend Champions Spreadsheet, which can be found at The DRiP Investing Resource Center. In March I covered companies that have raised dividends for 25 or more years with 14 Dividend 'Champions of Champions' and companies that have raised dividends for between 10 and 24 years with 10 Over-Acheiving Dividend Contenders.
With this article I would like to comb over the 116 members of the "Near-Challengers" list found on the notes tab of the spreadsheet and identify companies that are poised to become some of the next great dividend growth stocks.
The selected companies have shown a track record of solid EPS growth and consistently rising dividends. The companies are also at an attractive valuation, meaning no companies with PE ratios over 25 or PEG ratios above 2.0. Finally, the dividend yield plus dividend growth rate all pass the 12% requirement for the "Chowder Rule."
Here are the 10 companies that made the cut. The selected information was collected from Yahoo Finance and F.A.S.T. Graphs.
Company Name
Ticker Symbol
Industry
Market
8/2/2013
Annual Dividend
Dividend Yield
Dividend Growth
Cap
Price
MR
4YR
BlackRock, Inc.
(NYSE:BLK)
Asset Management
48.81B
$ 286.62
$ 6.72
2.3%
12.0%
18.8%
Dr Pepper Snapple Group, Inc.
(NYSE:DPS)
Beverages
9.65B
$ 47.41
$ 1.52
3.2%
11.8%
30.5%
Eaton Corporation plc
(NYSE:ETN)
Electrical Equipment
31.25B
$ 66.06
$ 1.68
2.5%
10.5%
11.5%
Nordstrom Inc.
(NYSE:JWN)
Retail
12.13B
$ 61.99
$ 1.20
1.9%
11.1%
14.3%
Mattel, Inc.
(NASDAQ:MAT)
Toys
14.85B
$ 42.84
$ 1.44
3.4%
16.1%
14.2%
Omnicom Group Inc.
(NYSE:OMC)
Advertising
16.33B
$ 63.49
$ 1.60
2.5%
33.3%
26.2%
Rockwell Automation Inc.
(NYSE:ROK)
Electrical Equipment
13.98B
$ 100.10
$ 2.08
2.1%
10.6%
11.0%
Tupperware Brands Corporation
(NYSE:TUP)
Housewares
4.48B
$ 85.66
$ 2.48
2.9%
72.2%
19.8%
UnitedHealth Group Incorporated
(NYSE:UNH)
Health Care
74.14B
$ 72.26
$ 1.12
1.5%
31.8%
333.0%
Wyndham Worldwide Corporation
(NYSE:WYN)
Hotels & Leisure
8.47B
$ 63.65
$ 1.16
1.8%
26.1%
69.5%
As you can see, there is a wide variety of business types represented on the list, with electrical equipment being the only industry with more than one member. The companies are all mid to large-cap in size with market caps ranging from $4.48 billion for Tupperware Brands to $74.13 billion for UnitedHealth Group.
Company Profiles
BlackRock, Inc. is a publicly owned investment management firm with its headquarters in New York. The company manages accounts for private and public pension plans, insurance companies and other entities. The firm also offers global risk management and advisory services and manages mutual funds, ETFs, trusts, hedge funds and other structured funds.
Dr Pepper Snapple Group, Inc. has its headquarters in Plano, Texas, and operates as a brand owner, manufacturer and distributor of beverages in North America. Some of the brands under the Dr Pepper umbrella include Sunkist, 7UP, A&W, RC Cola, Squirt, Diet Rite, Welch's and Hawaiian Punch.
Eaton Corporation is located in Dublin, Ireland, and operates as a diversified power management company. It provides electrical products, systems and services, wiring products, hydraulics components and services for government and private institutions covering nearly all types of industry around the globe.
Nordstrom Inc. is located in Seattle, Washington, and operates as a fashion retailer specializing in apparel, shoes, cosmetics and accessories in the United States. The company sells its products online as well as in 248 stores located in 33 states.
Mattel, Inc. is a toy designer and manufacturer located in El Segundo, California. The company was founded in 1945 and is most known for its line of Barbie dolls. Other well known brands it owns include Hot Wheels, Fischer-Price, Cars and Dora the Explorer.
Omnicom Group Inc. is based in New York, and is a provider of advertising, marketing, and corporate communications services in North America and international markets.
Rockwell Automation Inc. has its headquarters in Milwaukee, Wisconsin, and is a provider of industrial automation power, control and information solutions. The company sells its products and services to the food and beverage, transportation, oil and gas, metals, mining, and other industries worldwide.
Tupperware Brands Corp. has its headquarters in Orlando, Florida, and operates as a direct seller of household goods through an independent sales force. It manufactures and distributes kitchen cookware and tools as well as beauty and personal care products.
UnitedHealth Group Inc. is based in Minnetonka, Minnesota, and operates as a health and well-being company. The company offers health benefit plans and services for large national employers, public sector employers and small businesses and individuals. The company also offers software and information products and pharmacy benefit services to various entities.
Wyndham Worldwide Corp. has its headquarters in New Jersey, and is a provider of hospitality services and products in the United States and internationally. Some of the brands offered by Wyndham are Wyndham Hotels and Resorts, Ramada, Days Inn, Super 8, Howard Johnson and Microtel Inns & Suite.
Company Fundamentals
In looking at prospective dividend growth companies, the earnings history and future growth are important in determining if the payout rates are sustainable. Here is a look at some metrics I use when screening for dividend growth prospects. The information listed was collected from Yahoo Finance.
Company Name
Earnings Per Share
PE Ratio
Annual Dividend
Payout
Trailing 5YR
Forward 5YR
Ratio
EPS Growth
EPS Growth
BlackRock, Inc.
$ 15.40
18.6
$ 6.72
44%
26.5%
13.4%
Dr Pepper Snapple Group, Inc.
$ 2.93
16.2
$ 1.52
52%
11.8%
7.5%
Eaton Corporation plc
$ 3.33
19.8
$ 1.68
50%
12.1%
12.0%
Nordstrom Inc.
$ 3.60
17.2
$ 1.20
33%
19.5%
11.6%
Mattel, Inc.
$ 2.23
19.2
$ 1.44
65%
14.0%
8.6%
Omnicom Group Inc.
$ 3.72
17.1
$ 1.60
43%
6.7%
9.6%
Rockwell Automation Inc.
$ 5.08
19.7
$ 2.08
41%
21.0%
12.1%
Tupperware Brands Corporation
$ 4.66
18.4
$ 2.48
53%
19.0%
12.0%
UnitedHealth Group Incorporated
$ 5.25
13.8
$ 1.12
21%
15.0%
8.8%
Wyndham Worldwide Corporation
$ 2.86
22.3
$ 1.16
41%
12.2%
19.7%
The payout ratios are all within reasonable limits with the highest payout from Mattel at 65% of earnings. United Health is the lowest with just 21% of earnings returned to shareholders.
Earnings growth has been impressive over the last 5 years, as nine out of the 10 companies have grown earnings at a double-digit pace. Projecting into the future, all of the companies are expected to have an earnings growth rate of greater than 7% and the average between the 10 companies is 11.5% growth.
This combination of a reasonable current payout ratio and strong future earnings growth should lead to continued dividend growth among the companies.
Total Return
The total returns for the past 4 years have been pretty impressive on the whole from the companies listed. Since these companies have started their dividend growth streaks in 2009 the worst performer has been BlackRock, with a total return of nearly 61%. Meanwhile, Wyndham has been on a big run since coming out of the recession with a 4-year return of nearly 368%.
4-Year Total Return by YCharts.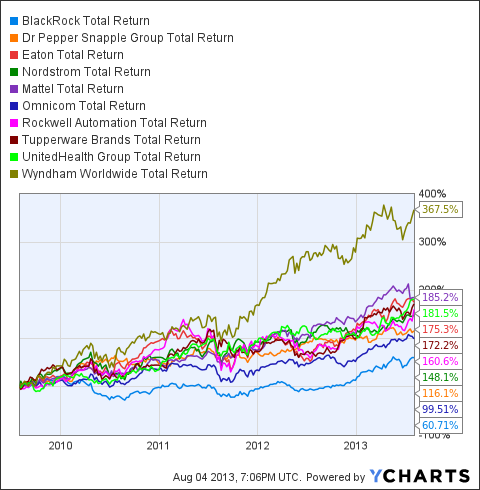 BLK Total Return Price data by YCharts
Conclusion
With the number of members now at 116, there are plenty of opportunities available on the "Near Challengers" list. The companies presented here are all at reasonable valuations and have shown a recent track record of solid earnings and dividend growth and are predicted by analysts to continue growing earnings into the future. While there are certainly other members of the list worth investing in, I believe these 10 future "Dividend Challengers" are good prospects for your further due diligence.
Disclosure: I am long DPS, MAT. I wrote this article myself, and it expresses my own opinions. I am not receiving compensation for it (other than from Seeking Alpha). I have no business relationship with any company whose stock is mentioned in this article.
Disclaimer: I am a Civil Engineer by trade and am not a professional investment adviser or financial analyst. This article is not an endorsement for the stocks mentioned. Please perform your own due diligence before you decide to trade any securities or other products.