Since last writing about Occidental (NYSE:OXY) on June 5, 2013, the stock has lost 5.67% of its value while the broader market as measured by the S&P500 is up 4.79%. That wasn't the only issue with Occidental; before the market opened on July 30, the company reported earnings, which missed analysts estimates by $0.05 and revenue, which missed analysts estimates by $0.36 billion. With these things in mind, I'd like to take a fundamental, financial, and technical look at the stock right now to determine if it is worth picking up some additional shares in the company.
Fundamentals
Occidental currently trades at a trailing 12-month P/E ratio of 16.23, which is fairly priced, but I mainly like to purchase a stock based on where the company is going in the future as opposed to what it has done in the past. On that note, the 1-year forward-looking P/E ratio of 12.08 is currently inexpensively priced as well for the future in terms of the right here, right now. Next year's estimated earnings are $7.36/share and I'd consider the stock cheap until at least $110.40. The PEG ratio (2.87), which measures the ratio of the price you're currently paying for the trailing 12-month earnings on the stock while dividing it by the earnings growth of the company for a specified amount of time (I like looking at a 5-year horizon), tells me that Occidental is expensively priced based on a 5-year EPS growth rate of 5.66%.
Financials
On a financial basis the things I look for are the dividend payouts, return on assets, equity and investment. Occidental boasts a dividend of 2.88% with a payout ratio of 43.5% while sporting return on assets, equity and investment values of 6.7%, 10.9% and 9% respectively; which are all respectable values. If maybe you feel the market will be a bit choppy here and would like a safety play then the 2.88% yield of this company should be good enough for you to take shelter in for the time being.
Technicals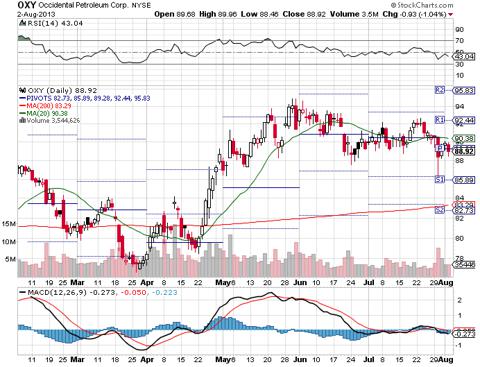 Looking first at the relative strength index chart [RSI] at the top, I see the stock muddling around in middle territory with a value of 43.04 but with downward trajectory, which is a bearish pattern. To confirm that, I will look at the moving average convergence-divergence (MACD) chart next and see that the black line is below the red line with the divergence bars increasing to the downside, indicating the stock price is experiencing downward momentum. As for the stock price itself ($88.92), I'm looking at the 20-day moving average to act as resistance and $85.89 to act as support with a risk/reward ratio of -3.41% to 1.64%.
Recent News
Occidental offered explicit details on its California operations during the earnings call, which may have sparked some speculation of a spin-off of the assets as California has difficult environmental restrictions.
Attacks on assets in Columbia, storms in Texas, and planned turnarounds in the Permian basin held production back at the company. Despite these setbacks, production climbed 0.8%.
Conclusion
Occidental is inexpensively valued based on future earnings but expensively priced based on future growth prospects, and I'd like to see higher short-term earnings growth to make it a bit more attractive or see the price drop. Financially, the payout ratio is low and it is making sound decisions. The technical situation of how the stock is currently trading is what is telling me that it can trade a bit lower for now and bottom out shortly. I'm going to buy a small batch in the stock for now and the thing stopping me from buying a big lot is the 1-yr forward-looking earnings estimate of 5.31%. Personally I like to see a minimum value of 10% before creating a position in a stock. Other than that one earnings stipulation this looks to be an excellent company with room to grow the dividend.
Disclaimer: These are only my personal opinions and you should do your own homework. Only you are responsible for what you trade and happy investing!
Disclosure: I am long OXY. I wrote this article myself, and it expresses my own opinions. I am not receiving compensation for it (other than from Seeking Alpha). I have no business relationship with any company whose stock is mentioned in this article.