I'm semi-retired and have lots of time to watch CNBC and the ticker tape. The problem is that there's always a new and interesting stock to discover and research, and this takes lots of time sitting at the computer. I went from investing in conservative companies like AT&T (NYSE:T) and Intel (NASDAQ:INTC) and Microsoft (NASDAQ:MSFT) to day trading options in stocks like Tesla (NASDAQ:TSLA) and Intuitive Surgical (NASDAQ:ISRG), where you have to watch the ticker as long as the option trade is open. In between, I created a portfolio of stocks and options that I also had to research and follow. The problem with this approach is that I had to watch these stocks every day, and sometimes 3-4 times a day (with options and fast movers). So I got fat just sitting behind my computer watching that tape! Who needs that stress? I'd rather just find some low beta, good dividend stocks, and go out all day for a long bike ride!
I've finally learned what the pros already know-keep it simple with a diverse portfolio of stocks, rather than using options. And if you can throw low beta stocks in there with some dividends, you get a perfect mix that you don't have to watch every day! Caveat: I do occasionally use options as stock replacements longer term (6-12mo) and sell puts for income on stocks I want to own.
For this low volatility portfolio, I use a target of beta less than about 0.8 and then diversify the mix of six stocks from there. I also am picking mostly larger cap stocks that have good ratings from the analysts that cover them. Of course, I have done my own homework analyzing them as well. Here is my low worry, low volatility portfolio:
American Tower (NYSE:AMT)
American Tower has gotten a bad rap from a few analysts of late, but it's still a big money maker, with an 18% ROE, 75% gross margin and 61% EBITA margin. There is only a 1.5% short interest, which makes me wonder what the fuss is about. The $28B company has an excellent business model and is poised for good growth.
For example, growth drivers include wireless high speed data displacement from fixed broadband, addition of cell sites and capacity by wireless carriers, more spectrum and equipment (read more leases), increased international demand, and increased wireless investment, for example in Brazil and Mexico. Q2 saw a 22% rev growth for international, which includes acquisitions. Developed markets, such as Germany, are also deploying next gen equipment (LTE) resulting in more leases and towers.
With a Beta of 0.5, it's a steady runner. This is my pick for something in-between a utility, tech and a good growth story. AMT is using the REIT structure since Jan 2012, but it is more like tech or perhaps a utility. Cell phone usage is not going down anytime soon, and as data and mobile expand, so will tower usage and number. AMT has the highest predicted growth rate in the portfolio group at 27%. AMT has a high P/E of 48, but this is in line with peer REITs. Indicators for AMT are showing a good entry point now (Aug 2, 2013).
All graphs are for 1 year, with a slow stochastic and MACD, courtesy of Yahoo Finance.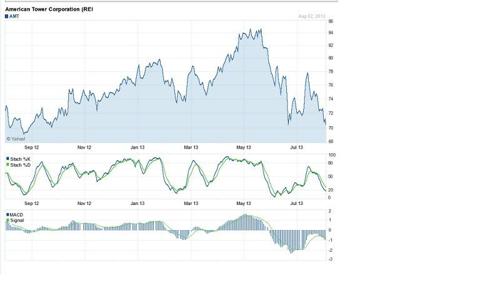 Annaly Capital Management (NYSE:NLY)
Annaly has been beaten down pretty hard of late, along with other dividend REITs, and I think its unwarranted and overdone. NLY owns Mortgage Backed Securities, Collateralized Mortgage Obligations, short term investments and other REIT real estate assets. NLY has lower leverage than some of their peers and recently completed a merger with CreXus. NLY is an 11B company with a 13.6% yield (highest in the group) and much upside, particularly if they increase their portfolio going forward. NLY has a Beta of 0.2, tied for the best in this portfolio. It has an awful chart, but good upside potential with a P/E of 7.1/8.7 (trailing/fwd). Annaly has the lowest P/E of the portfolio group. It does not bother me that I have two REITs in the portfolio, since their business models are very different. No growth is forecasted and interest rates will increase, but I think management will compensate for these downside factors. The high yield will likely prevent it from going much lower. If you are worried about higher rates, you can wait till the 10yr note stabilizes to buy, but I suspect NLY will be higher by then. This is my pick for financial part of the portfolio, with a value edge. MACD indicator is showing oversold, which implies a good entry point currently.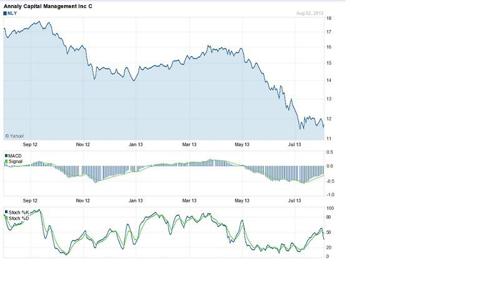 Baxter Healthcare (NYSE:BAX)
Baxter Healthcare has a Beta of 0.6 and a dividend yield of 2.7%. This pharma/healthcare company has good prospects for growth and steady income, with a PEG of 1.7. Its P/E is 18.2/14.9 (trailing/fwd), and it is well respected in the industry with major pharma products. Its pipeline of products now in clinical trials includes stem cell therapies, IVIG for Alzheimer's, and other therapies. BAX expects US approval for HyQ in the second half of 2014. BAX is also increasing IG capacity to meet demand. The acquisition of Gambro AB is expected to be accretive in 2014. Baxter is my pick for a pharmaceutical company, although I also like Johnson and Johnson (NYSE:JNJ) that has a Beta of 0.6. BAX has the best ROE of the portfolio group. Indicators are showing a fair price; incremental buying is always recommended.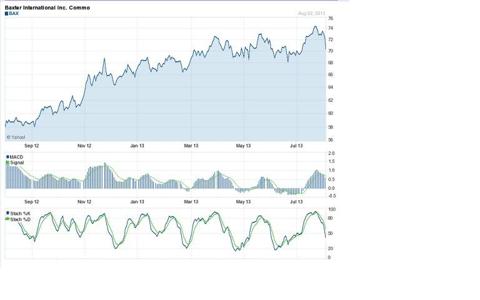 Boardwalk Pipeline Partners (NYSE:BWP)
Boardwalk Partners is in the natural gas transport, storage, gathering and processing business. It has a Beta of 0.2, tied for first place with NLY. Boardwalk Partners has a PEG of 1.7, a high dividend yield at 6.9%, a 13.9% long term growth forecast and a P/E of 23.9/23.4 (trailing/fwd). BWP has announced a pipeline deal, Bluegrass, with Williams Co., where NGL from the Marcellus and Utica will be transported to US Gulf Coast Fractionation, Storage and planned export facilities. Bluegrass is planned to be in service in late 2015 with approvals. I don't see the stock rising much till then, so I see this as a yield play and a long term buy (3+ years). With an excellent yield, this stock has the potential to perform well, on the yield side, for many years. BWP is my pick for oil and gas, although I also like Enterprise Products Partners (NYSE:EPD) that has a Beta of 0.6. The indicators are showing a fair entry point.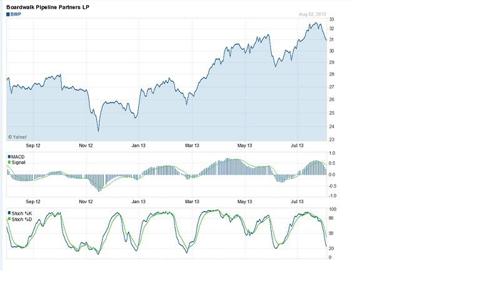 CVS (NYSE:CVS)
CVS has a Beta of 0.8, low but still the highest in the portfolio. I wanted exposure to pharmacy and a bit of retail, which I think will do well over the next few years given that the Patient Protection and Affordable Care Act will begin Jan 2014 resulting in more people purchasing prescription drugs. CVS's Maintenance Choice grew to 16.3MM from 10.5MM last year for Q1, quarter on quarter. Minute Clinic sales increased 50% year on year. CVS earns most of its money from its pharmacy benefit program and prescription drug business (about 40 percent each) and the balance from OTC drugs and general merchandise. CVS has a P/E of 19.3/15.1 (trailing/fwd), a $4B share repurchase program, a forward PEG of 1.1 and is well positioned for growth in pharmacy. MACD is showing overbought, so you will want to make sure to buy this stock in increments, or wait for an entry point.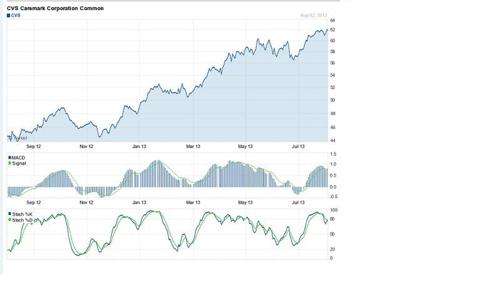 ITC Holdings (ITC)
ITC Holdings is an electric utility in the electricity distribution business. ITC has a Beta of 0.6 and a long term growth forecast of 16%, and looks to be a steady performer. EPS is expected to rise in 2014 with additional projects entering service. Revenue is also expected to increase over the next few years from new CapEx expenditures. The proposed acquisition of Entergy's distribution assets is expected to be accretive. The stock has a 1.63% yield, a good looking chart and a P/E of 24.7/17.9 (trailing/fwd). ITC is my pick for a good growth story and a pure utility. The stochastic indicator is showing a fair entry point.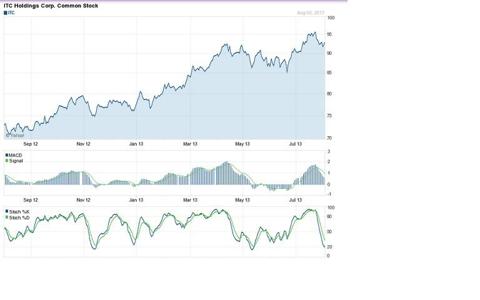 The table below shows some of the key statistics for the portfolio stocks.

Portfolio Overall
With an overall portfolio Beta of 0.48, assuming equal weighting, this diverse portfolio has only ½ the Beta of the overall market. Of course, Beta is only the most common way to gauge volatility, not the only one. I encourage the use of other technical tools as well, and I always take a look at the chart to see what the stock price is doing relative to peers.
The portfolio has an overall dividend yield of 4.64%, which is pretty good. Stocks with dividends of course cushion stock price drops and are usually better investments long term.
The recommended time horizon for this portfolio is 3-5 years.
I'm a big believer in "buy and homework" (as Jim Cramer says) rather than buy and hold, but with lower volatility stocks, the homework should be easier and you'll have time for that run or workout, rather than sitting at the computer watching the tape all day!
Disclosure: I am long AMT, BWP, CVS, ITC, NLY. I wrote this article myself, and it expresses my own opinions. I am not receiving compensation for it. I have no business relationship with any company whose stock is mentioned in this article.
Additional disclosure: I am short JNJ puts.